FTC Disclosure:This post contains affiliate links.We're independently supported by our readers and we may earn a commission when you buy through our links.
Are you interested in personal development?
Mindvalley is an online learning platform that is a little different from your standard academic platform. It was founded in 2003 by Vishen Lakhiani a multi talented entrepreneur, author and activist. This online learning platform focuses on personal growth by developing all aspects of human transformation. It is home to an impressive 10 million students from all over the world and has a 300+ international team.
Are you curious yet?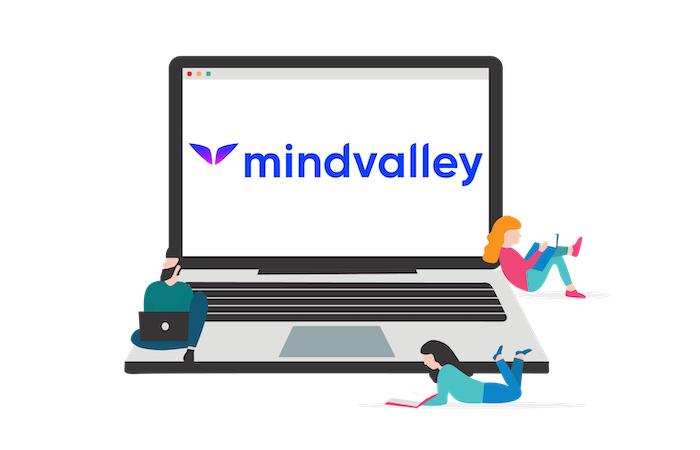 Well before you decide anything. I am sure you have a handful of questions you want answering like; What type of classes do they offer? How much does it cost? What is the learner community like? And much more. So let's delve into this in-depth Mindvalley Review.
Mindvalley Review Verdict
Mindvalley is a personal growth and development platform that offers a wide range of categories from mind, body, soul, entrepreneurship, career and relationships. Its online courses are called Quests and some are taught by bestselling authors and celebrities. Its strong and supportive community are like-minded and encouraging. You can either subscribe to a Quest individually or sign up to the 'All Access' membership that can be paid monthly or annually. It's 15-day money-back guarantee means that if you change your mind you are entitled to a full refund. In case you aren't ready to financially commit you can try out Mindvalley's weekly free Masterclasses to give you a taste of the platform.
Who Is Mindvalley For?

Are you looking for personal growth? Then Mindvalley may be your answer, it is an online platform that covers every aspect of your life to transform it for the better.
Curious to find out more?
Well, Mindvalley is a platform that enables you to learn the subjects that truly matter to you, it gives you the opportunity to learn everything you wished you'd learnt at school. Think traditional education and being stuck in a stuffy classroom, well, Mindvalley is the complete opposite. It's 50+ Quests on topics like Mind, Body, Soul, Career, Entrepreneurship, Relationship & Kids, Teens and Parenting which are taught by world-class experts and celebrities offers a unique learning experience.
In short Mindvalley is for someone who;
Loves self-help books and podcasts (like myself)
Looking for self-improvement both physically mentally and spiritually
In need of daily motivation
Wants to be part of an engaging online community
Enjoys online learning
If you are a little unsure about where to start with Mindvalley then you can take full advantage of a fantastic feature – the Mindvalley Life Assessment. A 22-minute test that reveals which areas of your life need the most attention. It has a series of personal questions for you to answer on areas about your health and fitness, Emotional, Character, Life Vision and more.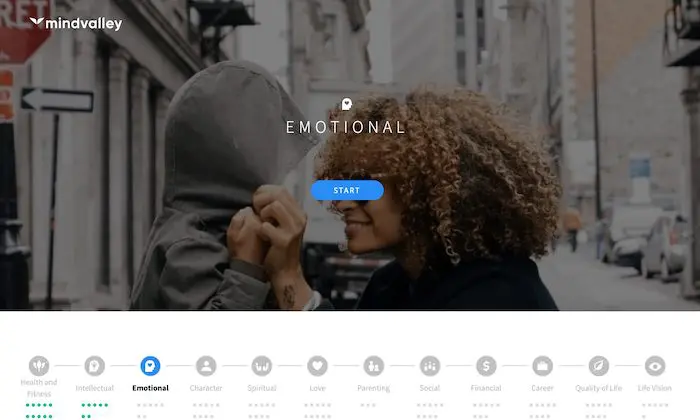 Mindvalley Life Assessment
The results of this assessment will help you pick the right Quests for your personal needs and goals. With your free Mindvalley account, you have access to the Mindvalley Life Assessment test.

Mindvalley is a platform for a global audience where you can learn in multiple languages including English, Spanish, German, French, Italian and Russian. There is a language selector at the top of the homepage, so you can easily find and pick your preferred language to learn in.
Mindvalley for Business
Like most other online learning platforms its courses are not only designed for the individual learner, but for businesses too. The 'Mindvalley for Business' membership is for teams of 20 or more and is billed annually at $299 per user each year. After taking a free personalised consultation call you can decide if you want to subscribe to the membership which focuses on boosting the performance, increasing the happiness and improving the engagement of your company.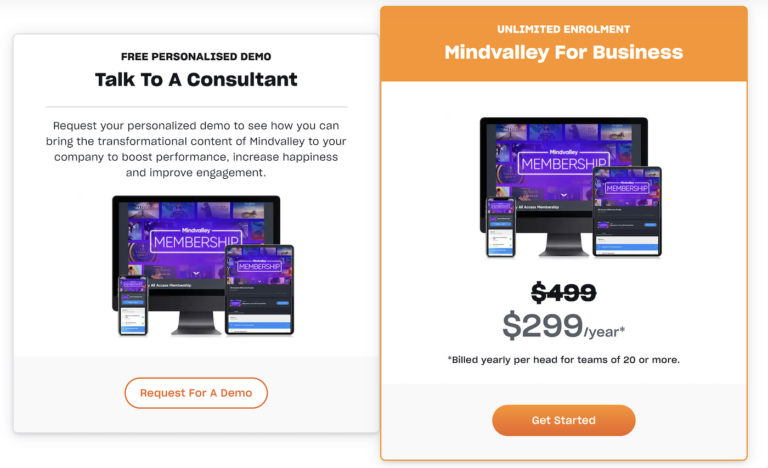 Mindvalley for Business
The Mindvalley for Business memberships works in 4 easy steps;
Take The Life Assessment:The team begins with a 22-minute Life Assessment that helps them identify where they're thriving and where they need focus and attention.
Design A Personalized Curriculum: Based on the outcome of the life assessment, each team member receives a customized curriculum, curated from the catalog of 50+ programs.
Grow As A Team: The teams that grow together significantly outperform their competitors. As well as personalised curriculums, Mindvalley also designs bespoke curriculums for the whole team to follow.
Extraordinary Transformation In 20 Minutes A Day: In just 20 minutes a day, your team members grow consistently and perpetually. This time-optimized approach to growth helps them stay engaged, develop habits that stick and get satisfaction from learning.
Companies that have worked with Mindvalley
Mindvalley has worked with thousands of companies including Fortune 500 companies like Vodafone, Duracell, ExonMobil and more. Some of the reasons that companies and employees have decided to work with Mindvalley for Business;
Enhanced Productivity and Human Excellence
Improved Team Performance
Improved Employee Engagement and Retention
Inspire Boundless Innovation and Creativity
Create stronger Leadership and Ownership
Request Free Personalised Demo
Find a Coach
Mindvalley offers the service of coaches who can help you to reach your personal and professional milestones. You can choose the county, coaching, language and coaching type (Certified 10X Coach, Certified Business Coach, Certified HoloBody Coach or a Ceritifed Life Coach).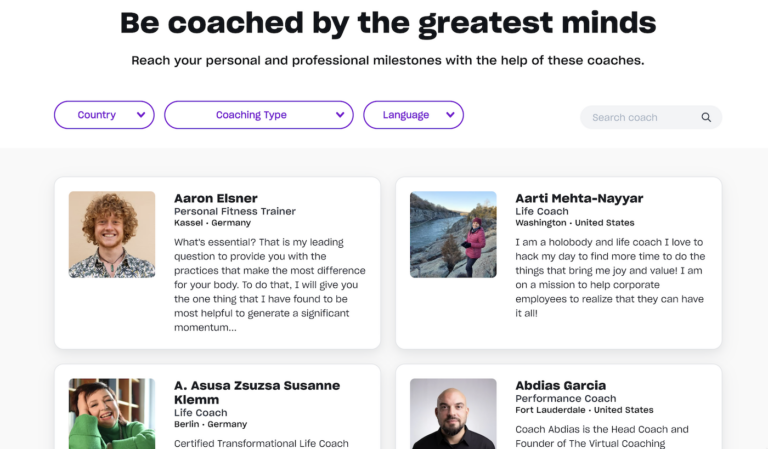 Mindvalley for Youth
Mindvalley believes that a conscious learning curriculum for all learners. This curriculum is designed to unlock student's full potentials and equip them with advanced real-life skills that most education systems have not yet explored.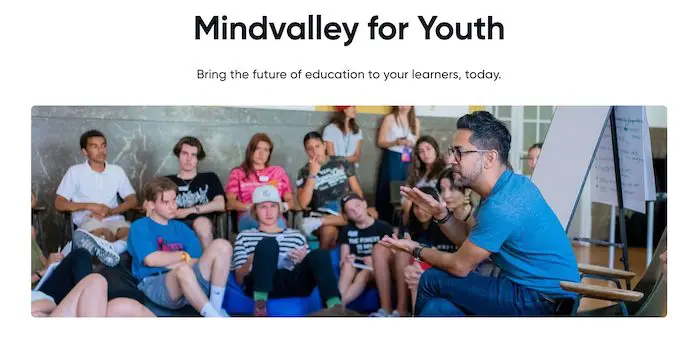 Mindvalley learning curriculum is not fixed and is self-evolving focus on key areas like memory power, emotional acuity, time management, nutrition, social development, self-esteem and courage.
If Mindvalley for Youth is something you are interested in. You can either send an email to [email protected] or contact here.
How Much Are Mindvalley Courses Really?
Mindvalley has a couple of options for purchasing its learning programs. You can decide to either buy an individual Quest (a single course) or you can sign up to the full access membership paying monthly or yearly.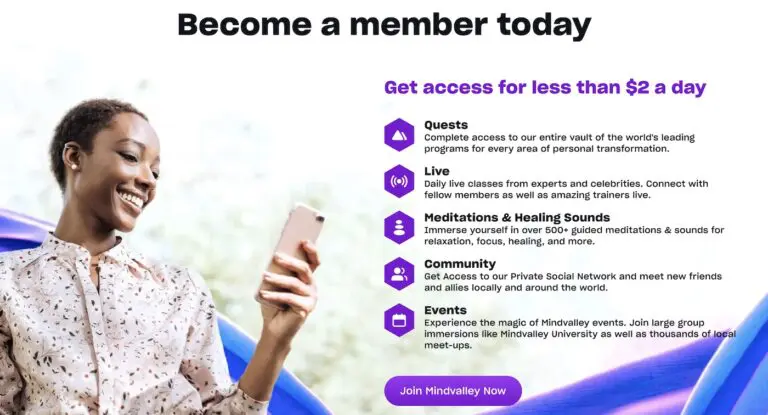 Mindvalley Become a member today
Individual Quests
Its individual quests cost anywhere between $199 and up to $499. So if you have a specific quest in mind, then this is the option for you. The following is included in your Individual Quest purchase;
Lifetime access to course material
Free yearly upgrades to the course material
Bonus material (if it's applicable to the specific course)
Lifetime access to the Mindvalley learner community
All Access Mindvalley Membership
The All Access Mindvalley Membership can be paid for in a couple of ways. A 7-day free trial is available when you first sign up, you will need to enter your payment details first. After the 7 days have passed you will start to be charged.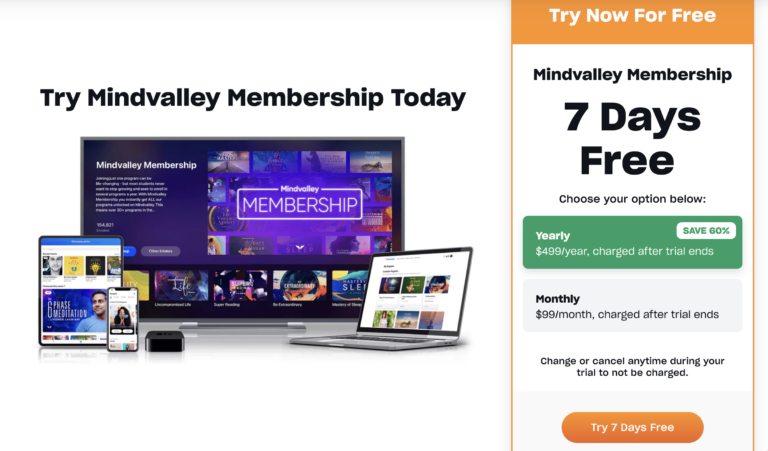 Mindvalley 7-day free trial
Monthly Membership – $99 a month (Pay monthly, cancel anytime)
Yearly Membership – $499.20 a year – working out at $41.60 a month (Pay yearly, cancel anytime)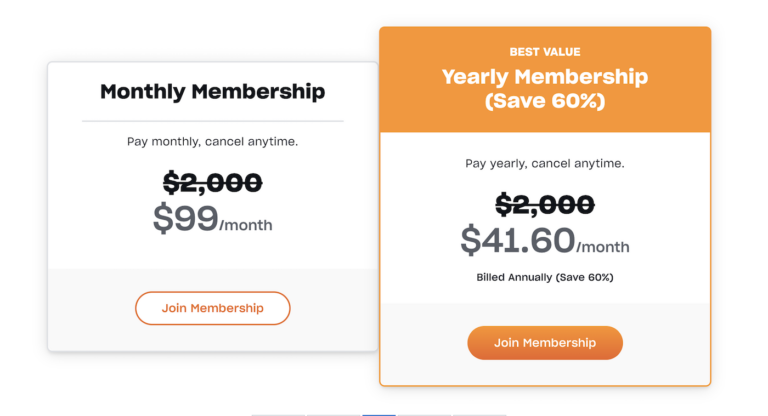 Mindvalley Membership Plans
The monthly and yearly All Access Mindvalley memberships give you the flexibility to enjoy quests at anytime and be part of the Mindvalley community. The following is included in its memberships;
Unlimited access to the Mindvalley's entire curriculum
Weekly Mindvalley Live Sessiona featuring today's biggest trainers, bestselling authors and celebrities
Full access to Mindvalley Meditations
Access to Mindvalley's private social network, where you can connect, share wisdom and grow with fellow members
One click refund in the first 15 days, so your purchase is a 100% safe
A lifetime discount when you choose an annual membership
> Try out Mindvalley All Access
Mindvalley Pro
Mindvalley Pro is an extension of the Mindavlley All Access membership, offering a couple of extra exclusive features. Mindvalley Pro includes everything in the Mindvalley membership plus monthly group coaching and embodiement sessions (see image below) with Vishen Lakiani, the founder of Mindvalley.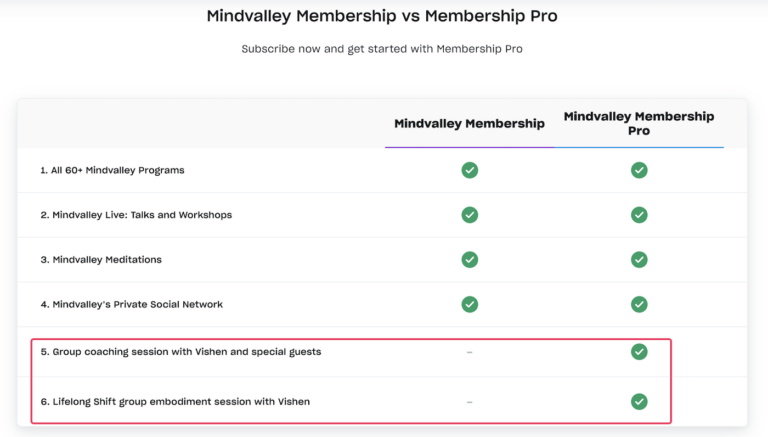 Mindvalley Membership vs Mindvalley Pro
Every month during the live coaching sessions with Vishen will share his latest discoveries, experiments and even special guests. The Embodiment sessions at the end of each month will help you to have breakthroughs, developing each month with Vishen's signature integration frameworks.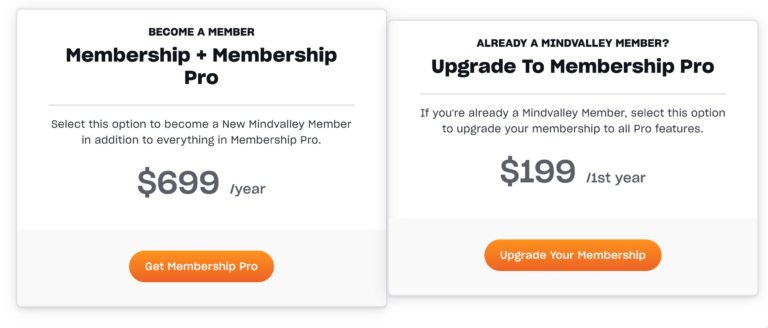 For Refund:
Mindvalley does offer a 15-day money-back guarantee on your first subscription whether it's annual or monthly membership plan. If you do decide Mindvalley isn't for you can easily request a refund from here.
For Cancellation:
If you decide not to renew your subscription for another month or year, you can cancel through the Billing section of your account. You won't be charged further, but you will have access to any Quests previously purchased.
Free Courses
As well as paid memberships Mindvalley offers free Masterclasses each week that are 60 to 90 minutes long. The Mindvalley teachers go deep into a powerful and transformational idea and all you need to do is reserve your spot (see image below).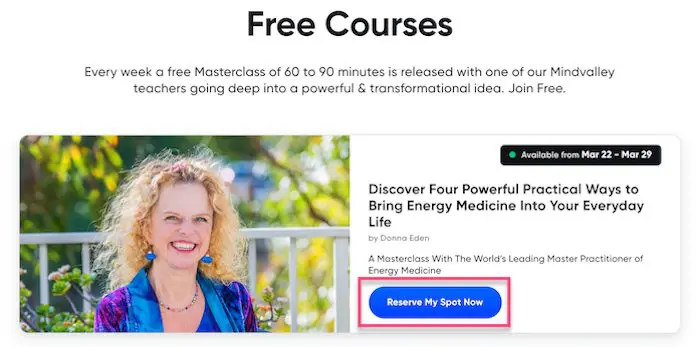 An excellent introduction to the Mindvalley platform is by taking one of these free masterclasses as not only do you get a taste of the high-quality teaching but also its teachers.
How To Open A Mindvalley Account?
The registration process for Mindvalley is pretty intuitive. I thought I would still break it down step by step, so you know what to expect;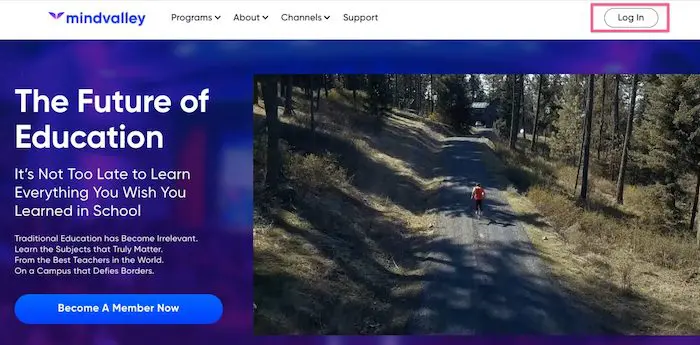 Mindvalley Log In
Open a browser and visit www.mindvalley.com
Click Log In on the top right corner (see image above)
You will have the option to Login or Create New Account
You can either join with Apple, Facebook or Google or if you prefer Add your email, password and first name (see image below)
Click on Sign up with Mindvalley (see image below)
Once you are registered you can begin accessing the Introduction to Mindvalley, Today's Free Masterclasses, Programs and much more.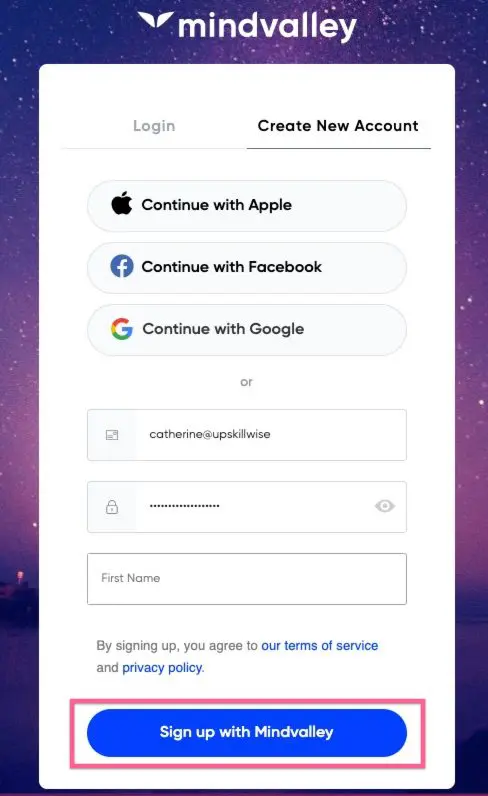 Mindvalley Create New Account
I would suggest a great place to start is watching some of the Masterclass introductions and reserving your spot for a free Masterclass, as this will give you a taste of the platform.
Mindvalley Quiz
Another great place to start, once you are logged in is by taking the Mindvalley quiz which consists of a few simple questions. This will help Mindvalley give you a list of personalized recommendations of quests that you can get started with.

Mindvalley Quiz
What Categories can I find on Mindvalley?
Mindvalley's learning programs or Quests as they call them are grouped into the following categories; Body, Mind, Soul, Relationships, Career, Performance, Money and Entrepreneurship.

Global Events
Mindvalley doesn't only offer online learning programs it also offers Global Events which join together the Mindvalley community to connect, grow and learn from each other. To attend one of the Mindvalley events you will need to complete an application form which will then be reviewed and if you are accepted, you can then buy a ticket which start at $3,499 and go up to $3,999.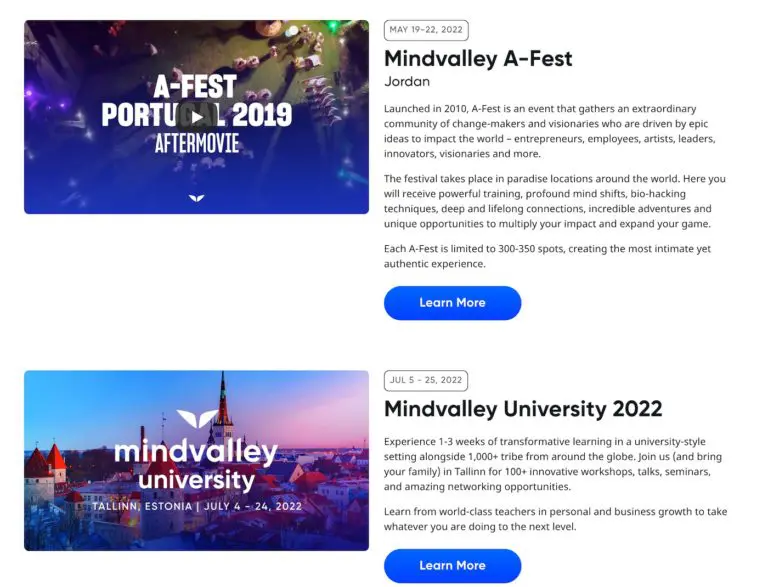 Mindvalley Global Events
Examples Of The Most Popular Mindvalley Courses
I thought it would be worthwhile checking out which courses are most popular based on each category. It also gives you an insight into the quests that the Mindvalley community are most enjoying. Note: Some of its courses are listed in multiple categories.
Mind
Uncompromised Life – This quest is taught by Britain's number 1 therapist, Marisa Peer. She shares her groundbreaking transformational hypnotherapy process in this 8-week course. She will show you how to capture the empowering beliefs, habits & thought patterns of the world's top super achievers. It has had 1,535,560 students enrolled and the most popular course in the Mind category.
Be Extraordinary – This quest is taught by Mindvalley's founder Vishen Lakhiana. He shows you how to unleash your mind to be in an elevated state of gratitude, and to bend reality to become extraordinary in this 30-day course. It has had 1,086,404 students enrolled and one of the most popular courses in the Mind category.
Performance
Superbrain – This quest is taught by master mind trainer Jim Kwik. He will show you an accelerated learning curriculum designed to activate your brain's limitless potential. It is a 30-day adventure towards building a bulletproof memory, unshakeable focus and superhuman productivity which will result in life-changing elevations in your career and personal growth. It has had 2,725,992 students enrolled and is the most popular course in the Performance category.
Hero. Genius. Legend – This quest is taught by bestselling author, Robin Sharma. He will equip you with key habits, techniques and skills to turn yourself into a super performer at life. It has had 241,745 students enrolled and one of the most popular courses in the Performance category.
Body
The Longevity Blueprint – This quest is taught by Ben Greenfield who combines many of the time-tested traditions of the 'Blue Zone' communities (places in the world where people live a longer and healthier life) with some of the most cutting-edge science in body performance. The result is powerful and quick fitness protocols that naturally triggers physiological changes in your body for a complete and total transformation of your entire wellbeing. It has had 260,872 students enrolled and is the most popular course in the Body category.
The Mastery of Sleep – This quest is taught by Dr. Michael Breus an American Sleep Doctor. This course is customized to your body's needs from identifying your ideal bedtime, discovering how many hours you really need so you wake up feeling energized without even needing an alarm clock. It has had 133,414 students enrolled and is one of the most popular courses in the Body category.
Soul
Duality – This quest is taught by Jeffrey Allen who is dubbed as the 'Healer's Healer', who has counseled thousand of private clients around the world through online spiritual training. This program is all about transcending your physical body and awakening your spiritual energy for life-changing success. It has had 922,879 students enrolled and the most popular course in the Body category.
Energy Medicine – This quest is taught by Donna Eden and during this program you will be taken on a life-changing deep dive into your body's natural energetic systems. In just 8 weeks you will work to improve your energetic healing practice by awakening your physical and emotional healing, restoring your vitality, eject negative energy and relieve pain. It has had 533,336 students enrolled and is one of the most popular courses in the Soul category.
Entrepreneurship
Quest for Personal Mastery – Taught by Dr. Srikumar Rao a visionary TED.com speaker and MBA lecturer. He shares a method to help build resilience, unshakeable inner peace and engineer outstanding levels of happiness. It has had 146,547 students enrolled and is the most popular course in the Entrepreneurship category.
The Power of Boldness – This quest is taught by Naveen Jain who takes you on a journey to expand your mindset which can help transform your career, your industry, and even the planet. It has had 4,970 students enrolled and is one of the most popular courses in the Entrepreneurship category.
Relationships
Conscious Parenting Mastery – Taught by Dr. Shefali Tsabary a best-selling author and a PHD in Clinical Psychology. She shares with you a new model of parenting that creates an ideal environment for your children to thrive and blossom into their most authentic selves. It has had 112,687 students enrolled and is the most popular course in the Relationships category.
Conscious Uncoupling – Katherine Woodward Thomas is a leading relationship therapist who shares with you how to get over a breakup, release your grief, and open your heart for love. It has had 92,785 students enrolled and is one of the most popular courses in the Relationships category.
Kids, Teens and Parenting
Be Extraordinary for Teens – This quest is brought to you by Vishen Lakhianai and Gahmya Drummond-Bey. It guides you through a 10-day journey breaking down concepts such as brules, goal setting and intention in a fun and engaging way. It has had 10,568 students enrolled and is the most popular course in the Kids, Teens and Parenting category.
Conscious Parenting Mastery – Taught by Dr. Shefali Tsabary a best-selling author and a PHD in Clinical Psychology. She shares with you a new model of parenting that creates an ideal environment for your children to thrive and blossom into their most authentic selves. It has had 112,687 students enrolled and is the most popular course in the Relationships category.
8 Tips On Why Mindvalley Is Worth it
It is not always easy to choose the right course initially, especially when we are new to an online learning platform. So, I thought it would be helpful to highlight some key tips to help you find the right course (in this case quest) and know why Mindvalley is worth it.
Free Courses
An excellent way to get a taste for Mindvalley is by trying out one of its free Masterclasses which are updated each week. They are between 60-90 minutes and taught by one of Mindvalleys teachers.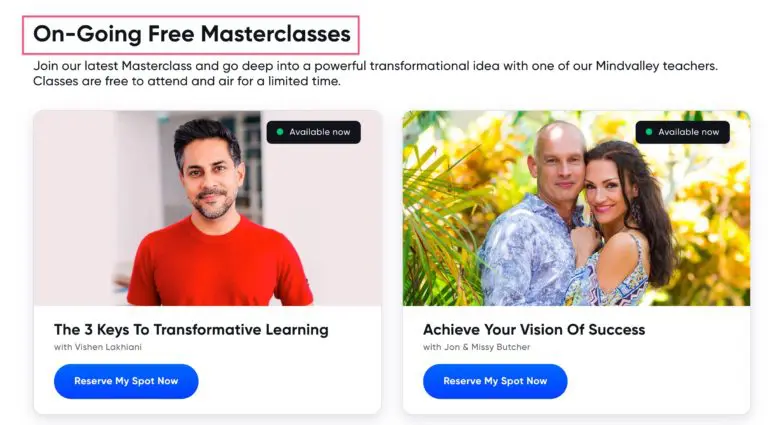 As well as its free weekly masterclasses, Mindvalley has a selection of On-Going Free Masterclasses (see image above) for you to enjoy. It is a fantastic way for you not only to become familiar with the platform, but also to check out the Mindvalley teachers.
Mindvalley Life Assessment
This 20 minute assessment will ask you questions on 12 separate life categories like health and fitness, emotional outlook, your spiritual fulfilment, career satisfaction and much more. You will be asked how strongly you agree or disagree with the statements on these categories.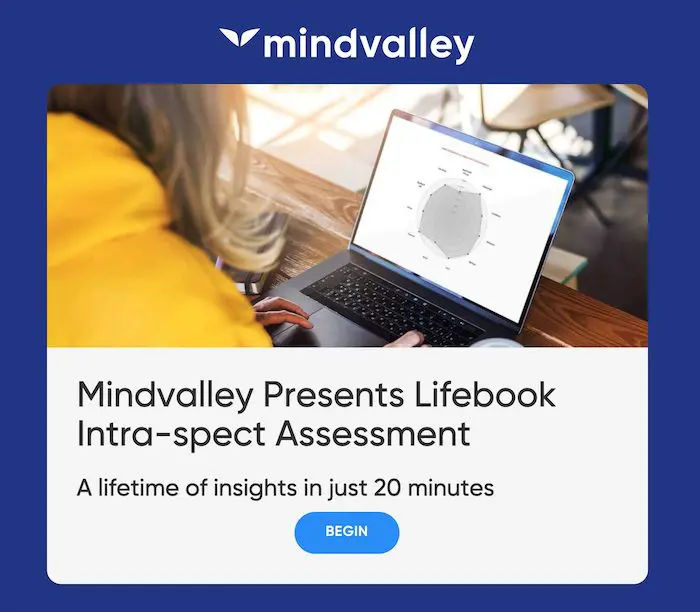 Mindvalley Life Assessment
It's important to remember that this is not a test and there are no wrong or right answers. It is about you being open and honest to determine the personal recommendations for you on how to improve. Not only that, but it's a great starting point, especially if you aren't sure where to begin.
Community
Mindvalley has one of the most engaged online learning communities out there. I must take my hat off to them as they have done an impressive job at this. If connecting with a like-minded, helpful and supportive community is important to you, then Mindvalley is your platform. Even on the first day of joining The Mastery of Sleep quest I left a post and was connected with a couple of other Mindvalley members (see image below).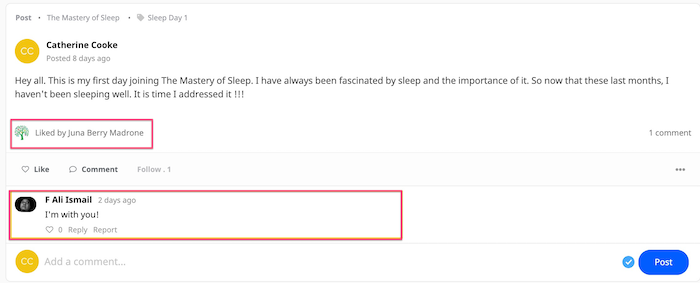 Mindvalley Community Comments
Each quest has a 'Join the Tribe' (the community) where you can introduce yourself and share your insights, breakthroughs and struggles. Mindvalley believes that connecting and sharing with other students is a big part of the learning experience.
Mindvalley Success Stories
Mindvalley has close to 18,000+ success stories for you to read from previous members for you to read on how Mindvalley has impacted their lives. You can select the filter for Programs, Categories or Countries (see image below). The community is a big part of the Mindvalley platform and sharing your experience helps new members get an insight into what to expect.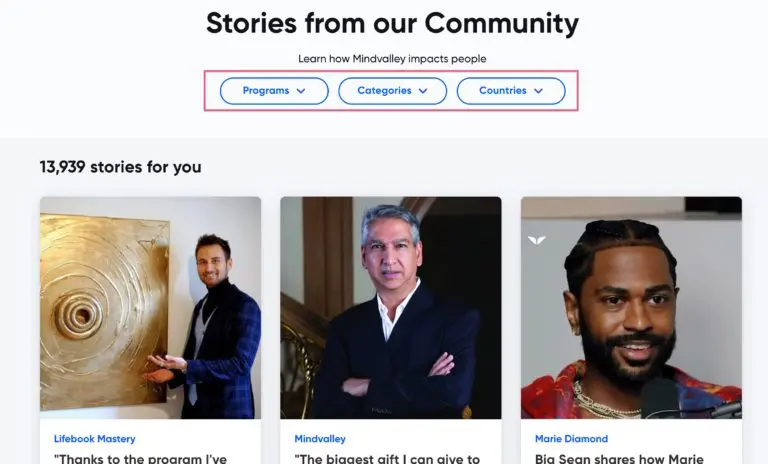 I must add here it doesn't have the most intuitive review system like Skillshare or Udemy where they both have a more detailed filter and rating system. It even allows you to search specific keywords e.g. course quality or most updated. Although Mindvalley does still give you feedback from previous learners.
Mindvalley Instructors
Mindvalley trainers are leading experts in human transformation and are selected from 1,000+ applications every year. Its teachers include 200+ best-selling authors, speakers and activists who know how to inspire and transform.
If you want to learn from leading experts in revolutionary personal growth programs. Like reshaping your body with Cecilia Sardeo, enhancing your relationships with Katherine Woodward Thomas or succeeding at work with Lisa Nichols, then Mindvalley has it all.
Mindvalley Channels
The Mindvalley online platform is more than just its courses (quests). It offers multiple channels for you to explore as a member from Mindvalley Mentoring, Mindvalley Talks and the Mindvalley Podcast. It really is a well-rounded online learning program.
Mindvalley Mentoring: 100+ hours of training by 80+ renowned teachers. It is a personal growth accelerator membership program featuring high-impact coaching. It costs $199 a year or $599 for all access plus the mentoring.
Mindvalley Talks: It has 1M subscribers on youtube and is the equivalent to Ted talks where you can listen and watch motivational speakers on fascinating topics.
Mindvalley Podcasts: It has a wide selection of podcasts and interviews with motivational speakers like Gary Vee and Lisa Nichols. You can add comments or listen later.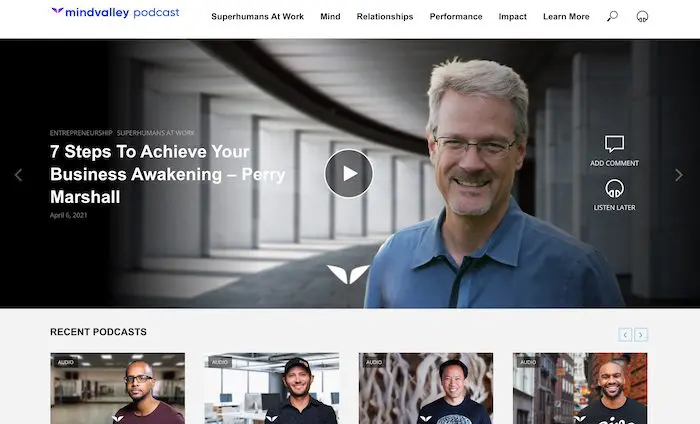 Mindvalley Podcast
Mindvalley Refund
Once purchasing a Mindvalley membership you are entitled to its 15-day refund policy from the day of purchase.

In case you aren't 100% convinced after purchasing your Mindvalley All Access membership, remember that you have 15 days to request a refund, but just one click. All you need to do is go to 'My Account' then click 'Billing' option and finally the 'Refund' link. It's that simple!
Mindvalley App
The Mindvalley App gives you access to all your quests whilst on the go. All you need to do is search for 'Mindvalley: Self Improvement' on the App store or Google Play.
All Access membership gives you access to the Mindvalley and the Omvana app which you can access from your smartphone, tablet and Apple TV.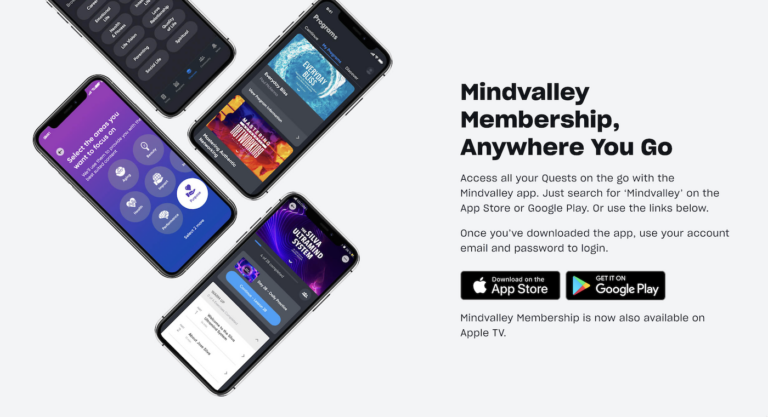 Once you've downloaded the app, you can use your account email and password to login. You can use multiple devices to access the app from your smartphone, tablet and Apple TV.
Will Mindvalley Help Me With My Career?
Mindvalley courses focus on personal growth, which can be anything from becoming more resilient to stress, more motivated, organized or developing your greater intuition. So even though you won't come away with an academic certificate like you would after learning with Coursera or Udacity, you will still develop vital skills that will impact you positively.
Mindvalley is not a platform for traditional education, it wants to help you evolve and develop in every aspect of your life. That can't be a bad thing, can it?

One of Mindvalley's categories is Entrepreneurship with its focus on discovering how to design a career of authentic purpose, impact and fulfilment. Some of its courses include Ultimate Leadership and Zero to $100 Million.
Mindvalley does offer certificates after taking an assessment when finishing a quest. This certificate can be used as a way to identify that they have successfully completed the quest. Its quests are easy to fit into a busy schedule, taking only 20 minutes a day, so if you already have a busy schedule or full-time job and looking to gain new skills then this would be ideal.
Is Mindvalley Legit?
Let's be honest whenever we are parting ways with money many of us ask ourselves the same question: Is this really legit?
I will put your mind at rest that Mindvalley was founded in 2013 by Vishen Lakhiani who is an entrepreneur, author and activist. It has a team of 300+ people from 59+ countries who are all on a mission to create new solutions for human consciousness.
Mindvalley has 10 million students worldwide and works with 200+ world leading speakers, authors and activists from Lisa Nichols to Michael Beckwith.
To add, Mindvalley is completely legit and safe to use, you won't be scammed.
Mindvalley Vs MasterClass
Mindvalley and MasterClass are two very popular online learning platforms. Both platforms have their similarities as well, as their differences. MasterClass has VIP and celebrity instructors teaching its courses, alike Mindvalley has bestselling authors and celebrities teaching its Quests. The categories that MasterClass offers are not focused on academic development or achievement, instead focus on an interest that you want to explore. Its categories include Food, Music, Writing, Wellness and much more. Both platforms are subscription-based, both offering an annual membership, the only difference is Mindvalley offers a monthly plan as well. Similarly to Mindvalley, MasterClass offers a generous refund policy. So if you are looking for personal growth and development, Mindvalley would be the best fit. But if you would like to learn from top VIP and celebrity instructors and watch engaging cinematic like video lessons, then MasterClass is the one for you.
Last Thoughts: Is Mindvalley Worth It?
Now it's time to conclude why Mindvalley is worth it.
If you are looking for subjects that truly matter to you on a category related to human transformation, then Mindvalley may just be the platform for you. It's catalogue of courses range from Mind, Performance, Body, Soul, Entrepreneurship, Relationships, Kids, Teens and Parenting. Its learning programs are called Quests that are digestible and easy to fit into your busy schedule. Its quests are taught by top experts in human transformation from authors, activists and visionaries.
On the other hand, if Mindvalley isn't quite the platform for you, then it may be worth checking out our article on Best Online Learning Platforms as this will give you a good overview of other online learning platforms. For example, if you are looking for an accredited course or degree, then Coursera may be a good fit or a creative class Skillshare would probably be the right choice.
You will love Mindvalley for its:
Addictive and Digestible Content
Top Instructors and Experts
Strong Community
High-quality content
Multiple Channels (Mentoring, Talks, Podcasts)