FTC Disclosure:This post contains affiliate links.We're independently supported by our readers and we may earn a commission when you buy through our links.
If you came across this edX review it means you probably want to know all about edX, right?
Let's start with a brief overview of this elearning community. If formal education is something you are looking for then you are considering the right platform. edX offers over 3,000+ online courses and 300+ programs that are created by its top partners, 160 institutions in total like Harvard and Berkeley University.
Sounds pretty promising so far, right?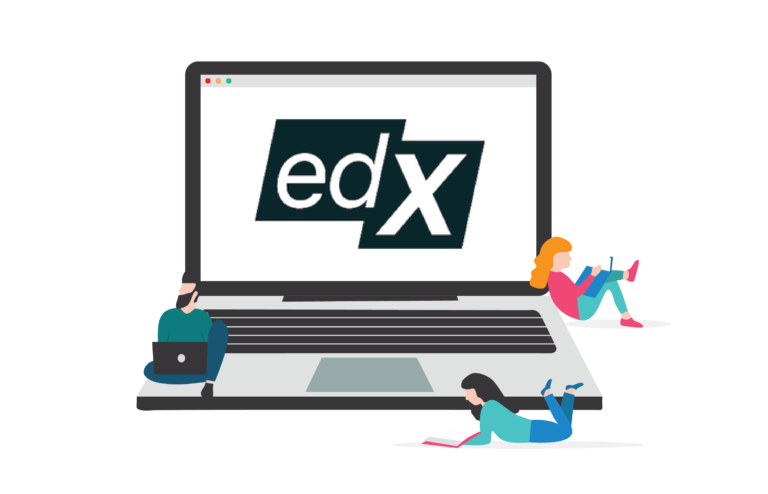 edX is a credible platform for education and learning. It was actually founded by professors from Harvard and MIT and has more than 44+ million learners. Its courses are created and taught by some of the top-ranked universities and industry-leading companies in the world.
If you want to hang around to find out more, let's delve a little deeper into this detailed edX review.
edX Review Verdict
edx is an online platform offering a wide range of courses and learning programs that are partnered with the top Universities and Organizations. edX's popular subjects include Computer Science, Language, Data Science, Business & Management, Engineering and Humanities and all include dozens of subcategories. Many of its courses and programs have a start and end date and are instructor led. After successfully completing your course or program, you will receive a verified certificate. edX also offers a plan for businesses which can be custom-curated to meet the needs of your team or organization. Each course or program is paid for individually and a 14-day refund policy is available if you do change your mind. edX does offer the option to audit some courses, which means you can learn for free, this does mean that the course has limitations, and you won't have full access to all its features. But it's a great way to get started if you aren't ready to financially commit.
Who Is edX For?
You may be asking yourself, Is edX right for me?
Well, let's dive right in and see what all the fuss is about.
If you are looking for a higher education course, then edX may be what you are looking for. It offers 3,000+ interactive online courses and 300+ programs that are partnered with the world's best universities, colleges and organizations.  If a verified course with certificate of completion is something that you are looking for, then you are considering the right option.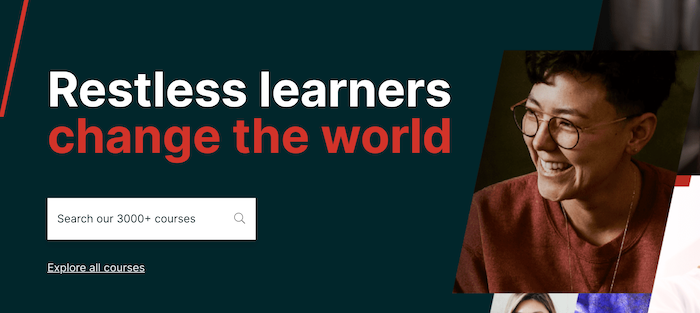 edX Explore all courses
edX's homepage highlights its top courses. Its main course subjects are Data Science, Computer Science, Business, Engineering, Design and much more.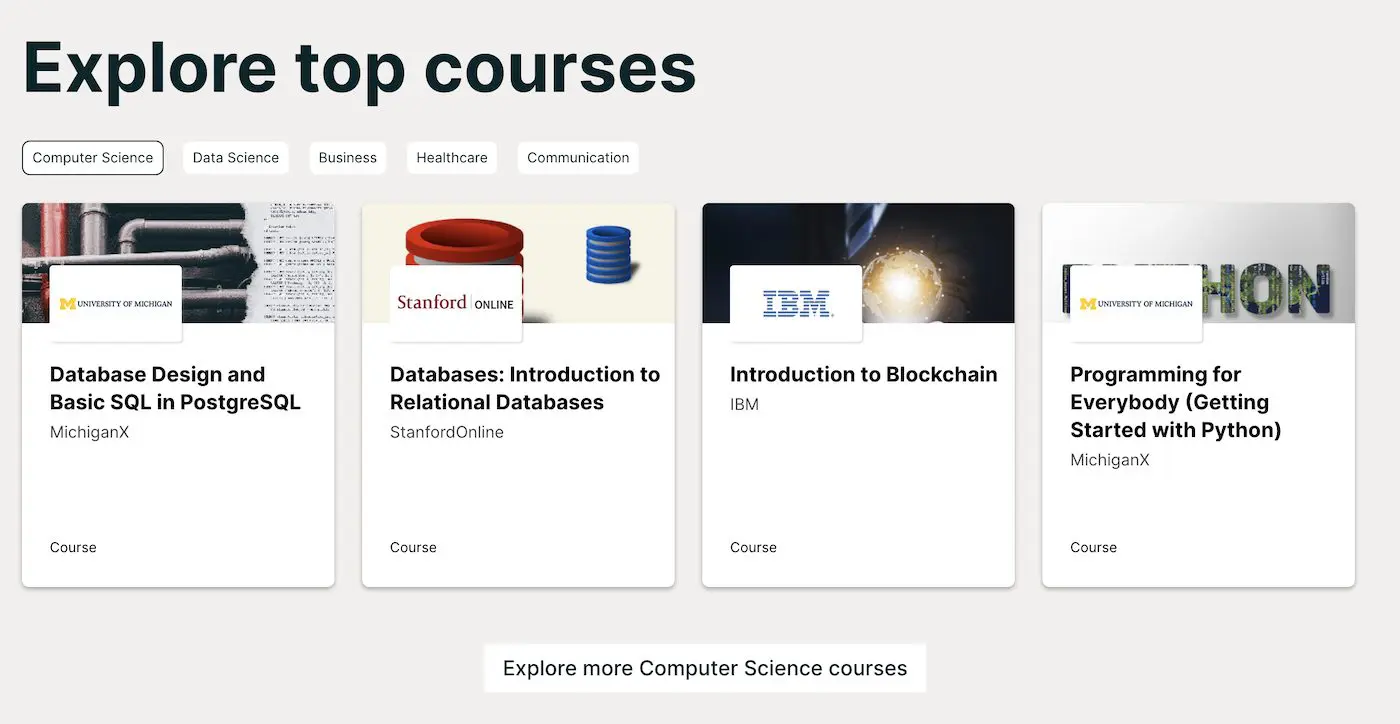 edX Explore top courses
edX is a platform for serious learning, if you have a pretty good idea what it is you want to study then its courses should be appealing to you. If you are looking for an elearning platform that offers a broader range of topics to browse then it may be worth checking out Coursera or Udemy.
You will need to put some time and effort, as edX courses are equivalent to University subjects, if you don't, you may struggle.
In short, edX is good for:
Professionals looking to gain skills
Learn at your own pace
Verified certificates to add to their academic or professional portfolios
Gain knowledge to advance on your careers
Individuals looking for affordable courses
Note: edX certificates are verified and recognized by future employers.
edX for Business
edX doesn't only offer plans for individuals, it has plans for Businesses. edX for Business customizes plans to upskill and train your employees. As all its learning pathways are curated for each business and team, sadly it has no indication of pricing. It has worked with well recognized companies like Mercedes-Benz, Goldman Sachs and Hilton.
edX for Business offers thousands of courses from world-class content that are informed by science to motivate and engage learners to maximize learning. The administration and learner dashboards provide insight into learner progress while services are available to solve employee skill gaps.
How Much Are edX Courses Really?
edX offers an array of courses with different pricing that reflects the type, of course. If you are looking to 'Pursue the Verified track' (paid option) the price range is usually between $50 to $300, cheaper if you compare it to a Full Master's degree which can be anywhere from $10,000 to $25,000. I speak a little more in-depth about the other professional education courses that edX offers below.
'Pursue the Verified track' is the paid option in which (see image below) you will have access to all course material, graded assignments and awarded a verified certificate on successful completion of the course.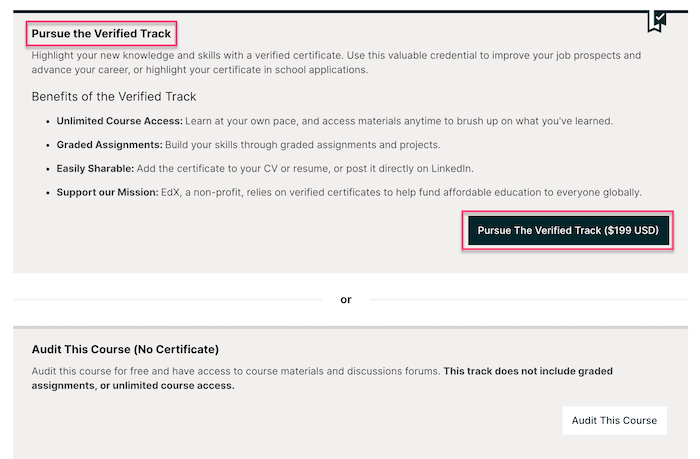 edX pursue the verified track
When you enrol on a course at edX you have two options.
If you choose to Audit this course, you will learn for free but won't have access to all course material, and won't earn a verified certificate when you complete the course.
Whereas, if you opt to 'Pursue the Verified track' you will have access to all the course material and earn your verified certificate.
The professional education courses which edX offers are listed below along with its approximate cost;
Master's Degree: A verified program from some of the world's top universities – $10,000 to $25,000
MicroMasters: Equivalent to 25-50% of a Master's degree that is powerful to fast track your career – $600 to $1,500
MicroBachelors Programs: Designed for adult learners with some or no college experience looking to progress in their education – $500 to $1,500
Professional Certificate Programs: Critical skills for a particular career path (e.g. Microsoft) created by industry leaders – $150 to $1,000
Global Freshman Academy: Learners to earn full college credit for freshman year, also can opt to take individual courses for credit and transfer to another institution – Approximately $200 a credit 
How To Open An edX Account?
The registration process for edX is super easy. The design and layout of its platform are clean and intuitive. I will outline here the steps taken to register:
Open a browser and visit edx.org
Click Register for free in the top-right corner
Or Register with Apple, Facebook, Google or Microsoft
Add your Full name, Email, Public username, Password and Country/Region
Click Create an account for free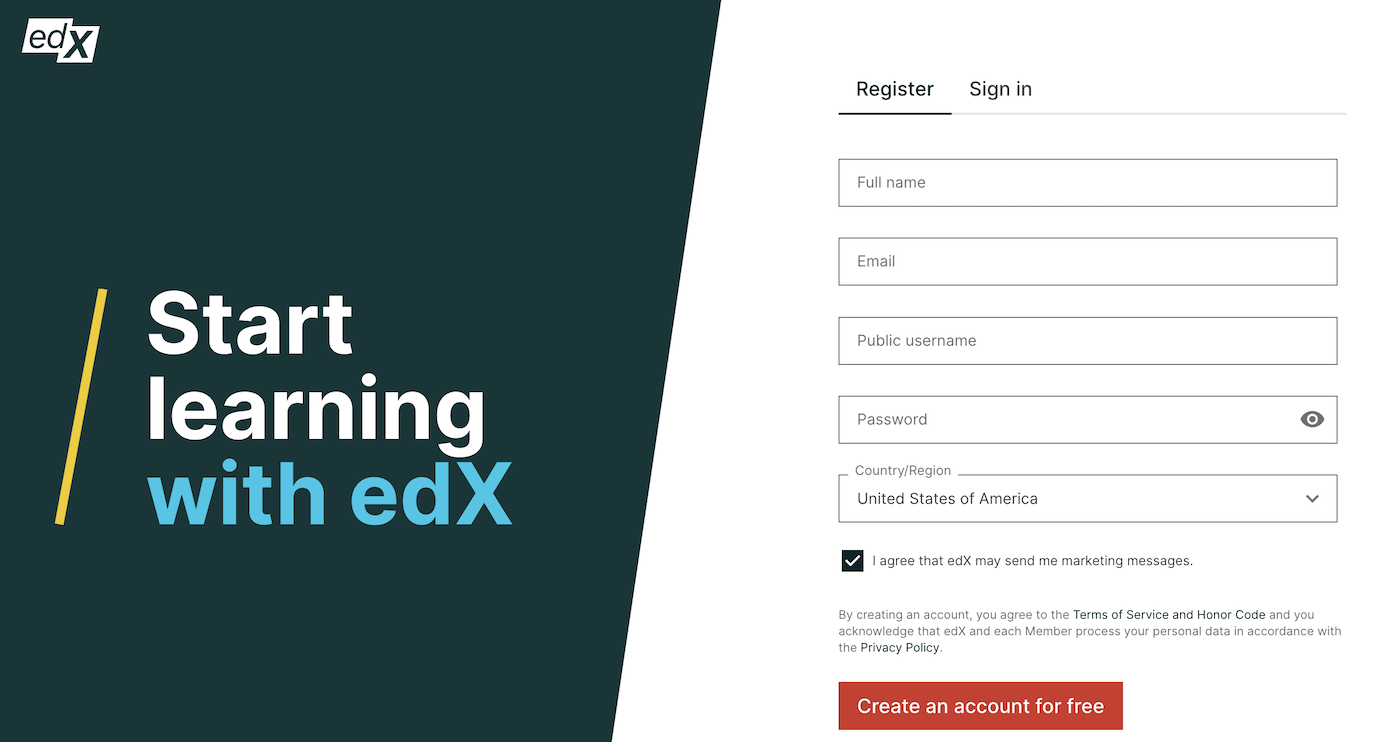 edX registration process
Once you have created your account and all signed in you can click on Explore Courses and begin checking out what edX offers.
You can then begin to by checking out either the Courses or Programs & Degrees. There is a big pool of courses/programs to choose from it will be difficult to get bored.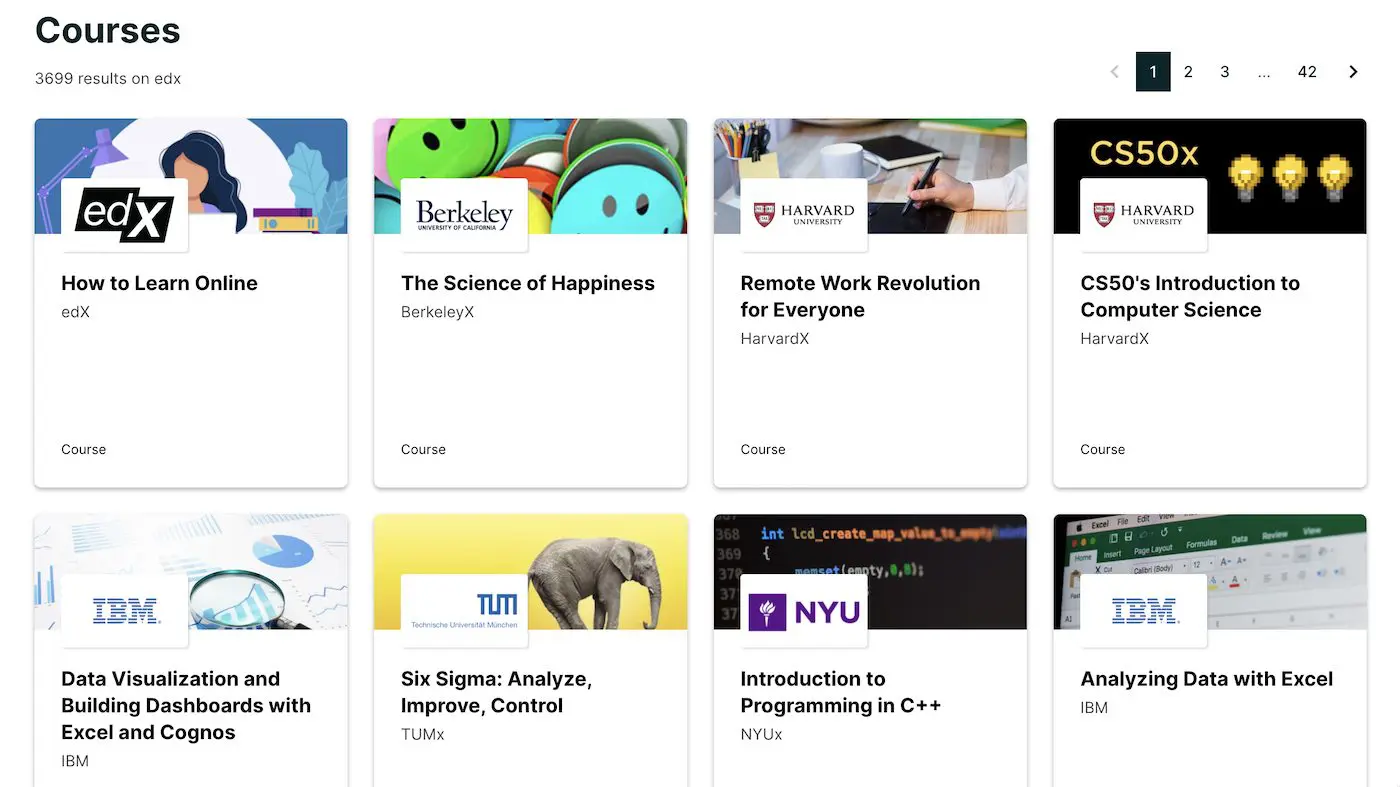 edX programs and courses
If you are looking to refine your search further you can use the filters like Subject, Partner, Program, Level, Language, Availability and Learning Type.

edX filters
Most Popular edX Courses & Programs
I thought it would be helpful to highlight the popular subjects and courses that learners are enjoying to give you a taste of what is most popular on edX.

Computer Science
Introduction to Cloud Development with HTML5, CSS3, and Javascript – This course is brought to you by IBM and will take you on the first steps to become a Cloud Application Developer. You will be taken through the programming languages and tools you need to develop your own Cloud and Web Applications. This course is self-paced and 4 weeks long working 1-2 hours per week.
Programming for Everybody (Getting Started with Python) – This course is brought to you by the University of Michigan and aims to teach everyone the basics of programming computers using python. You will learn the basics on how to construct a program from a series of simple instructions in Python. This course has a start date for you to enrol on and is 7 weeks long working 2-4 hours a week.
Business
Exercising Leadership: Foundational Principles – This course is brought to you by Harvard University and it helps to mobilize people to tackle tough problems and build the capacity to thrive. This is an introductory course, where you will explore strategies for leading in a changing world. This course has a start date for you to enrol on and is 4 weeks long working 2-3 hours a week.
Introduction to Project Management – This course is brought to you by the University of Adelaide where you will learn the principle of project management and apply them in your own work and life. You will learn practical ways to explore and understand your goals of your project and consider factors that may affect it. This course has a start date for you to enrol on and is 6 weeks long working 2-3 hours a week.
Data Science
Python Basics for Data Science – This course is brought to you by IBM that is a beginner-friendly introduction to Python for Data Science. The objective of this course is to get you started with Python and give you a taste of how to start working with data in Python. This course has a start date for you to enrol on and is 5 weeks long working 2-5 hours a week.
Probability – The Science of Uncertainty and Data – This course is brought to you by MIT and help you build foundational knowledge of data science. This course will cover the basic probability concepts and will enable you to apply tools of probability into the real-world. This course has a start date for you to enrol on and is 16 weeks long working 10-14 hours a week.
Engineering
Embedded Systems Essentials with Arm: Get Practical with Hardware – This course is brought to you by Arm Education where you will learn practical skills and confidence to build your own embedded system using the popular and affordable ST Nucleo F401RE development board. This course has a start date for you to enrol on and is 4 weeks long working 3-6 hours a week.
Solar Energy Engineering – This MicroMasters Program is brought to you by TU Delft where you will master the technical knowledge for a career in solar energy. The program is taught by photovoltaics research experts from TU Delft and it includes real-world applications. This program has a start date for you to enrol on and will take you 1 year and 1 month to complete working 9-10 hours a week.
Design
The Architectural Imagination – This course is brought to you by Harvard University and is designed for you to learn the fundamental principles of architecture. You will learn how to read, analyze and understand different forms of architectural representation and much more. This course has a start date for you to enrol on and is 10 weeks long working 3-5 hours a week.
Product Management Fundamentals – This course is brought to you by University of Maryland and is to help you understand the keys to successfully navigating the roles and responsibilities of being a product manager. This course defines the product manager's position in an organization and the key responsibilities. This course has a start date for you to enrol on and is 4 weeks long working 2-3 hours a week.
7 Tips To Find The Perfect edX Course
If you are feeling a little hesitant about which course is the right one for you – Do not fear. I thought it would be helpful to put together some helpful tips to help you choose the right course.
Search and filter
A very helpful feature is the use of the filters in the search bar. If you have a topic or area you want to search for, you then have the option to narrow down your search by selecting the following filters like Subject, Partner, Program, Level, Language, Availability and Learning Type. This can save some time if you already have an idea of what you are looking for

edX Search our catalog
Course syllabus
A clear breakdown of what topics to expect each week during the course. This gives you a broad overview of the course as a whole and highlights what will be covered and when.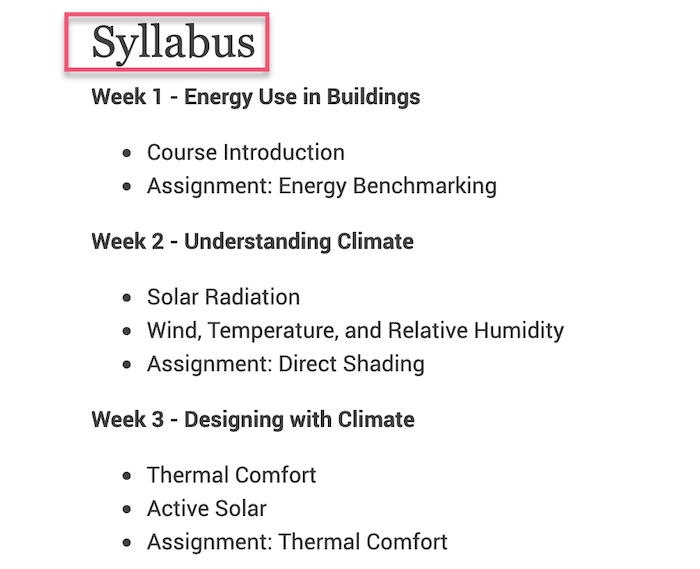 edX syllabus
Audit this course
When you enrol in a course on edX, you are given two learning options. One is to Pursue the Verified Track (paid option) and the other one Audit the Course. If you choose the latter you are opting to learn for free, which means you won't have access to all the learning material and at the end of the course you will not be able to earn a verified certificate.
edX audit this course
However, checking out the course for free may be an excellent way to decide if it's right for you (and pay for the full access later on).
Learner testimonials
At the end of every 'About the course' section, you will find 'Learner testimonials'. These testimonials give you first-hand feedback on what the experience was like for others. However, there are minimal testimonials and I have only found a maximum of 2 testimonials per course. A more extensive range of testimonials would be more insightful.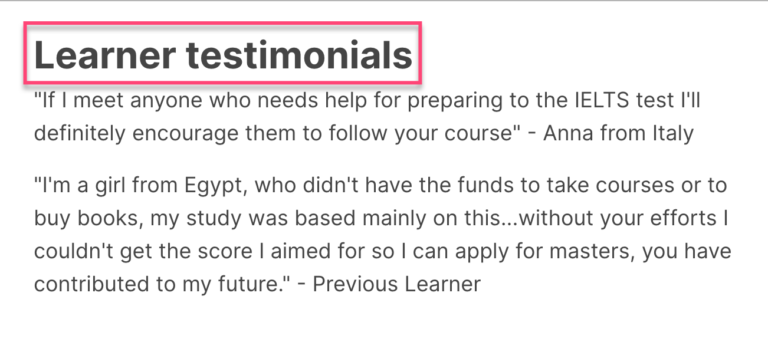 edX learner testimonials
Pursue a verified certificate
The majority of edX courses offer verified certificates for a fee (assuming you successfully complete the course), this cost varies depending on the course. Every official and verified certificate will be signed by the instructor and have the partnered institution's logo to prove your achievement. The certificates will require you to confirm your identity before you can receive it.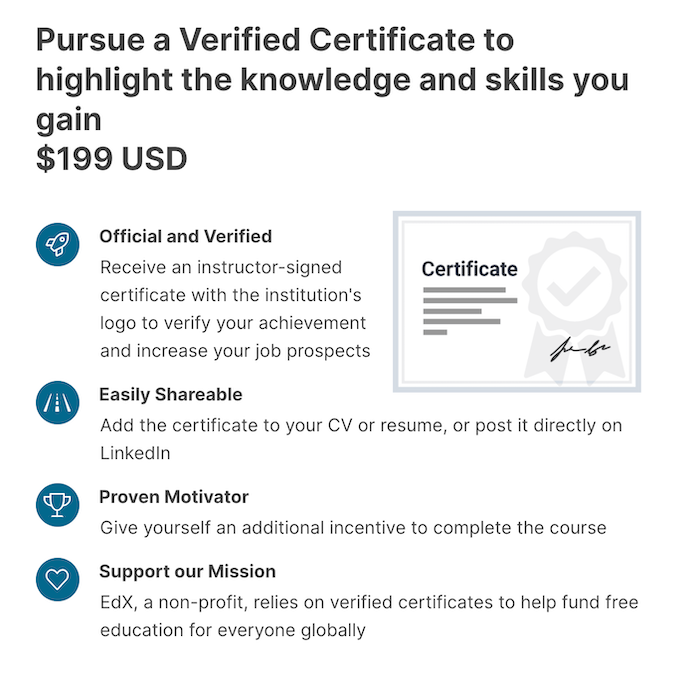 edX verified certificate
Your verified certificate can be connected to your Linkedin profile and your achievement added to your CV which can help to improve your job prospects.
Meet your instructors
Included in each course description is a 'Meet your instructors' section which will take you to a small blurb about his or her prior experience and social links. It also highlights their areas of expertise which I think is a really nice touch and helps you get a better idea of the instructor's specialised areas.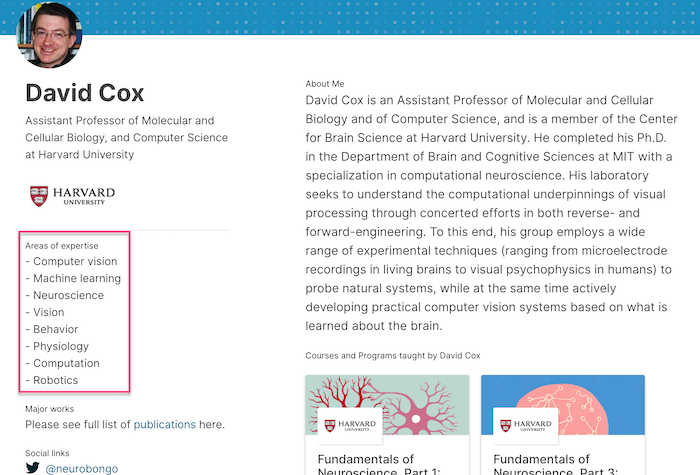 edX meet the instructors
This is super helpful for you to know more about who will be teaching the course and give you insight into the way the course will be taught. Check out if you like how it sounds.
Schools and partners
edX courses are created by one of their 160+ prestigious partnered institutions. If it is important for you to study with a particular school or partner you have the option to view all the institutions that are partnered with edX here. You can then choose your preferred institution and start to browse all the online courses that they specifically offer.
edX schools and partners
edX reguarly partners with different types of organizations from all around the world from academic institutions to non-profit institutions or national governments and more. If there is a strong mission alignment with edX, they welcome you to get in touch to offer courses and programs.
Will edX Help Me With My Career?
edX courses are perfect for someone who is wanting to study a higher educational program, learn new skills and knowledge with the goal of advancing in their life. If you are looking to refresh and recharge your resumé and add a verified certificate to your LinkedIn profile, then it really is a no brainer.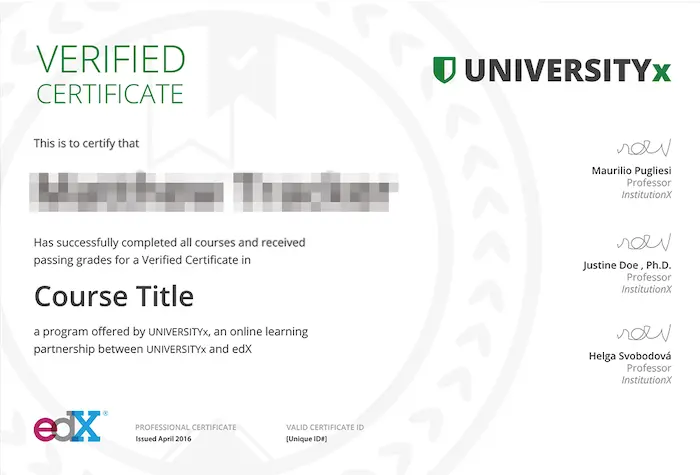 edX verified certificate example

The verified certificate from edX will provide proof to a future employee, job promotion or a college application that you have successfully completed the course. The course will include your name, institutions name and logo, edX logo, course title and professors signatures and names who taught the course.
Note: Before receiving your edX certificate you will be required to verify your identity.
Is edX Legit?
A common theme for many when they are considering an elearning platform is: Is this elearning platform legit?
edX was founded in 2012 by professors from the Massachusetts Institute of Technology and Harvard University. It is a non-profit organization that has had so far over 34+ million global learners. edX partners with 140+ prestigious institutions from around the world.
edX also has the Open edX project that is its web based platform. It has been developed by edX and in collaboration with top universities, technology partners and research centers. It can be used on your own server to support as many number of learners as you want. It can support degree programs, online campus and instructor and self-paced courses. Open edX is for elearning on any scale, any content or any device.
To reiterate, edX is completely safe and legit, you won't be conned.
Partnering with edX
edX partners are a variety of organizations from academic institutions, non-profit institutions, national governments, non-governmental organizations (NGOs), and multinational corporations.
If you're seeking to partner with edX, there are a few critical points to be aware of;
In-demand course content: Your content must be fitting with edX's platform and of interest to its learners.
One-time financial contribution: You will recieve the services and benefits that edX provides for your support fee.
Before deciding to partner with edX, I thought it would be helpful to point out some of the pros and cons.
Some of the pros are;
+ Working alongside world-famous institutions, the cream of the crop.
+ edX offers partners technical, marketing and educational support.
+ Partner with receive a percentage of the revenue generated by the course.
On the other hand, the cons are;
–  The one-time financial contribution may need to be rethought in the future to maintain the volume and quality of its courses.
– Partners will be solely responsible for creating strategic and in-demand content.
> Click here to become an edX partner
Last Thoughts: Is edX Worth It?
So, let's conclude why edX is worth it.
If you are looking to study on a course to improve your knowledge or skills, then edX is definitely the right platform for you. It has such a great range of learning programs which are valued by employers since edX partners with world-recognised universities and companies.
In contrast, if you want something less serious, and you aren't looking for a verified certification, then online learning platforms like Udacity or Skillshare would be a better option.
You will love edX for its:
Verified Certificates
Learn with a prestigious university
World-class instructors
Interactive online courses
Self-paced and instructor-paced courses