FTC Disclosure:This post contains affiliate links.We're independently supported by our readers and we may earn a commission when you buy through our links.
Wix is famous for letting you build your website for free, so you only need to pay when you want to connect your domain and remove Wix branding. But Wix also has a ton of features for creating a sleek online store.
You can build your site using the Wix Editor, a drag-and-drop tool that lets you select and customize various elements of your site. You'll also have templates and stock images to choose from to make the process easier. It even has one-pager websites for those who prefer a simple, no-frills browsing experience.
However, is Wix Ecommerce a good option for launching an ecommerce business? Let's go over this Wix ecommerce review to find out.
Wix Ecommerce overview
Wix Ecommerce is the version of Wix that's tailored for online businesses.
Like most website building platforms, you gain access to the website building features—called the Wix Editor—where you can pick the elements to place within your website's structure, align them, write your site copy, add graphics, and finally publish everything for the world to see—all in less than an hour.
Here's the catch: The business version adds e-commerce components to your website so you can launch an online store.
Apart from the powerful creation/building tools, Wix also takes care of hosting and all the other technical heavy lifting that's usually involved when becoming a website owner.
Who's Wix best suited for?
Wix's range of ecommerce tools is particularly good. The template designs are stunning (not mediocre or just "okay" at all), customizing your website is super intuitive, and it can be used by literally anyone.
So if you're building your first online store and don't want to deal with technical stuff, Wix Ecommerce is a flawless option to use.
Unfortunately—despite the name—Wix Ecommerce is not really recommended for growing an ecommerce business. It simply lacks the capabilities and systems that would be essential for managing a store during its growth periods.
Unlike ecommerce platforms like Shopify or BigCommerce, Wix is built for creating websites—not businesses.
In short, Wix is a great option if your business doesn't need to grow much, or, if you have an already established business and you only need to host a website.
Wix pricing plans
Wix is famous for letting you create a website for free.
However, it's not that useful when it comes to ecommerce purposes.
You can still build your website for free without hurries, but you won't be able to accept online payments until you upgrade to one of these business plans:
Wix Business Basic plan. Which allows you to launch your business and start selling online.
Wix Business Unlimited plan. Which unlocks subscriptions, multi-currency, automated taxes, and selling on marketplaces.
Wix Business VIP plan. Which gives access to customized reports, dropshipping products, product reviews, and loyalty programs.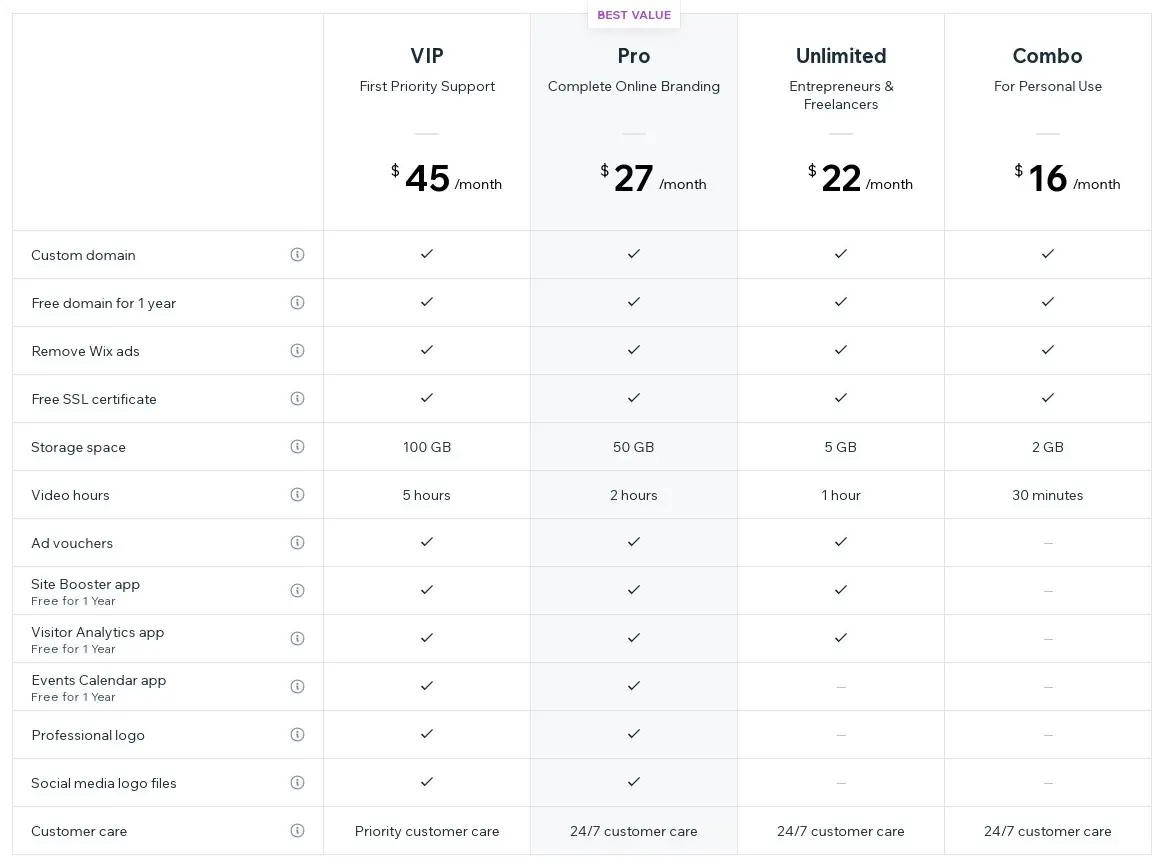 Wix's pricing structure is very cheap. The most expensive plan (Business VIP) is barely $5 more expensive than Shopify's cheapest ecommerce plan.
Plus, the differences between the plans are few, so you can start with the cheapest option and upgrade once you start needing the extra features.
Wix Enterprise
Aside from the business plans, Wix has an enterprise version for corporate businesses.
Custom pricing structure starts at $500/month, so it's thought for already established businesses that just want to expand their online presence. It included the following:
Account manager. A dedicated account manager to discuss and advise on the best ecommerce solutions to help you reach your goals.
24/7 Priority Support. Get superior support tailored to your team's specific needs from our global customer care team at any time.
Site migration support. Migrate your websites and projects from other platforms.
Enterprise dashboard. Maximize productivity by managing teams, workflows, and multiple sites from one place. Set up your SSO and add licenses all from your Enterprise dashboard.
Tailored solutions. To get tailored ecommerce solutions, from custom templates to funnels, and system integrations to applications. Anything is possible.
Expert consultation. Access to in-house specialists with in-depth information on products and solutions. Providing answers to questions relating to design, SEO, security, performance, and more.
Launching an online store with Wix Ecommerce
Wix Ecommerce makes it feel easy to launch an online store on the go.
But let's review each of the platform's key features and find out if that's the case.
To begin with, you can sign up by clicking the "Create Your Store" button on their website.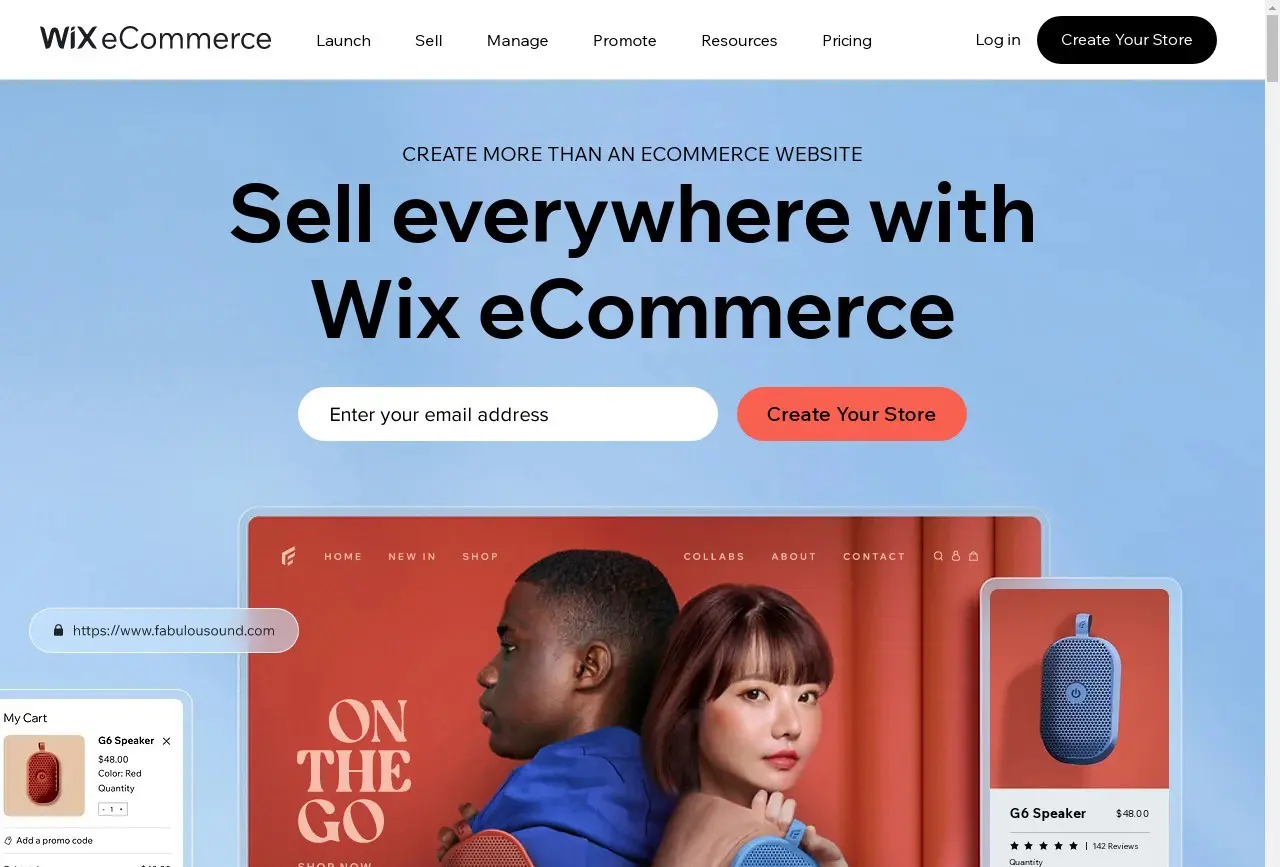 And as simple as that, you get your own free website (you can even sign up with your Google account if you want). Now you need to set it up before launch:
Building your store website on Wix
The first thing Wix will do is create a visible website for you. You have the option to either create it from an ecommerce template or use the Wix ADI feature:

Wix ADI
The process starts by asking you the name and the type of business you want to create.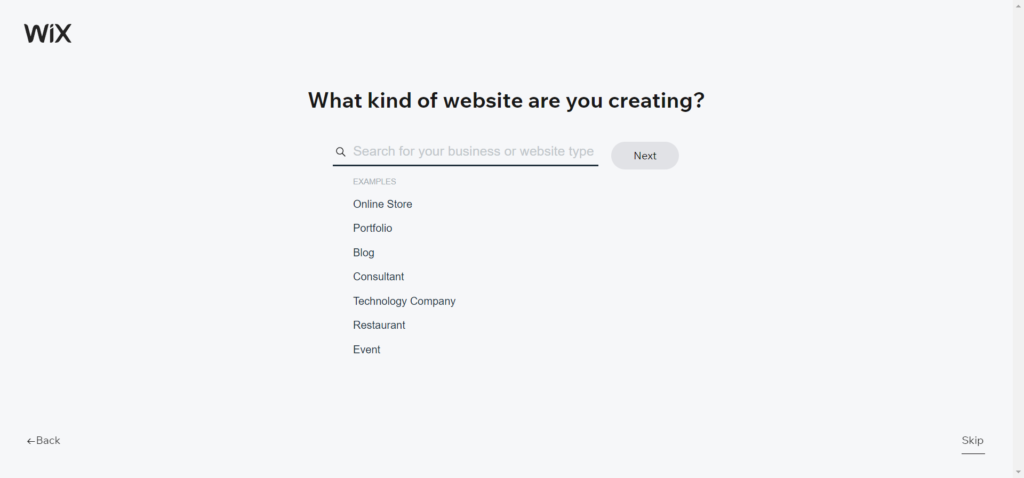 It also asks you to describe what your website is about. You can use very specific keywords like "red wine on delivery", for example.
From here, you can select the functionalities you want to include such as chats, blogs, event bookings, and more.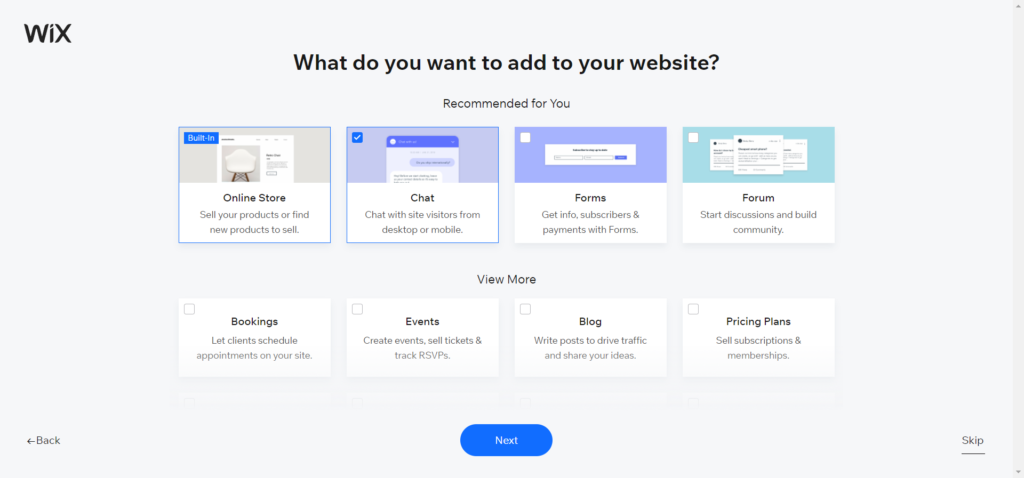 And to finish, it let you choose the pages you want to include with nice previews: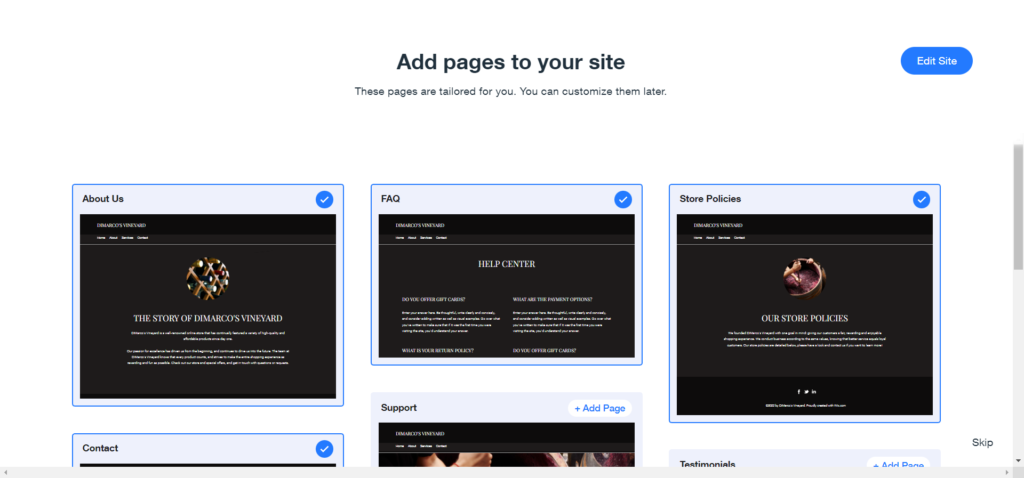 And that's it! In less than three minutes, your website is already up and ready for editing.
Wix Templates
If you go for an ecommerce template, Wix presents a set of pre-made designs that you can use for your new store. These templates are all well-categorized and built with specific niches in mind.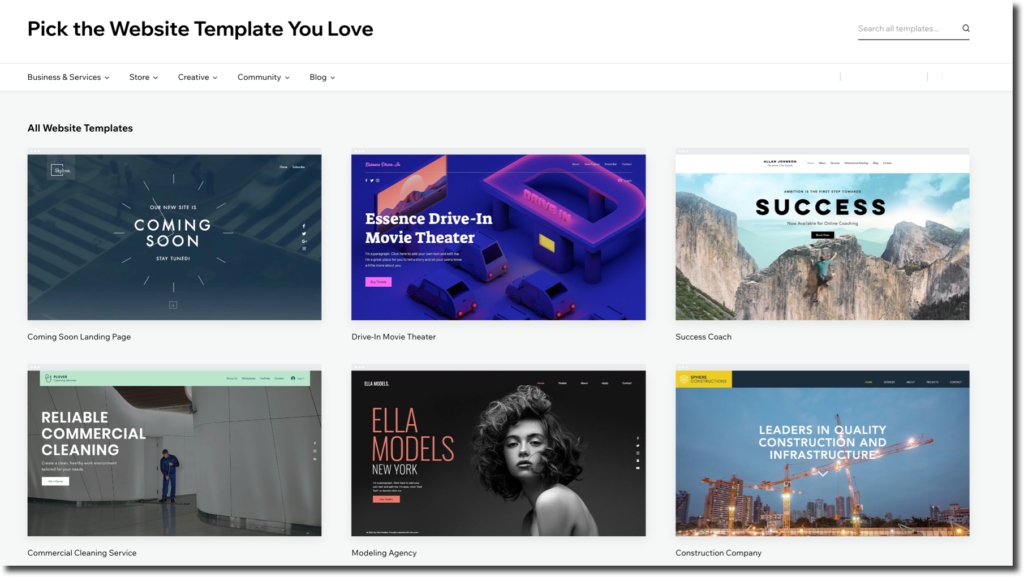 Once you've found an ecommerce template that fits your business you can make it "yours" by clicking the edit button—which will ultimately bring you to the Wix editor.
Wix editor
This Wix Editor is a "WYSIWYG" website builder, which stands for "What You See is What You Get".
In short, you can see how your website looks as you edit it.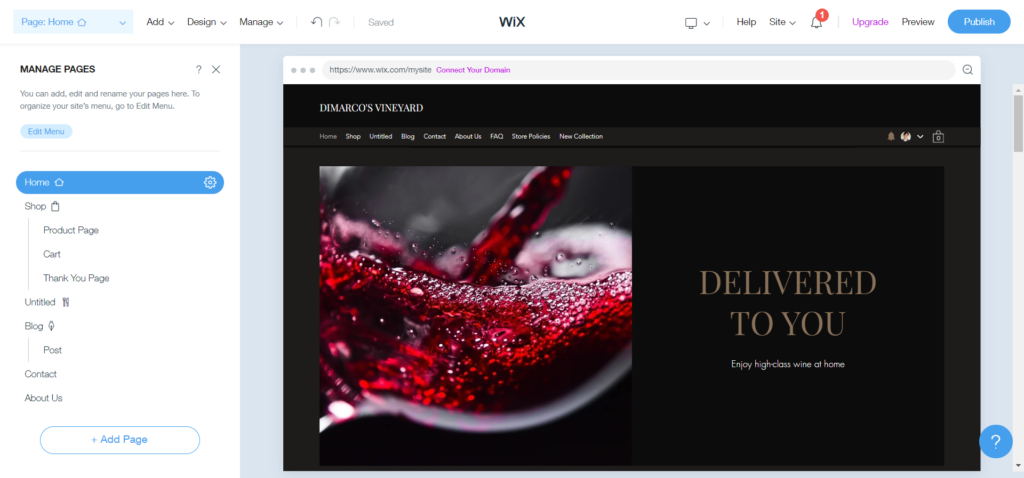 The Wix editor can:
Customize your theme. Change the color palette, fonts, and animations to match your branding.
Build your site structure. To overview all your pages, create the most important pages of an ecommerce site, and connect them.
Add multiple types of content. With templates for product galleries, new collections, buyer testimonials, subscription forms, images, videos, and much more.
Add apps. To include chatbots, Instagram feeds, pricing plans, HTML code, etc.
This platform is built to be extremely easy to design your website as you want it, with almost no limits.
However, at this point, you're just staring at an online store with fake products. So let's head to the dashboard and set up a real business.
Adding products on Wix
You're going to spend most of your time managing your products, so it's important to save as much time as possible.
Here's how it works on Wix:
First, go to your dashboard and click on the "store products" section.
This brings you to your product list, where you can do all sorts of things:
Add and edit products
When clicking the "new product" button and selecting "physical", you can instantly start adding your product's information, which includes:
Product name
Product images and videos
Product description
Pricing
Inventory and shipping
Product options for different colors, sizes, models, etc
Subscription options (to send products on a recurrent basis)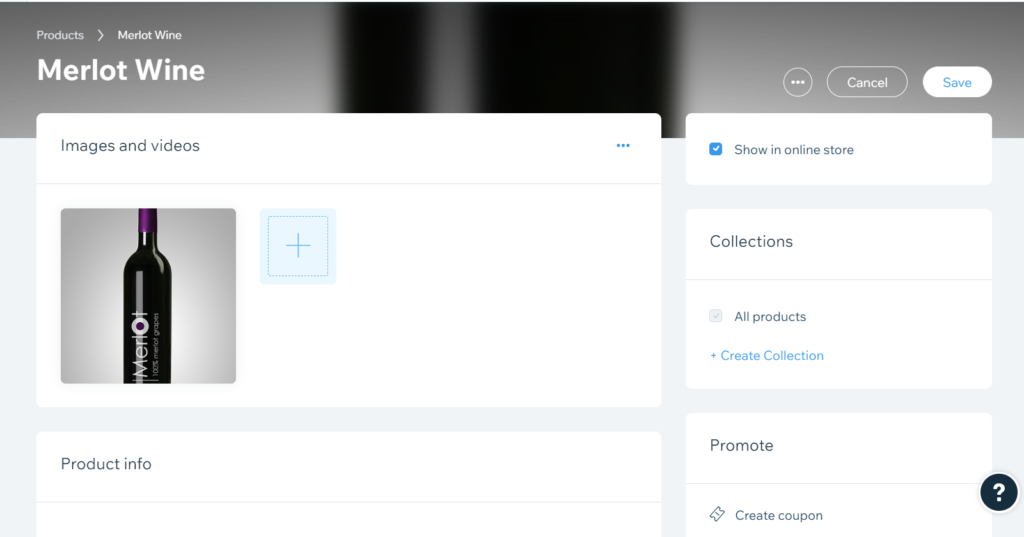 There are also options for adding custom text to personalize a product, create specific coupons to promote the product, and a ribbon that indicates if the product is new, on discount, and so on.
As for variants, you can add up to 6 product options per product, up to 100 choices per product option, and up to 1000 total variants—which is enough for small stores.
Selling digital products
You can also upload a digital product that your customers can automatically download after they purchase (except for videos).
Think of products like:
Guides
eBooks
Audio courses
Tools
Spreadsheets
The process is almost the same as physical products, including info like name, description, images, coupons… but without variants.
Importing products in bulk
If you don't want to add products one by one, there's the option to import products in bulk by uploading a CSV file.
For this, head to the products section, and you'll find a button opening this window: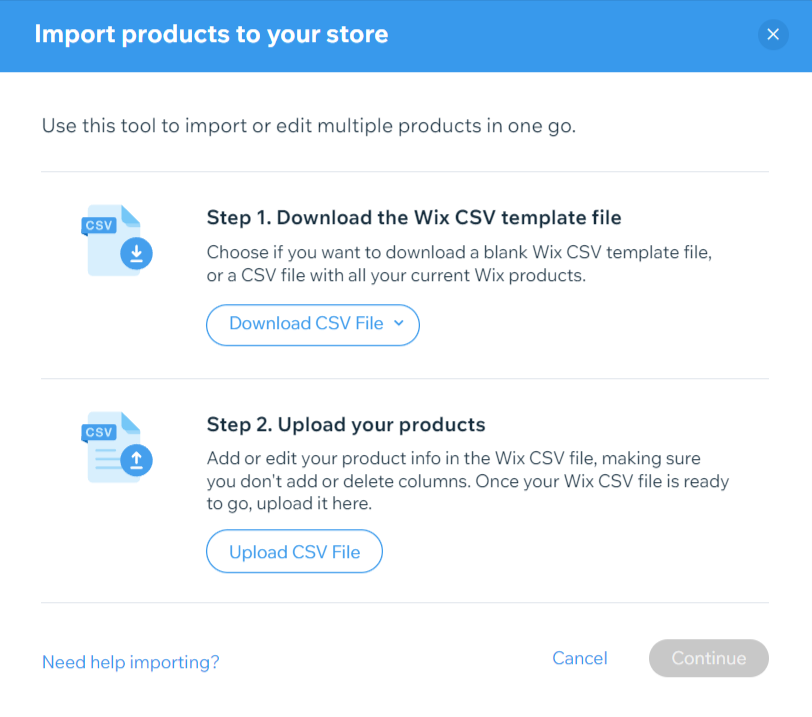 Wix makes it so easy to import products that it even offers a CSV template for those who don't know how to create one.
Whether you create your own CSV or use Wix's template, you need to upload your products and hit continue. Then it will automatically do the rest.
Product collections
Wix Ecommerce lets you categorize your products and create collections that you can show on your online store.
In the collection section, you can go over all your collections and create them from scratch.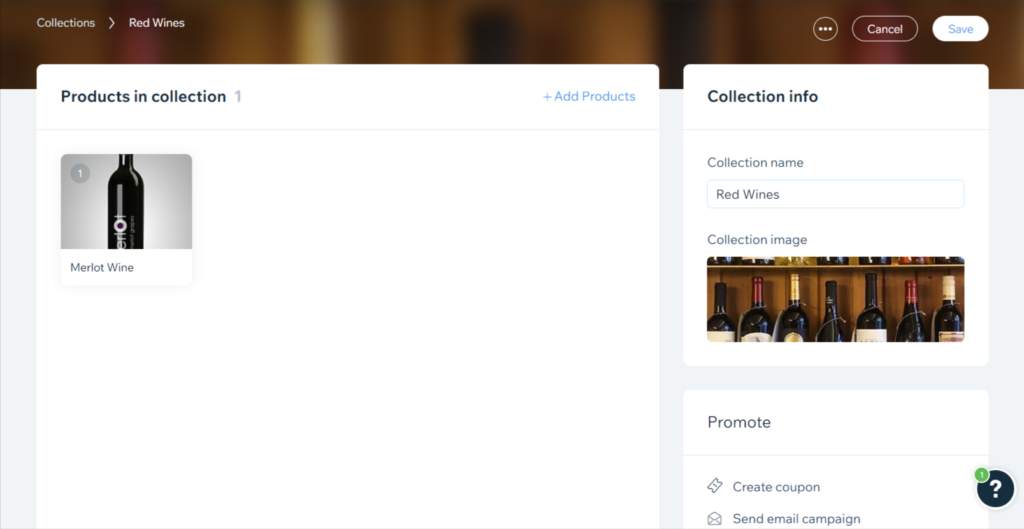 But unlike other ecommerce platforms, there's no way to add and remove products from a collection automatically, they can only be edited manually (which is not great when you need to save time).
Tracking orders and managing your business
Wix allows you to track inventory, orders, and back-in-stock requests from their platform.
The inventory is mostly for tracking product quantities, which is useful if you have control over the production chain (not so much if you work with a supplier and you can't control the availability of a product).
On the other hand, order management makes it easy to process orders and mark them as fulfilled.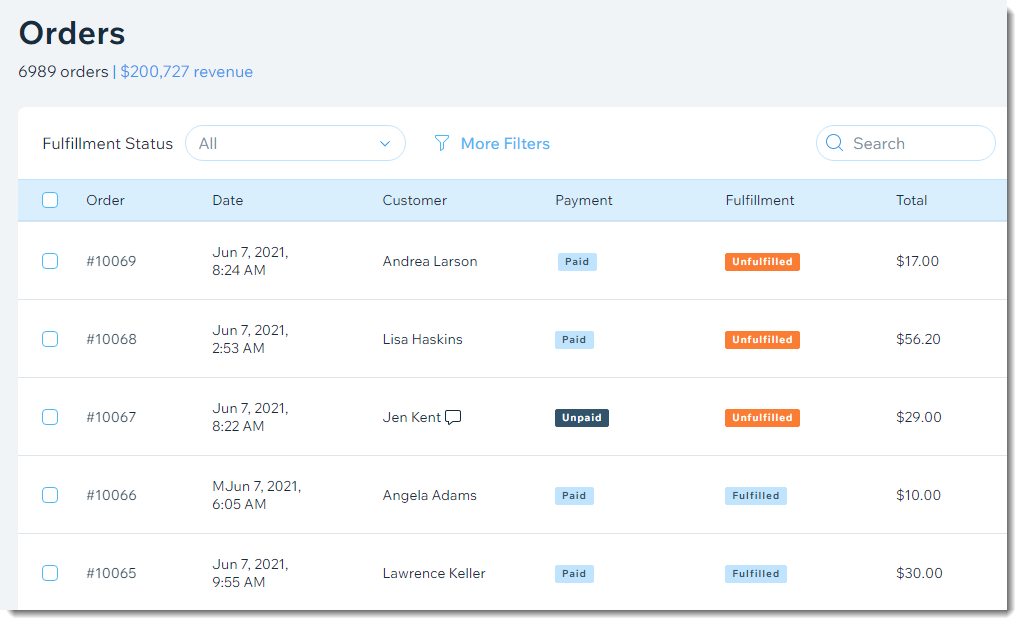 Wix also makes it possible to outsource your fulfillment by forwarding orders, connecting Wix with your warehouse services, and integrating with dropshipping apps like Modalyst.
Plus, there's the Wix app, where you can manage your orders and other processes from your phone.
Does Wix offer good support?
When it comes to support service, Wix offers everything.
You can find the support icon at the bottom-right side of your screen and you'll instantly have access to the endless resources available through the chatbot.
The Wixbot gives you access to:
Phone support
Social media support
Email support
Video tutorials
24/7 on-page editor support
In-depth knowledge base
If none of the resources available can solve your problem, you can always send an email or schedule a callback with an expert to help you personally.
Wix Ascend: Built-in marketing and sales channels
Most of your time will be spent on marketing, so what does Wix offer that might help you with your campaigns?
That's why Wix Ascend exists.
Wix Ascend is a suite of marketing and sales tools for promoting your products and managing your customers. Including:
SEO tools
Email marketing
Automations
Lead generation forms
Social post scheduling
Video maker
Integration with Google Analytics and Facebook Ads
It comes pre-installed with your store, but with limits. So you'd need to pay an additional fee if you want to—for example—build unlimited email campaigns and expand your team.
Here are the plans: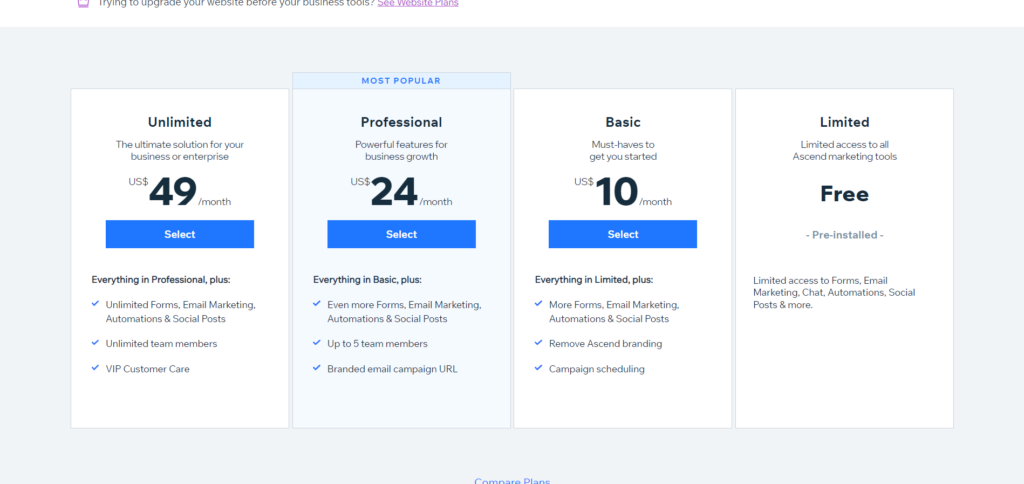 Note: Despite the cheap pricing, consider that these have nowhere near the same capabilities as dedicated marketing tools. So whether it's worth it or not depends on your current marketing operations.
Thankfully, Wix has extra features that have no relation to the Wix Ascend plans. Let's go over them:
Product discount coupons
Wix has a great capacity for creating discount coupons.
Plus, creating product coupons on Wix is pretty simple, you can go to either your products or collections and click on the "create a coupon" button: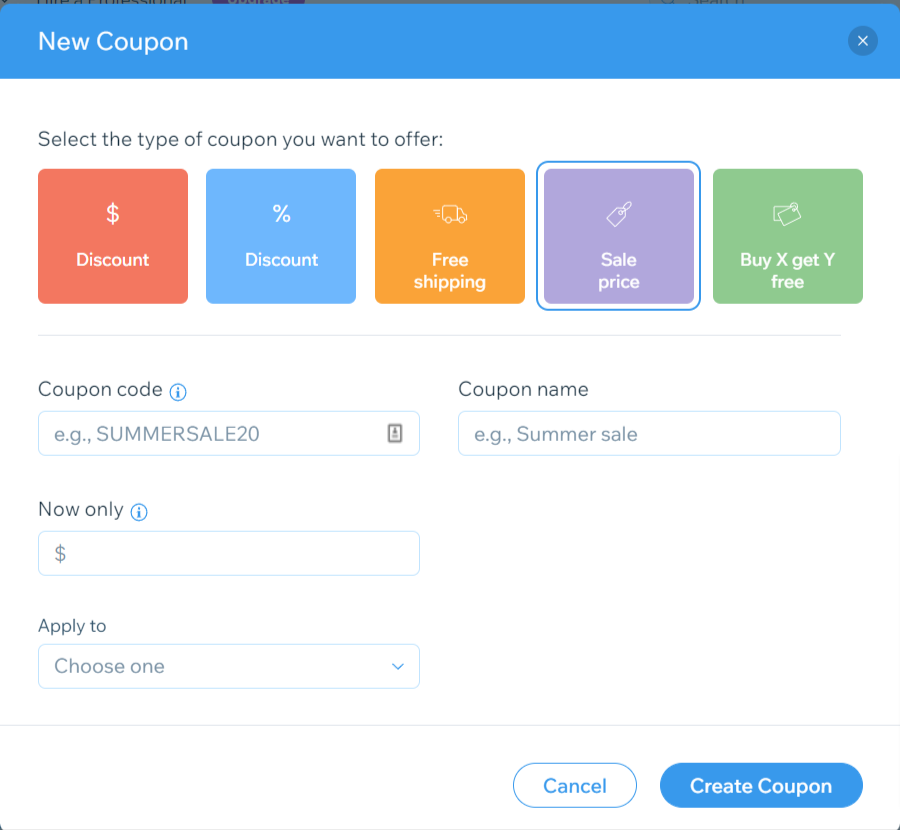 Here, you can create many types of coupons like:
Percentage discount coupon: To discount based on percentages
Price discount coupons: Fixed discounts such as $15 off
Free shipping coupons: For free shipping offers.
Sale price coupons: To fix the price of a product to, for example, $10 instead of $17.
Minimum order amount coupons. Coupons that apply when a shopper's cart reaches a specific value
Search Engine Optimization
Wix has a bad reputation for its poor speed optimization (which hurts SEO).
However, it still offers a very complete SEO tool with all the essential capabilities you might need, including:
Robots.txt editor. Wix automatically generates a robots.txt file for your site. Edit this file to tell bots how to crawl and index your site.
Structured data markup. You can modify Wix's built-in presets with custom markups from your favorite schema generator tools. Plus, you can add and edit multiple structured data markups on pages of the same type simultaneously using variables.
Server Side Rendering (SSR). Wix's infrastructure is based on SSR, allowing search engines to fully read your site content. Dedicated versions of your pages are created and optimized, allowing bots to crawl, view, and extract relevant information.
SEO Patterns. With the SEO Patterns tool, you can modify and customize meta tags, structured data markups, and social sharing functions using free text or variables. This lets you create and apply the same logic for each page type all at once, instead of editing page-by-page.
Bulk 301 redirects. With the URL Redirect Manager, you can manually set up redirects for a single URL, or a group of URLs that share the same path.
Accelerated Mobile Pages (AMP) for Wix Blog. Get faster loading times on mobile devices for your blog posts.
SEO APIs for developers.With Velo APIs, you can add your own JavaScript and manipulate some of your site's HTML to schedule and run automatic content updates or edit meta tags at scale.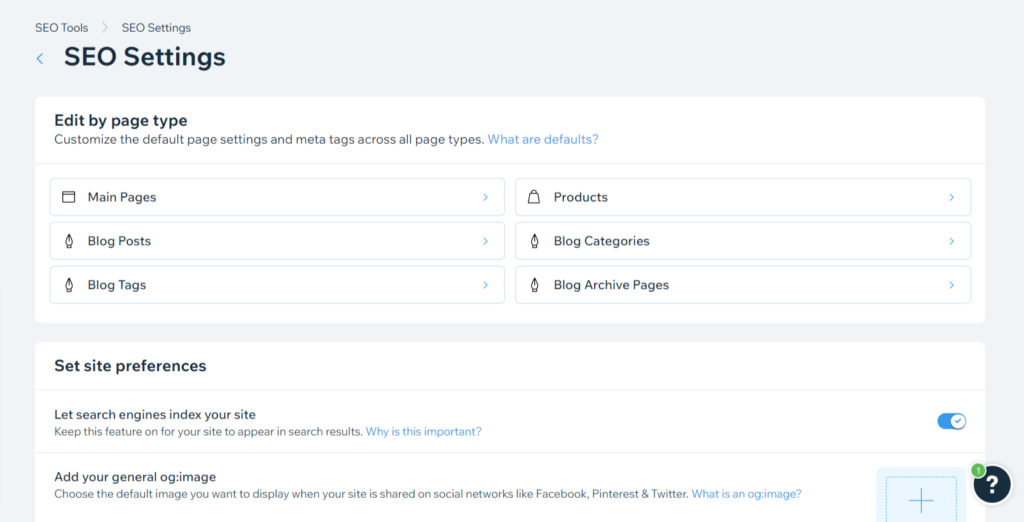 Plus, with the Wix SEO Wiz, You can follow a custom SEO Setup Checklist to connect your site to Google Search Console, track site data, and start improving your site visibility on search engines.
People from multiple Reddit and Quora communities have been getting mixed SEO results with Wix. But don't let it discourage you, if you follow all the best practices and use the appropriate tools to optimize your loading speed, it might be good enough for your business!
Blogging
Besides search engine optimization, Wix has a built-in CMS too (a.k.a content management systems), you can find it right on the dashboard, and it offers blogging tools like:
Templates to start your blog posts.
Tags and categories to manage your blog content.
Editing your blog SEO settings such as meta tags, URL, markups, and more.
Importing blogs from WordPress.
Monetization with display ads, subscriptions (for exclusive blog content), premium webinars, and your own products.
Watch over analytics to keep track of your traffic and content-driven revenue.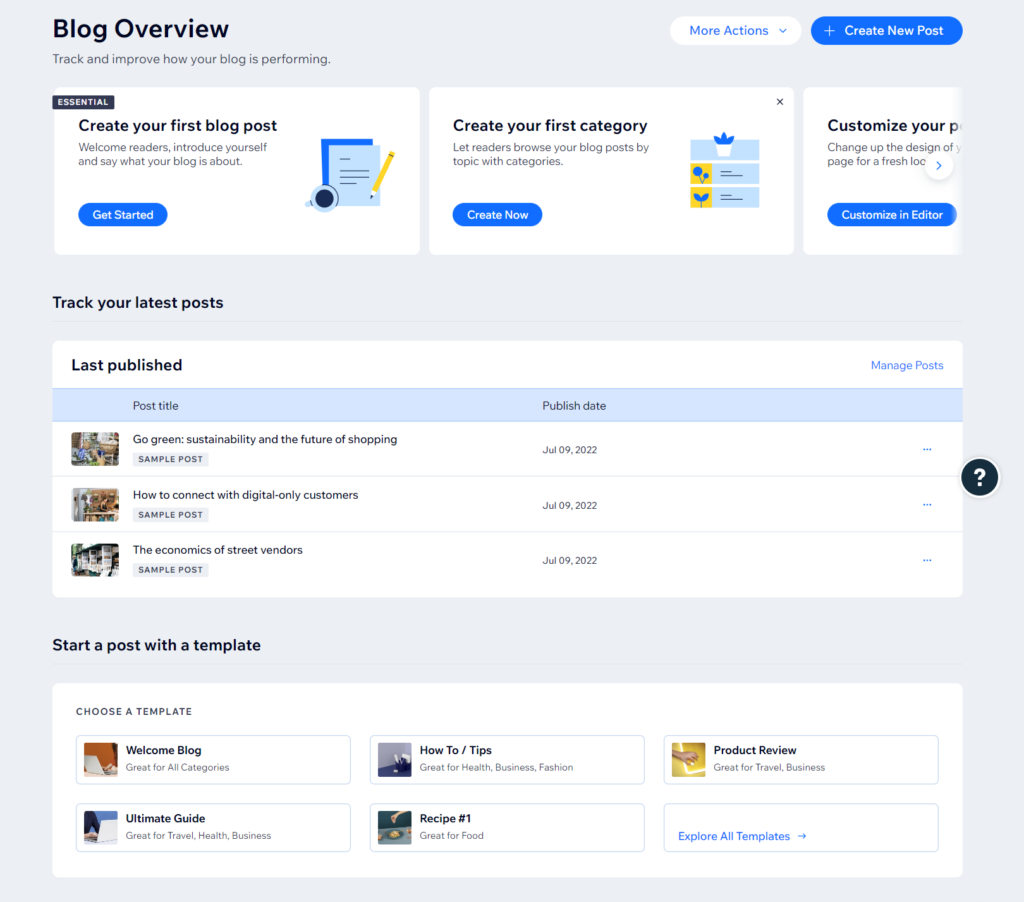 To be honest, Wix's content marketing feature is very solid and it can be used in conjunction with other optimization tools like Frase or Clearscope to sustain a blog.
Email marketing
If you were expecting to create complex email flows on Wix, then let that go.
Wix's email marketing is mostly for business newsletters, and although you can create very nice emails, there isn't much else you can do with it.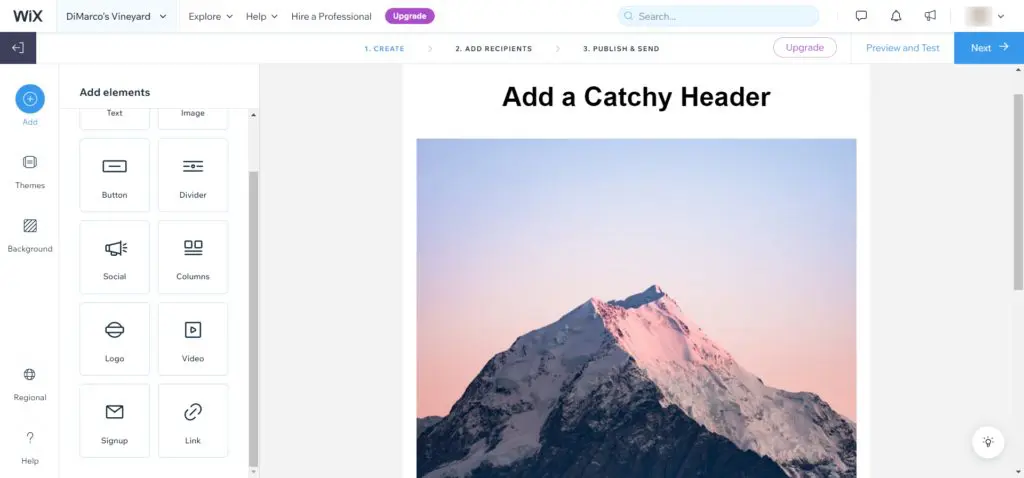 The best you can do to set up email campaigns is by using the automation feature, with which you can send basic email campaigns like:
Welcome email campaigns.
Cart abandonment emails.
Feedback requests.
Blog promotions.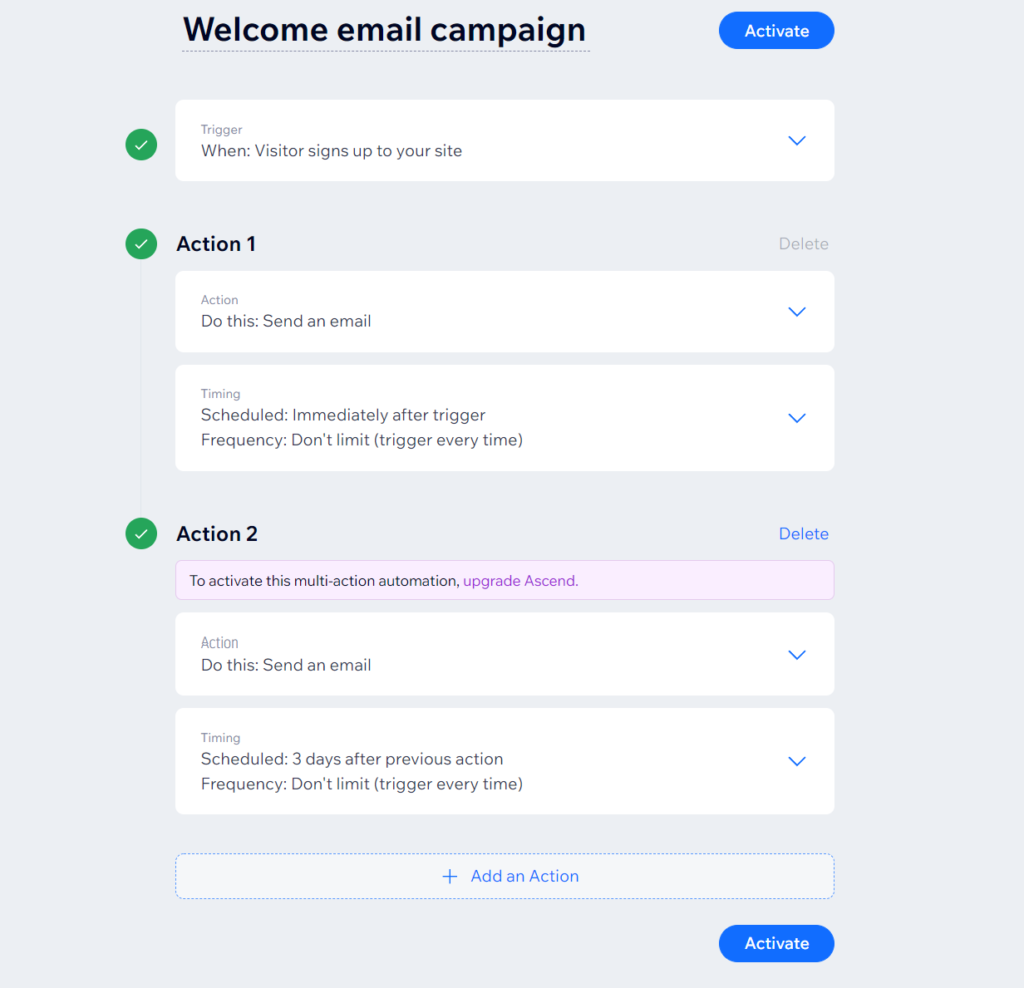 However, you can't trigger emails based on clicks or scores, and you need to upgrade your Ascend plan if you want to send more than one email in a row.
P.S: The automation feature is pretty good in general, as it can also trigger notifications, chat messages, and tasks for a more "omnichannel" presence.
Multichannel sales integrations
As for sales channels, Wix allows you to sell your products on other places that are not your website, including:
eBay
Amazon
Wish
Facebook
Instagram
Your own mobile app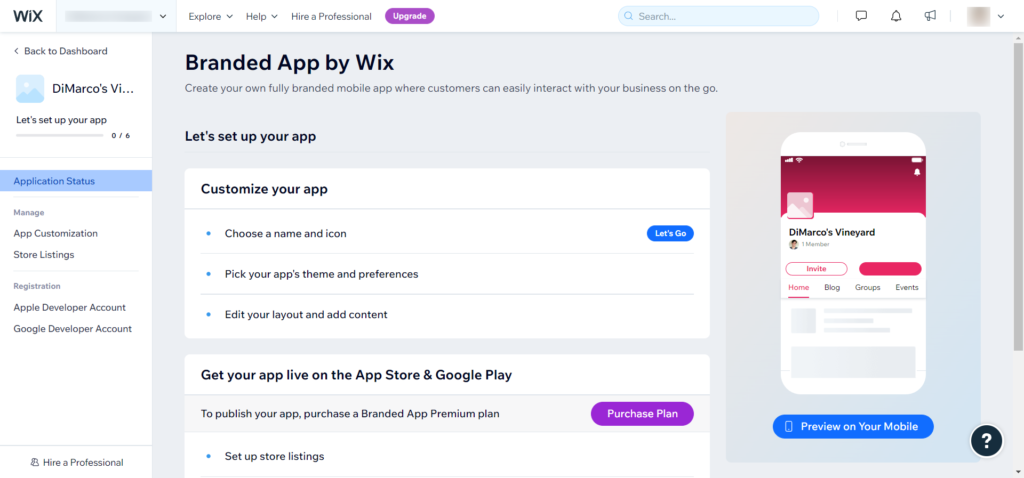 Yes, you can create your own mobile app for your business with Wix. It won't be the most customizable no-code platform for it, but it can definitely do the job!
With this level of multichannel support, your customer can buy your products on their preferred platform—which is a plus if you're relying on social media to get traffic.
Wix analytics
You might be able to launch and manage your business with Wix, but what about keeping track of your store performance?
Well, Wix Ecommerce has a decent set of analytics tools to watch over your website. Those including:
Traffic overview. Where you can have a rough idea of how much traffic you're getting and where they're coming from.
Sales overview. Which tracks your general sales and what channels are driving the most money.
Behavior overview. That shows your visitor engagement data including pages visited per session, bounce rates, time spent, most popular pages, and so on.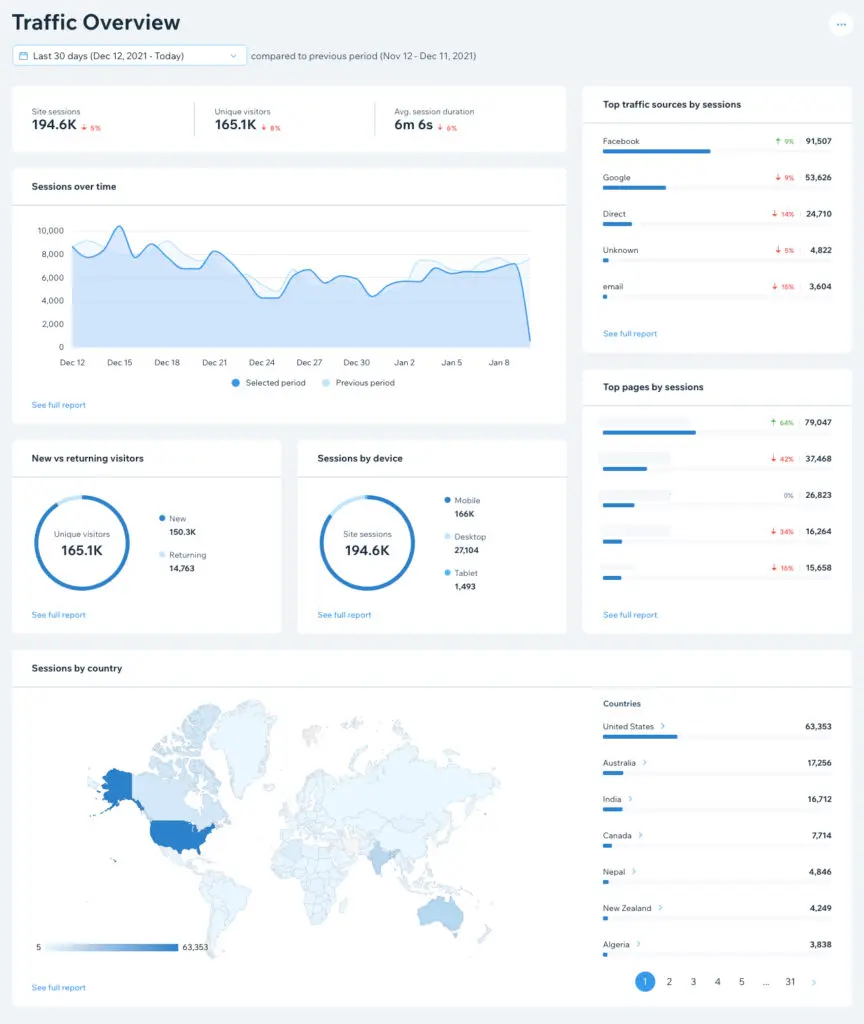 There's also a report section where you can visualize important metrics like conversion rates, blog activity, top traffic sources, or sales attribution with graphics such as line charts, heat maps, funnels, and more.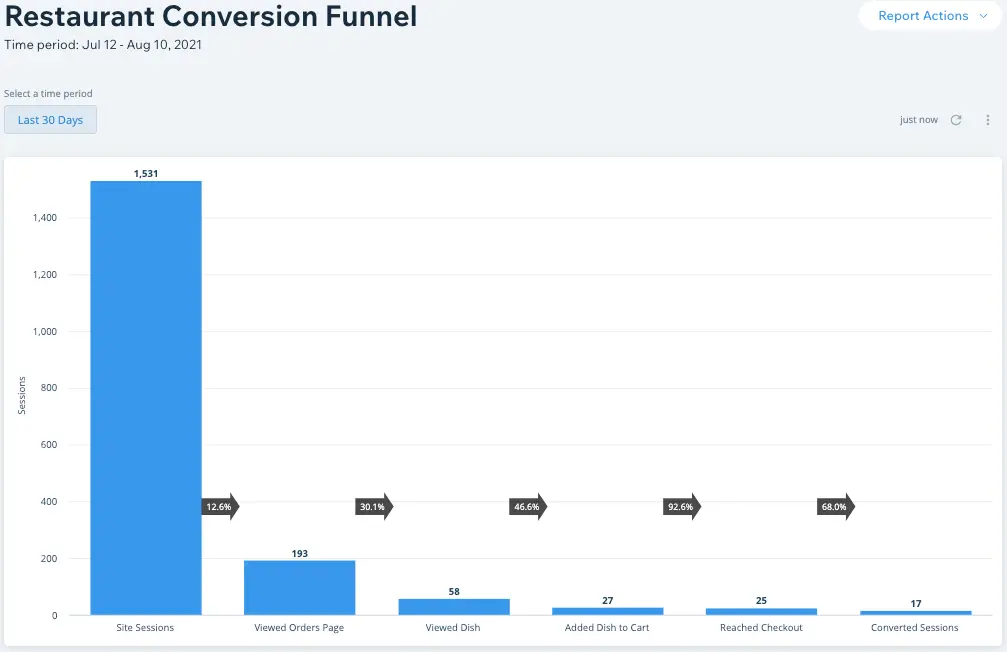 These visual reports are more than enough for managing any small store, and they're very engaging—so you definitely won't lack data analytics when using Wix.
Wix app store market
If you need to add more ecommerce functionalities, Wix's app ecosystem has a few hundred apps ready to be installed.
Compared to Shopify's app store (where you can find thousands of apps), Wix's market is quite limited.
However, you can still find good apps for the most essential stuff, such as:
Retargeting ads
Lead gen
Social media content
Automations
Chatbots
Accounting
Basically, it will cover all the basics. So unless you need an app for more complex automation or campaigns, it can be good enough for your small store.
Payment methods
Wix handles many payment methods and it does everything for you so you can just focus on selling and growing your business. And those payment options include:
Wix payments. To accept debit/credit card details for online payments from all major brands (Visa, Mastercard, American Express, Discover, Diners, CUP, JCB, and Maestro). Depending on your location, you can also get paid via Apple Pay, iDEAL, Pay Now by Klarna, Pix, Boleto, and Giropay.
Payment gateways. Wix also supports over 50 third-party payment gateways in case your business type isn't supported by Wix Payments (such as gambling, CBD, etc). So check the list of prohibited products and services before deciding on your payment platform.
Paypal. Like most platforms, you can also allow customers to pay with Paypal.
Manual payments. To accept cash, check, gift cards, or any other customized payment method.
Wix POS. Use the Point of Sale (POS) solution to integrate your offsite payments with your online business.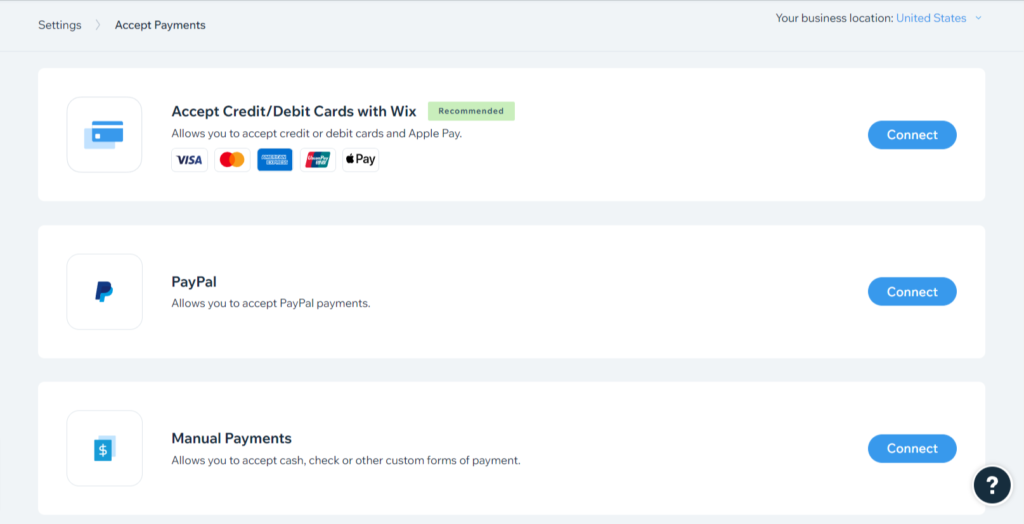 Unlike Shopify, Wix doesn't charge additional fees, besides the normal payment processing fees from credit cards and the POS. Some of the credit card fees depend on your region:

Multi-region support
In case you want to expand your business to other audiences, Wix's Business Unlimited plan offers localization support for your website, allowing you to:
Speak to your audience in their language. For translating your store into 150+ languages with Wix Multilingual, create local subdomains, and optimize all translated sites for SEO.
Display prices in local currencies. To add and set up a currency converter so that your customers around the world can view prices in their local currencies.
Shipping options
Setting up your shipping method is an essential step for launching.
On Wix—unless you fulfill orders yourself—you can integrate shipping apps like ShipStation, ShipBob, BigBlue, and more; plus you can automatically forward orders by email.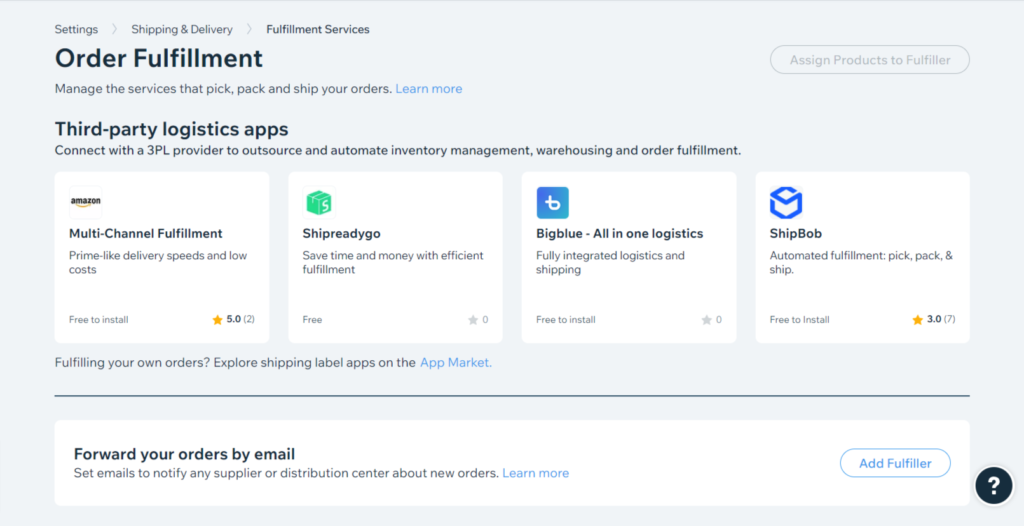 You can also find multiple apps in the market that let your customers choose a specific delivery service like UPS or FedEx (adding more value to the purchase experience)—and even add personalized shipping labels for branding.
Tax automation
Wix has you covered for paying your taxes.
It's fully integrated with Avalara, an automated tax software that provides you with the most current tax rates for every transaction, worldwide.
The setup is as simple as creating an account, selecting your country, and adding tax costs to your product prices.
Now, this option is only available when you upgrade to at least the Business Unlimited plan that's 25$/month—otherwise, you'd have to do it manually
It's still very well worth it for the price though. Just imagine all the hours you could save with automated taxes.
Making your store available to the world
You can always hit "publish" to make your website public to the world.
But, for the purpose of your ecommerce business, you will see a nice confirmation pop-up to assign a custom domain and upgrade to one of Wix's premium packages.
And, you see, upgrading is required if you want to actually operate as a business and start accepting online payments.
That's why it's better to wait until you have everything set up before launch.
Wix Review Conclusion
We've reviewed all the key features you need for launching an ecommerce business with Wix. But is it worth it for you?
Let's go over the pros and cons.
Pros:
There's a free plan available, so you can test everything out, design, and build your store before spending a dime.
Comes with tons of templates, many of them really high quality, and new ones are constantly being added.
Comes integrated with an HTML5 editor that allows you to customize everything.
Good and easy-to-use online payments integration.
The site builder works with drag-and-drop.
Has great analytics.
Has built-in automation features.
Cons:
It's geared more at standard website building rather than e-commerce store building.
It sells itself as a free platform, but you need to sign up for a paid plan before you can launch your store to the world.
Lacks advanced ecommerce features for growing your business.
Very small app ecosystem.
You can't migrate your site without using third-party services.
Our final rating:
Wix is the cheaper option in the market for starting an online business, no doubt. The most expensive plan is just a bit higher than the cheapest Shopify plan, which says a lot.
Building a website on Wix is obvious and effortless. But building a business? Not so much, some setups are not that obvious for beginners (which is their main audience), and the options for managing your store are still lacking.
There are a number of ways to get support from Wix. You can browse through tens of already solved issues. You can send in your own question. You can interact with other users via forums. Finally, you can submit a ticket to get your individual issue solved. The support options are vast, so you don't need to worry about getting stuck with a feature.
Wix has great features for building a website, but only the essentials for launching an online store. It lacks the advanced ecommerce functionalities that you'd need for scaling it (unless you want to stay small). Se be clear about your goals before onboarding on Wix
Overall Wix Ecommerce rating:8.5/10
Wix ecommerce FAQ
Does Wix host your website?
Yes, you don't need to pay for any other service (domain registrar, hosting, SSL certificates, etc) since Wix covers every technical process.
What's the difference between Wix and Shopify?
Wix is in reality a website platform designed so anyone can build a site, including businesses (hence why it has built-in ecommerce features).
Whereas, Shopify is specially made for store owners who want to grow an ecommerce business—and that involves more than just creating a site.
Can you do dropshipping on Wix?
Yes, Wix integrates with Modalyst and Printful, which allow you to sell products without having to handle inventory.
But, you need at least the Business Unlimited plan to start dropshipping with Modalyst—so beware of the investment required.
Is Wix ecommerce free?
"Wix Ecommerce" is not free.
Wix lets you build and publish a website for free. But with an annoying Wix ad as a banner at the top and no custom domain (so the URL would look like yoursite.wixsite.com)
Now, when it comes to selling products, you need at least the cheapest plan in order to get a sale.
Is Wix bad for ecommerce?
Technically, Wix is a decent option for building an online store.
But, since Wix's main selling point is to build a website with no technical expertise, it doesn't translate well when it comes to scaling a business.
Its features (though well designed for casual users) are not advanced enough for someone who wants to grow a sustainable business (plus gating advanced features behind the enterprise plan doesn't help).
So if you're starting an ecommerce website from scratch, you might want to invest in a website migration service eventually if you want to scale it.