FTC Disclosure:This post contains affiliate links.We're independently supported by our readers and we may earn a commission when you buy through our links.
DesignCrowd is a pretty good option, all things considered. The user interface can be very confusing at times, but you may well decide that the quite reasonable prices are worth it.
If you want to save even more money but you need a professionally designed logo, you should head to Fiverr and hire a logo designer for as little as $5.
Get Your Budget Logos With DesignCrowd (Maybe)
DesignCrowd, a community-based design service, has built a fairly respectable community of over 700,000 designers. They're all ready and waiting to make a logo for you.
Actually, DesignCrowd does it all: logos, business cards, T-shirts, website designs, cartoon character design, and even envelope design. The full list is massive, so it's safe to assume that DesignCrowd can design just about anything for you.
The site supports English, French, Spanish, and German, and you can have a logo designed in just about any language. All packages are paid packages, with no free samples. Fortunately, everything is pretty affordable (more on that below).
But will they make the logo you need? Will they make it at a price you can afford? Would you be better off hiring a designer for $5 on Fiverr? Or are you going to get a fancy logo that will make your company the next Amazon?
The answer to that last question is no. Only you can do that. But after testing DeisgnCrowd as part of my quest to find the best new logo for Website Planet, I do have answers to the other questions.
But before we get into that, I should mention that the logo I got from DesignCrowd was the winner! It is now the new official logo for our site. And that says a lot.
FEATURES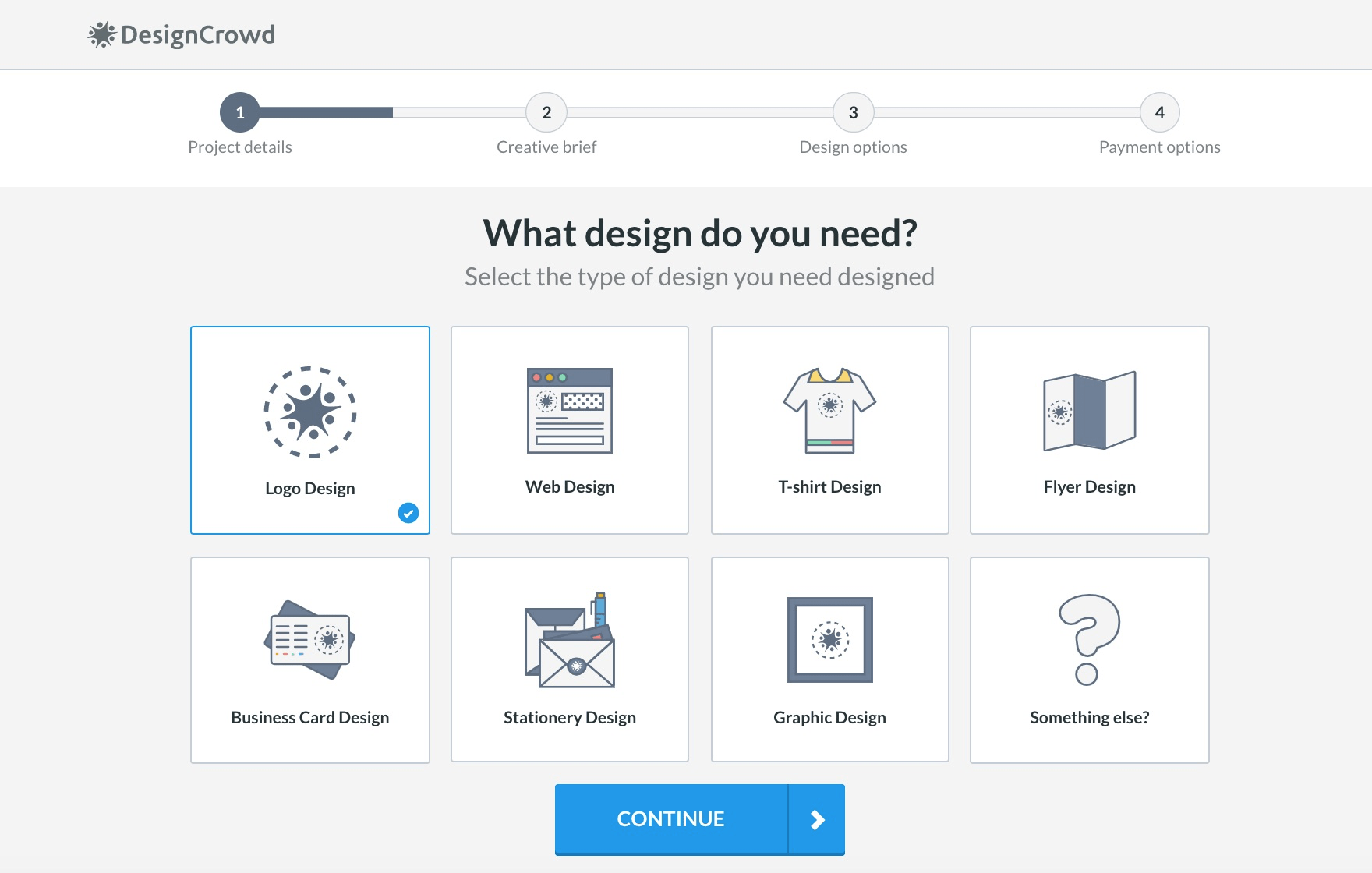 There's Everything You'd Expect from a Site Called "DesignCrowd"
But it's not what you or I would call "simple." I'm sorry to say this, but there are legal contracts that are better and more simply explained than DesignCrowd's UI. Economics might give you an easier time. Not math, though. Math is still my nemesis.
Anyway, you can post a "project" to be taken on by designers who may be interested. The number of designers who show up will depend on which design package you buy for your logo project. We're going to explain the nature of these projects, because DesignCrowd's website doesn't (or at least, it doesn't do a very good job of explaining).
DesignCrowd's cheapest package, also known as a "One Designer Service Project," runs for seven days, from designer selection to logo finalization. You can have DesignCrowd pick your designer for you, or you can browse the selection of designers and invite one. This is the package we used for testing, and we bought the "Top Designer" add-on so that DesignCrowd would pick a high-rated designer for us.
The second package is a "Mini Contest." There's a one-day submission round to get three designers, and a seven-day finalization round to get your revisions. This project is available only to a pool of designers rated at least 2.5 stars (out of 5 stars). You can't invite designers to the project yourself.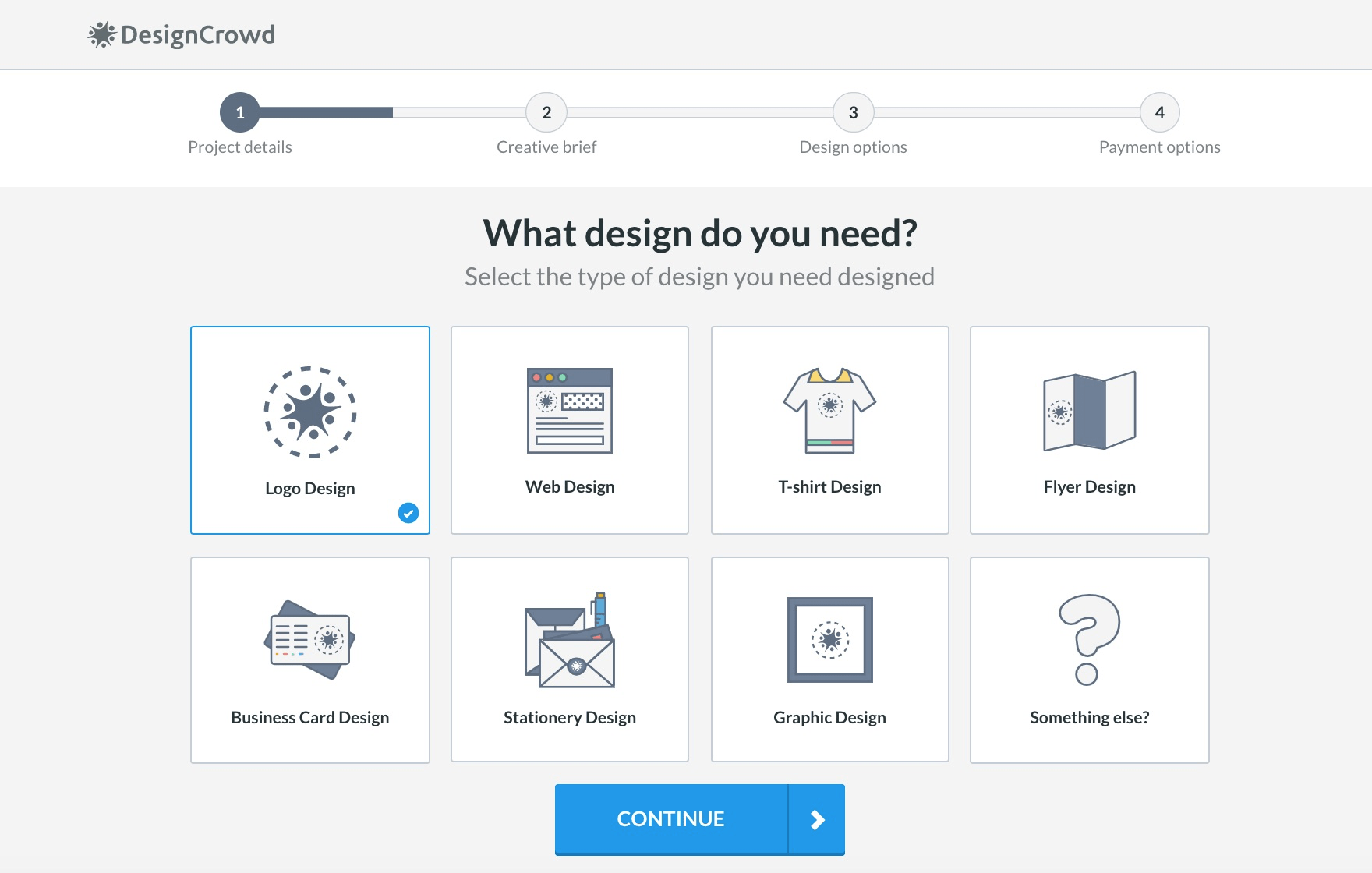 The third, fourth, and fifth packages, which are obviously the most expensive, are the regular "Contests." There's a seven-day submission round during which an unlimited number of designers can apply, and a seven-day finalization round. You can also invite designers of your own choosing to participate.
The regular contests are open to all designers, and they're designed to promote competition. You can run polls to gauge the popularity of the submissions you get, interact with the designers, and generate buzz around your project, assuming you haven't paid for any of the privacy add-ons (more on that below).
DesignCrowd has a massive community of freelance designers. As you can see just by browsing through the logo design samples, you can get a logo in pretty much any possible style. Now, the number of options you have to choose from entirely depends on how much you pay. Other things that depend on your willingness to part with your cash include:
How quickly you get logos to choose from (the average time seems to be a few days)
How long you can keep a project open
How many revisions you can get
How many times your parents say, "Are you sure it was worth all that money? Your cousin makes logos in MS Word."
But what do you really get in the end? Well, these are the deliverables for any logo you choose:
1 EPS vector file, which can scale to any size and be opened with any vector program, like Inkscape (which is free)
1 large JPG file, for use in high-quality documents
1 small JPG file, for use on the web
1 PNG file, for use on the web
The original source file, which is normally an AI (Adobe Illustrator) vector file. While this can also be scaled to any size, it requires that you own an app like Adobe Illustrator, which is very expensive.
If you want to learn more about your potential designers, you can check out their history, past work, and star rating. You can even see how much they've earned so far on the DesignCrowd platform. And you can see all of this info on the site, even if you haven't started a project yet.

DesignCrowd's Community Is Its Biggest Feature
Like many online vendors, DesignCrowd relies on its community to do all the actual work, create the "product," and drive traffic to the website. The site itself acts like a facilitator or middle-man, and now there's a truly massive community of over 700,000 designers. It's not the largest community out there, but it's large enough that you'll likely find a designer who can meet your needs.
You Can Pay Extra For (Nearly) Guaranteed Higher Quality
Since DesignCrowd is a community-based site, some designers will be better than others. I have yet to find any designers I think are actually "bad," but obviously, you're not going to be in love with every logo you receive.
Some logo projects are just more interesting and/or better-paying than others, and the more interesting and/or better-paying ones will surely attract better designers. If you invite a designer to your project directly, you have to wait to see who's interested in working for you. This puts some of the smaller, cheaper projects at a small disadvantage, as cheaper projects may not be seen as "worth someone's time."
The way DesignCrowd makes up for this is by offering a "Top Designers" add-on. If you buy the add-on, the platform will assign one high-rated designer to your "One Designer Service Project," or three high-rated designers to your "Contest" (mini or regular). You can't pick which designer(s) will work with you, but depending on their rates, working with them may be a cheaper option than hiring a designer directly.
You Can Keep Your Projects Private
DesignCrowd offers a number of extra features you can add to any project if you're willing to pay extra. One of the nice add-ons is that you can hide your project from search engines, competitors, and other clients!
You can also have everything made for your project protected by an NDA (Non-Disclosure Agreement), which keeps your designers from telling anyone what they're working on. So, if you want to keep the new logo a surprise until you're ready, you can make that happen.
DesignCrowd Holds Design Contests Just for Fun
Once upon a time, a site called Worth1000.com ran photo manipulation contests just because it could. The site is now gone, and the community is part of DesignCrowd. Luckily, the contests are still running, and they actually serve a dual purpose.
For designers, they're fun! Designers can score points on a global leaderboard, and who doesn't like bragging rights?
For customers, they can be a great way to find designers who are darned good at Photoshop. If that's a requirement for your project, consider checking out the contests (as well as the normal designer portfolios).
My Experience with DesignCrowd
Once I started a project on DesignCrowd, the process got a bit simpler. As I mentioned earlier, we got the cheapest package, with an add-on that I hoped would net us a top designer. It took a day or so before I was matched with a designer by the username of ArtTank, also known as Khent (no last name provided).
Spoiler alert: I (platonically) love this person.
Khent was professional, polite, and fast. He had very little time to create something that looked great for this very site, which, as you may remember, is called "Website Planet." It's a good, memorable name, and I (platonically) love the people I work with, but the name leaves designers little to work with in terms of visual cues.
Just sayin', please don't fire me. And do prepare for lots of planet and space-based imagery in this review.
All things considered, I think Khent did very well. He said "Hi," then immediately got to work on logo concepts based on the brief I had provided. The first three concepts were a little rough around the edges, which is to be expected: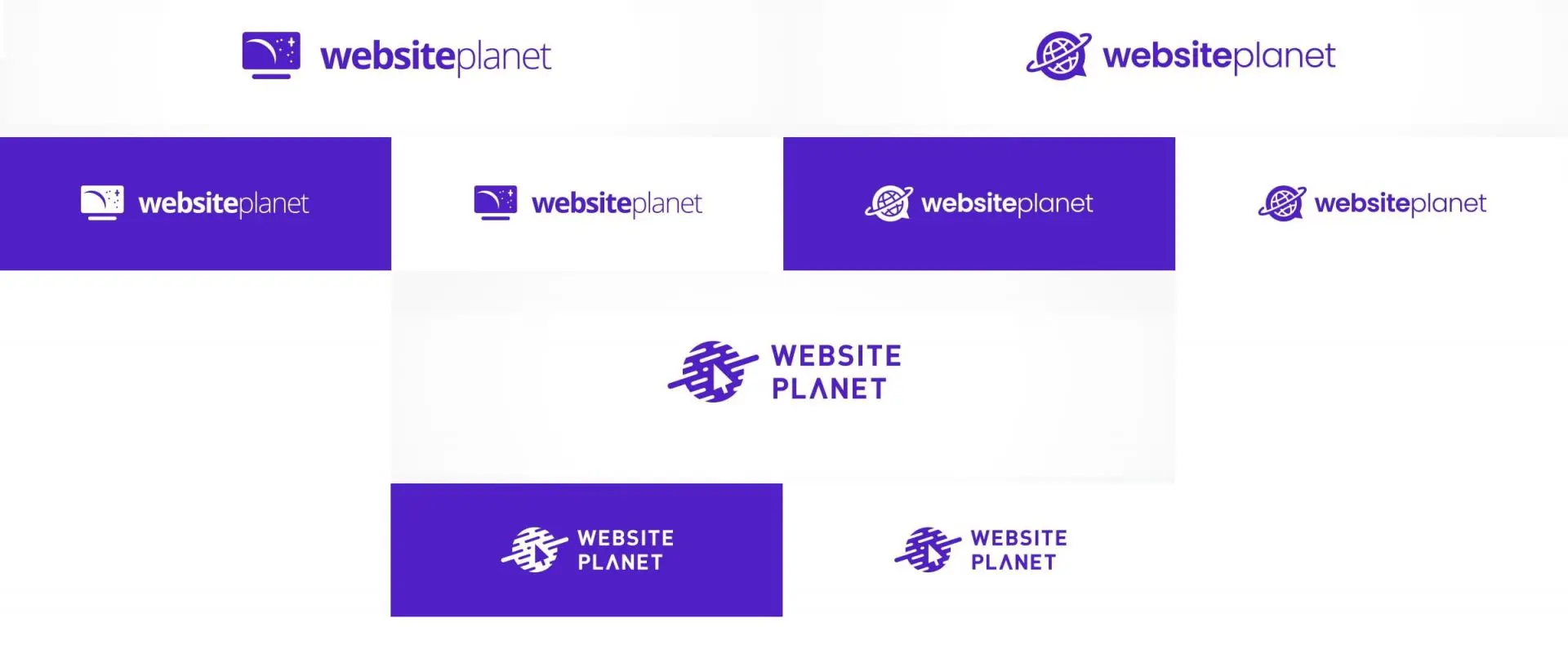 I liked the first (top-left) and third (bottom) concepts provided. However, the first doesn't look so great at small sizes. The third also has this problem, but to a lesser degree. I said as much to Khent, and he came back with these refinements: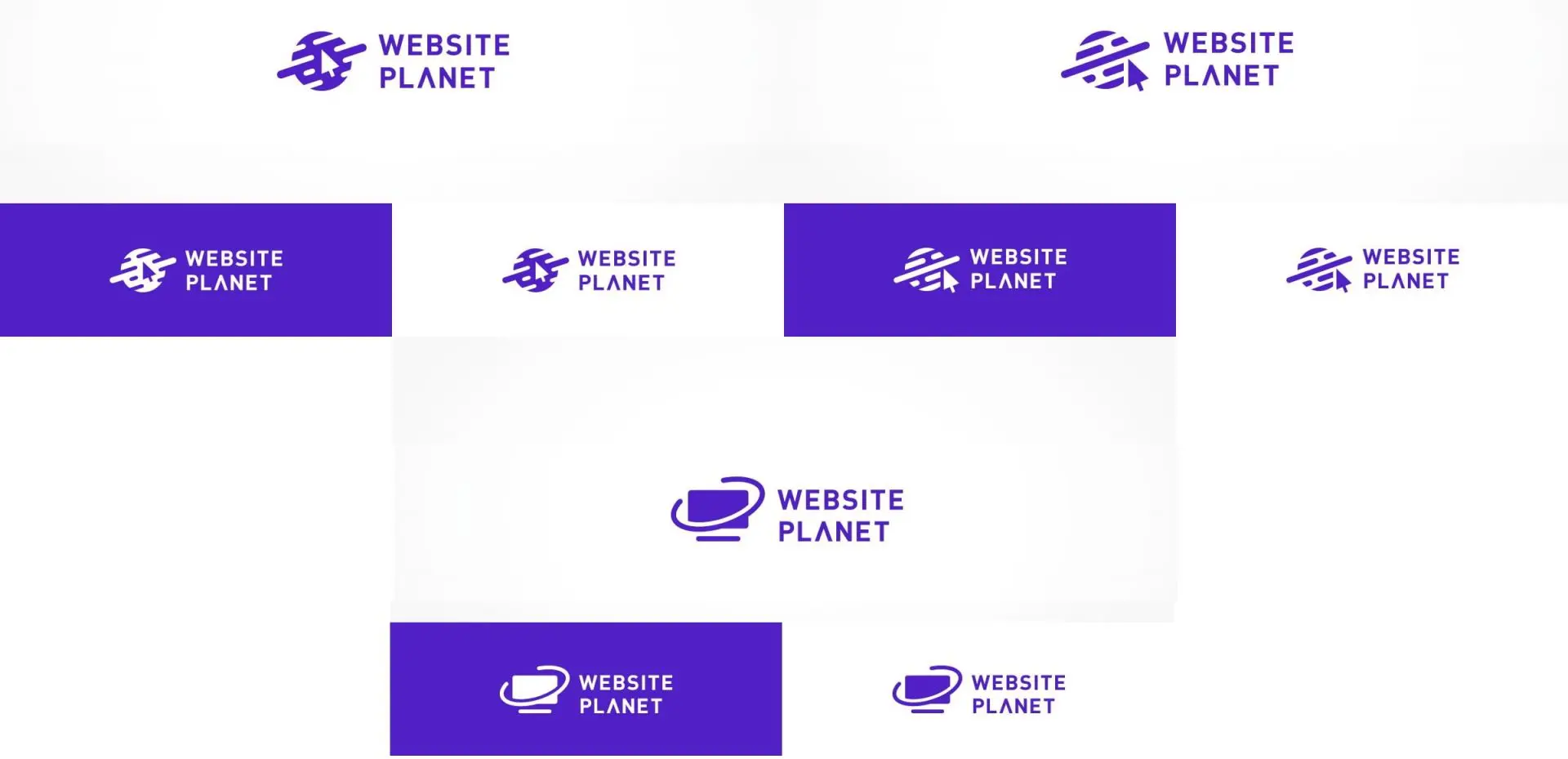 Again, I fell in love with the concepts on the top-left, and the bottom, as they were definite improvements over the originals. I had only a couple of days left for this project, so I told Khent this:
"Okay, I'm loving concepts four and six. I'll just say this: If you're proud of them, let me know and I'll approve the payment immediately/make my final decision. If there are any refinements you'd personally like to make, go ahead. I'll wait. Either way, it's been a pleasure doing business with you."
Normally, this isn't a business move I'd recommend. I was in a hurry, but I also wanted to see what would happen. Khent, being the badass professional he is, said this:
"Don't hit approve payment yet, let me try one more and see if I can think of something else that would smoothly fit the business."
Khent had an easy way out, but he still wanted to improve on his work. I still wasn't sure which logo I'd choose, until this beauty came in:

Look, you might say it's a bit cliche, and sure, the concept has been used before, presumably sometime in the '90s. But the minimalism puts a new twist on the concept, and the overall execution of this logo is fantastic. Most importantly, it absolutely fits our website's theme. Considering the amount of time (five days) that this designer had to work, I'd say he did a great job.
I've got my issues with the experience of using the site (more on that below), but I have nothing but praise for Khent. The "top designer" add-on was worth it, in my opinion, for the sheer smoothness of working with someone who cared about making a good logo.
But the really good news is that this logo won the vote at our office, and it is now our new official logo for Website Planet (you can see it in all its glory on every page on the site).
Does That Mean DesignCrowd Is the Right Solution for You?
Well, if you have the budget and you don't mind waiting a bit for your logo, then there's a good chance you will find the logo of your dreams at DesignCrowd.
That said, if you're an SMB or a freelancer, or if you just need a logo for personal use, you're probably better off hiring a designer on Fiverr. Prices on the site start at as low as $5, so you really can't go wrong. I tried out a few different designers and I must admit I was pleasantly surprised with the results.
If you like the idea of a logo design contest, you can always hire several designers on Fiverr and choose the logo you like the most. With prices starting as low as $5, this option will probably still be cheaper than running a contest on DesignCrowd.
EASE OF USE
DesignCrowd Could Be Much, Much Easier to Use – But It Could Be a Lot Worse, I Guess
The DesignCrowd user interface is like navigating an old neighborhood after being away for ten years: You have a general idea of where you want to go, and how to get there, but the specifics are sometimes unclear. And for some reason, there are buttons everywhere, and everyone's trying to sell you something.
What I'm saying is that the truly massive number of options can sometimes get overwhelming, and make the UI a bit confusing. The way "forward" isn't always apparent.
One thing that confused me is the difference between a project and a contest. (Again, the website doesn't explain it, and I had to ask customer support to clarify.) In case you're still not sure about these terms, let me clarify: Project is the umbrella term, and a project can be a "One Designer Service Project," a "Mini Contest," or a regular "Contest."
Also, the help center could be more intuitive. Advice for clients and advice for designers aren't kept separate. I found things more easily by Googling "DesignCrowd [my chosen keywords]."
Lastly, the site hasn't been updated properly. Several pages, for example, seem to offer services that are actually obsolete. At the footer of the site, there are links to "Design bids," "Design jobs," and "Design crowdsourcing." Ignore them. In the help center, "Design jobs" are called "Freelance Jobs." Ignore those articles, too.
That said, once you get used to the site (and do some Googling), things will start to fall into place. At least it's not as hard as being a new player in Warframe. (If you're not into that video game, just ignore that last sentence… It's a long story, like everything else in Warframe.)
Here are some very good points about the UI:
You Can Save Your Projects Until You're Ready to Pay and Launch
This feature is important enough that for every logo design service that has it, I will mention it. If all logo design services have it, so much the better. Being able to come back to a project at a later time — for example, after you've obtained the necessary funds, or decided what you truly want, or finally finished writing a good brief — is essential. It can save you a lot of frustration.
It's Easy to Keep Working with a Designer You Like
When you've got a designer working on a project for you, the UI will show you other services they offer. It's a small feature, but it helps if you want to use the same designer for more than one project — which is an easy way to keep all the designs looking consistent. You can find a link by clicking on the "Manage Project" button for the project in question.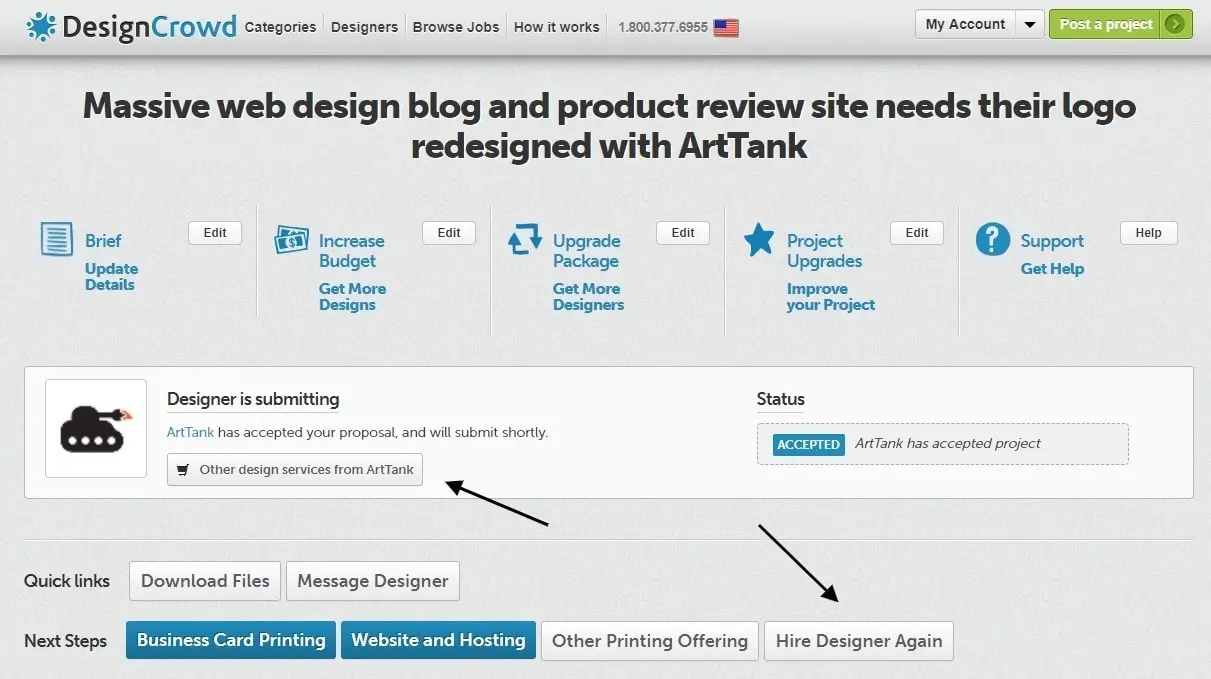 There's a Nifty "Designer Finder"
You can browse designers by the services they offer, their location, ratings, earnings, or projects won. It's a fairly simple filtering system, but it's enough to help you find, for example, a designer in your time zone with at least a four-star rating. If nothing else, it's a good place to start.
Despite the occasional confusion, the actual process of starting a project or hiring a designer directly is simple enough. You're led through each process step by step, with handy tips for every form you need to fill out.
Not all designers are made equal, though, and if you haven't paid extra for a "top designer," there's a greater chance that you won't be blown away by the designs. There doesn't seem to be a vetting process in place for designers; the community itself does much of the quality control. This can lead to dissatisfied clients sometimes.
You don't have to sign up for an account to browse through the available designers, but you do have to log in to sign up to post a one-on-one project or a contest. Speaking of contests, they're pretty easy to run, too. You just post a brief like you normally would, and then wait for submissions. From there, you can run polls to see which logo submissions are more popular, interact with designers, and more.
When you're just getting started, it's best to already know what you want. Designers offer pretty quick turnaround times, all things considered, and DesignCrowd expects you to work fast, too. You have only a few days to ask for revisions and pick the logo you want.
SUPPORT
How Does DesignCrowd's Support Measure Up?
I mentioned that DesignCrowd's help center could be a bit confusing, and I stand by that. Still, it's good that there's one at all. It has some basic, tutorial-style instructions you need to use the service.
There's also an FAQ, of course. There's a blog with some design-centered advice and general news. The information is… well it's there, and some of it is pretty generic.
The live support options, however, are pretty great. I tried the email support, phone support, and live chat, and I had great experiences with all three.
DesignCrowd Email Support
I asked what usage rights I'd be getting with my logo, and I got a response quite late at night here in Mexico City. It took only about 23 minutes. Now, it's probably a common question, so I wouldn't be surprised if they had a copy/paste answer ready to go, but I'm okay with that. The support rep told me what I needed to know.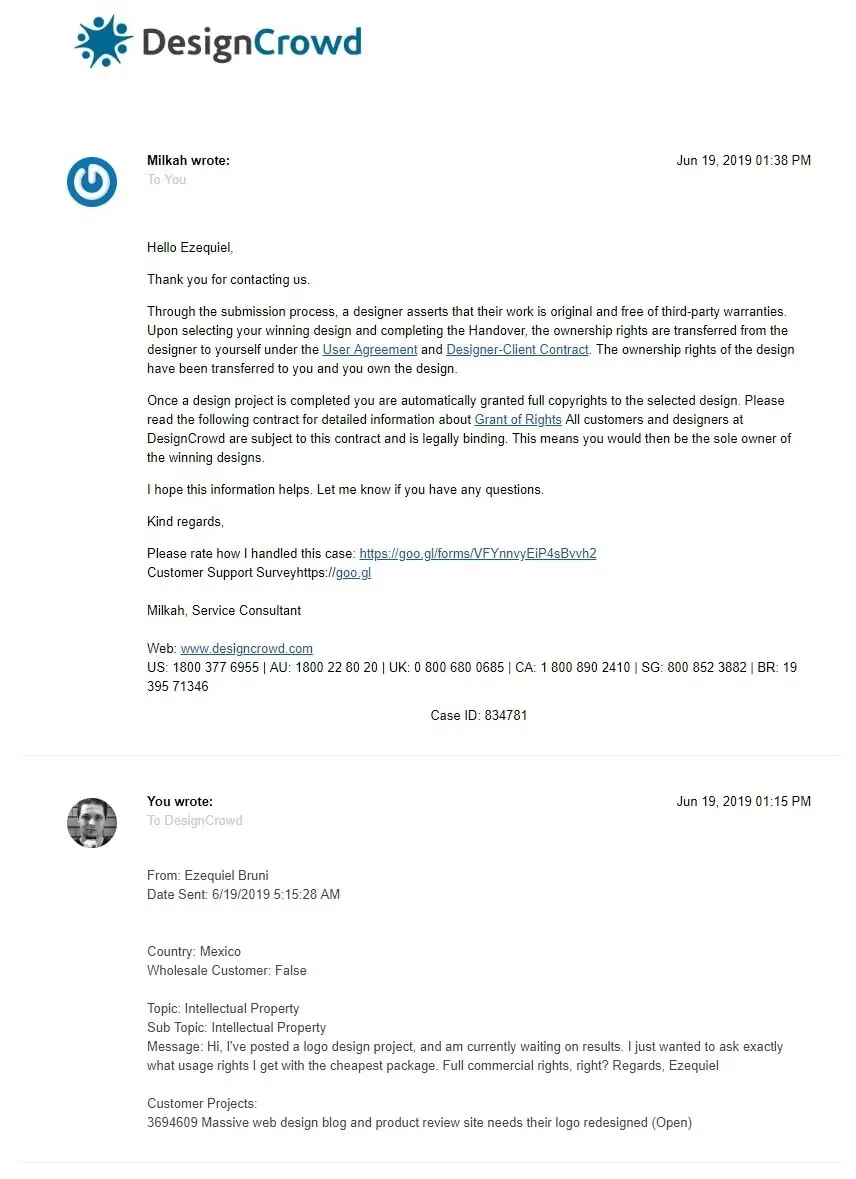 DesignCrowd Phone Support
I called DesignCrowd's U.S. number (there are also numbers for the U.K., Australia, Brazil, Canada, New Zealand, and Singapore), and I was attended to promptly, and with little hassle. I asked for an explanation of the charges on my bill, and my support agent — I think from a call center, though I can't say for sure — explained everything clearly and concisely.
Always be polite to call center people. It gets things done so much faster.
DesignCrowd Live Chat 
The live chat rep also responded quickly. They don't seem to be able to tell if you're logged in, so you'll have to provide them with the email you signed up with if you ask a question specific to your own projects. I asked them how many revisions I get, and they told me. Simple as that.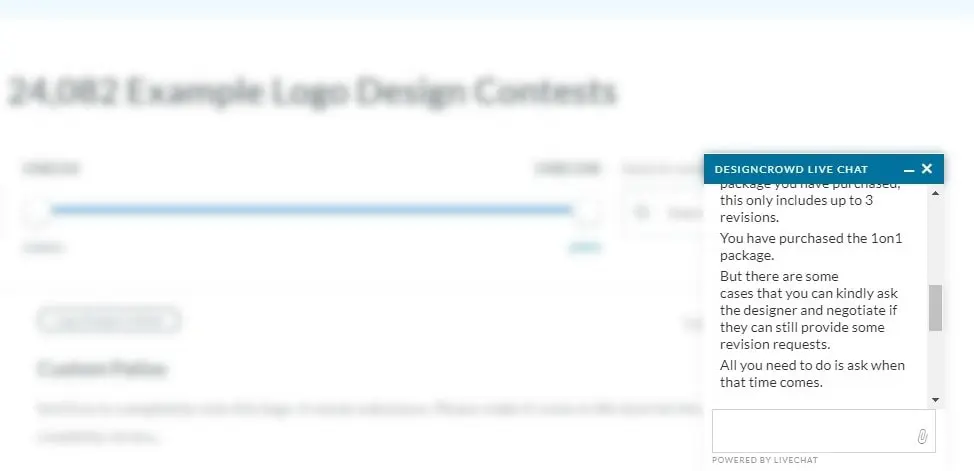 PRICING
Does DesignCrowd Offer Good Value for Money?
Overall, the pricing plans are pretty decent, especially considering the quick turnaround. Custom-designed logos from big-name designers and agencies can cost tens of thousands of dollars, sometimes hundreds of thousands. DesignCrowd's most popular plans ask for a small fraction of that, and you get plenty of designs within days.
Your payment options include Visa, Mastercard, American Express, and PayPal.
Basically, all plans come with the same features, except that the more expensive plans give you more designs and designers to choose from.
The two priciest plans also give you business cards, and your project listing will be literally highlighted so it stands out. The most expensive plan will feature your project before others so that you can get more designs, faster.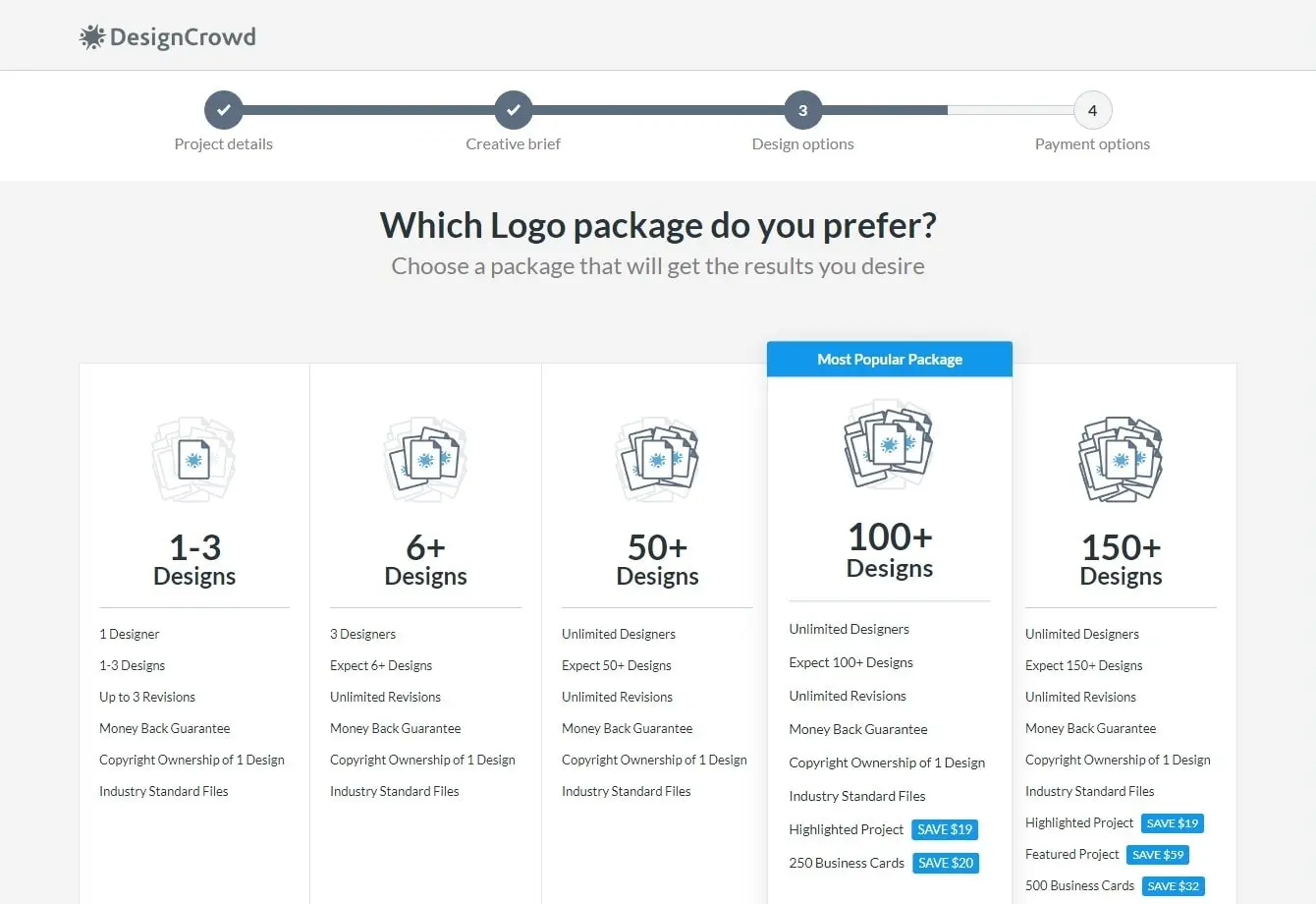 Honestly, I'm not sure if the most expensive plans are worth the money. If you want 100-150 logos to choose from, the option is there, but who has that kind of time?! Well, I do, but that's beside the point.
Once you buy your logo, that's it. You might be able to convince your designer to give you an extra revision or two if you're very nice, but otherwise, that's all there is to it.
Fortunately, there's a money-back guarantee. If you don't like any of the designs, ask for your money back within 30 days, and you'll get your project budget back, minus some fees.
Lastly, you can get discounts. They're easy to miss, but I'm going to make sure that doesn't happen. At the bottom of almost any page of DesignCrowd's website, there's a section for "Popular Pages." There, click on the DesignCrowd discount link. Then behold the savings jackpot.
Usage Rights
The usage rights are simple enough: You pay, it's yours. It's yours completely and unconditionally. Use your logo where and when you want, with no additional fees.
Can't really argue with that.
DESIGNCROWD REVIEW: BOTTOM LINE
DesignCrowd is a pretty good option, all things considered. The massive community means that there's something for everyone, but also that quality will vary. The user interface can be very confusing at times, but the packages are reasonably priced, and can actually be worth it. If you need more than a logo, then DesignCrowd has you covered for just about every possible graphic design need.
If you don't want to pay that much, though, there's a good chance you'd be better off hiring a logo designer on Fiverr for as little as $5 – and a good chance you can get equally high-quality results.
FAQ
What is DesignCrowd?
DesignCrowd is a community-based design service with over 700,000 designers. They offer a huge list of services, from designing logos and T-shirts to creating cartoon characters and even designing envelopes. You can have your logo designed in pretty much any language, and the site itself supports English, French, Spanish, and German.
You can either run logo design contests on DesignCrowd and get multiple options to choose from, or you can work one-on-one with a designer to make sure you get exactly what you need.
How do I create a DesignCrowd account?
To get started, you need to launch a project by clicking on the Post a Project link. First, you select a design category, based on the type of design you need. Then, you complete the Project Brief, which helps you present a description of what you want to the designer community.
After that, you register your business or personal details with DesignCrowd, and if you want to run a design contest, you can choose a package that best suits your budget.
How much does DesignCrowd cost?
DesignCrowd offers several packages with basically the same features, the only difference being that more expensive plans offer more designs and designers to choose from, and you get more revisions.
For example, the cheapest package lets you choose between three logo concepts, and you get up to three revisions. There's also a 30-day money-back guarantee, so you don't have to worry about ending up with a concept you don't like. To get the best deals on DesignCrowd, be sure to check out our coupons.
What makes a good logo?
A good logo should reflect your personality and brand identity. At the same time, it should be original and appeal to your target audience.
When it comes to logo design, it's important to choose the right type for your needs, such as a wordmark, a logo symbol, or an emblem. You should also pay attention to picking the right color palette and typography. If you need more options to get you inspired, check out our list of the best logo design services for 2023.