FTC Disclosure:This post contains affiliate links.We're independently supported by our readers and we may earn a commission when you buy through our links.
Shopify is one of the most used ecommerce platforms on the internet.
With 3,882,345 live sites running with it right now.You might assume that Shopify, due to its popularity, is a safe option when it comes to launching a new online store—and you're probably right. But is it the *best* option for your business? Then check this complete review!
What is the Shopify?
Shopify is an all-in-one ecommerce solution for which you don't need any technical skills, design knowledge, or significant investment to sell products or services. It's made so anyone in the world can build a potentially successful online store.
The platform offers over 100 optimized themes for your website, allows you to accept online payments (with credit cards, Paypal, etc.), and integrates with third-party apps so you can extend your toolkit without slowing down your website.
On the backend, Shopify has a Storefront Renderer infrastructure that accelerates site speed, making your website load x2.97 faster than the average. And it has built-in SEO features that help you optimize your website for search.Using Shopify is as easy as registering on their website, following an effortless setup process, and customizing it to your likings with its highly intuitive interface.
Who is Shopify Best Suited for?
Shopify is a solid platform that's made for anyone to use. And the reason why it stands out is because of how versatile and user-friendly it can be.
With its easy usability, affordable pricing, third-party integration, offline support, and scalability, Shopify can fit almost any business. We can recommend Shopify for:
Great speed and load times
Setting up your business in one afternoon
Third-party apps integrations
Great design
Amazon Integration
Integrated retail POS
SEO features
Social selling features including Buyable Pins, Facebook Shop, and Facebook Messenger
However, if there had to be a perfect Shopify user, it would be someone who's either starting in the ecommerce space, building a business on a low budget, or both. As they'd benefit the most out of the platform's user-friendliness, low-pricing, and complete kit of features.
On the other hand, an ecommerce expert with years in the industry and significant funding might still benefit from Shopify's advanced plan. But without the control you'd have over your website as you'd have with Magento, for example.
User Interface: Is Shopify Good for Beginners?
A genuinely user-friendly platform is usable right from day one, and not once you invest hours of your time learning about it.
There's no such thing as a "Shopify expert." You don't need skills to set up a shop within a matter of minutes—much less for running it.
There're plenty of reasons why Shopify accomplishes this. For example:
You don't have to pay for a domain or web hosting to get your site live. Shopify provides all the core functions of a website without you even knowing about them.
You don't need to design your website from scratch and think about what a website should look like. Shopify has one of the most intuitive online store builders in the market.
Worrying about optimizing your website's code, theme, or features is redundant. As they're all made to be optimized for both speed and SEO from the very beginning.
Finding an external payments processor is not required. Shopify already has a payment platform that allows your customers to pay with credit cards and Paypal.
Managing your product catalogs is as easy as setting up a few rules. They'll organize automatically.
Shopify is truly targeted towards novices who have no technical skills. And the way they built the platform shows it, as the most advanced features are probably the custom reporting and analytics.
Shopify Prices and Cost
Here's the official Shopify pricing table for the premium plans: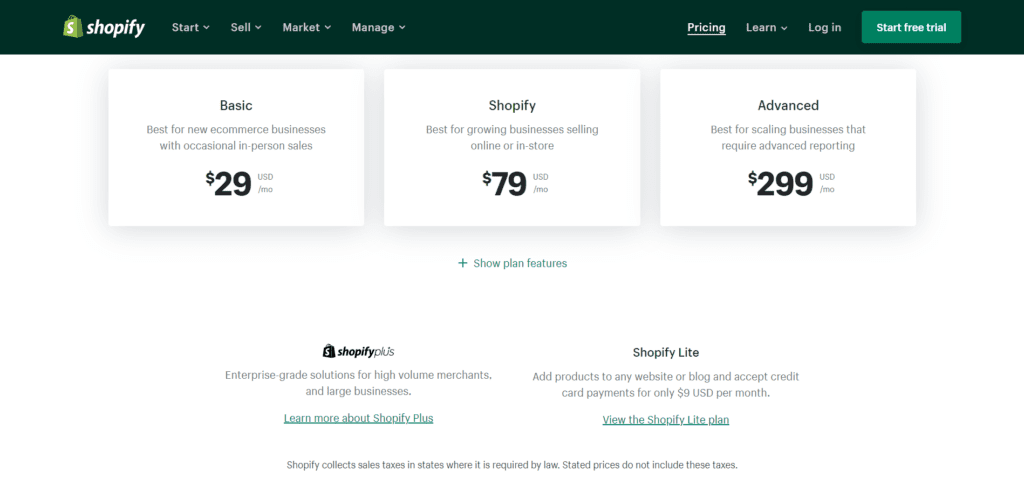 The difference between these pricing plans is quite high as they're designed for different segments and the size of the business.
| | | | |
| --- | --- | --- | --- |
| Shopify Pricing Reviews 2022 | Shopify Basic | Shopify | Shopify Advanced |
| Monthly Price – $/month | $29 | $79 | $299 |
| 1 Years Price – $/month | $26.10 | $71.10 | $269.10 |
| Savings (%) | 10% | 10% | 10% |
| 2 Years Price – $/month | $23.20 | $63.20 | $239.20 |
| Savings (%) | 20% | 20% | 20% |
However, the cost of using Shopify isn't limited to the plan you choose. There are premium themes, features, and third-party apps that you'll probably need to keep your store efficient that you're not accounting for.
For example, a premium theme can range from $140-$180. Premium plugins from the store might add $10-$30 to the monthly cost. Plus, the transaction fees behind Shopify's payments.
So if you're trying to set up a budget for your ecommerce, it is advisable to check on the additional features you're going to need to run it efficiently.
What's the Best Shopify Plan?
The best plan to start with is the basic $29/month plan, which will offer everything you need to set up a 100% functional online store. You'll naturally upgrade your plan as your business grows.
However, if you have the experience and you're building a very specific business. Then you'd be more likely to choose a more advanced plan from the start in order to grow more quickly.
Let's go over the multiple options that Shopify has to offer:
The 14-Day Free Trial
Shopify offers a 14-day free trial that unlocks all the features. This way, you can test the platform thoroughly with no commitments and decide whether or not it's a fit for you.
You can even create an account just to play around with the platform and cancel your trial account once you've made a decision.
Shopify Lite
If you already have a website or blog. The lite plan allows you to implement a catalog of products for $9/month.
You can accept credit cards and include a lite POS app for offline sales. You can add as many products as you need.
It works with WordPress, Squarespace, Tumblr, and any other platform where you're hosting your online presence.
Shopify Basic
This option is the most recommended for anyone who wants to launch a new online store. It will come with the basic features to host your website with a custom domain name, accept payments, and handle the technical backend of your store.
As part of the $29 / month price tag, you get access to:
Shopify's online store module.
The Point Of Sale (POS) system for offline sales.
The Facebook and Pinterest modules, which allow you to sell directly on Facebook and Pinterest.
Multilingual and multicurrency support.
Shipping support.
Unlimited products.
Sales channels on marketplaces and social media.
Shopify Standard
Unlike the basic plan, the standard plan adds more features that will help you manage your business more efficiently. Giving you access to features such as:
Standard analytics reports to track your business performance, weak points, and opportunities for improvements.
A lower fee from Shopify payments.
The ability to add international domains and pricing.
A higher number of staff accounts to increase the size of your team.
Shipping discounts up to 88%.
Despite being more than double in price compared to the basic plan, this plan is worthy given that your business is in the right size, so your reports can make a significant impact on how you'll direct and market your online store.
Advanced Shopify
The most expensive plan ($299/month) expands on key features that will allow you to grow and scale your business further. For example:
You'll have access to the custom report builder. Which has advanced features to collect more data, track nuanced metrics, and come up with insights that will potentially help you scale your business indefinitely.
Includes advanced reports to segment your customer base, attribute revenue to your sales channels, and optimize your store.
Comes with third-party calculated shipping rates that are more accurate. So you can be more transparent with your customers when it comes to shipping costs and offer more shipping options (standard, express, and one-day).
Up to 15 staff accounts to manage your business. Which is enough for building a decent-sized company.
This plan is almost quadruple of the standard plan and ten times more expensive than the basic plan only for the analytics. So it only makes sense to take the extra cost when your business has grown enough and business decisions become more impactful.
Shopify Support
Even if Shopify is the most user-friendly platform in the market, you always need good support to get unstuck.
The good thing is, all users from all plans get the same support service. They all get access to the same support channels, which are:
24/7 phone support for getting immediate help.
24/7 live chat support for quick solutions.
Social media and email for requests and education.
If you fail to contact support for some reason. You can also browse their help center and find solutions to the most common issues.
Despite this, Shopify's support tends to struggle with response times. Customers might take several minutes, if not hours, to get a response, and emails might take even longer. Probably, due to their customer base growing each without giving time to their support team to catch up.
Shopify's Web Security and Backups
With Shopify, you don't have to worry about keeping your website, platforms, and apps up-to-date or implementing highly technical security protocols—that's all Shopify's responsibility.
Even overlooked factors like credit card details, frauds, or privacy settings are covered by the service.
Shopify also provides two-factor authentication (2FA) to secure your account from undesired logins—which is highly recommended to use.
The only caveat is the backups. In case of an emergency where you need to recover your data, the best Shopify can do is to allow you to export your data as a CSV file before taking a risk—which is far from ideal.
However, you can always install a dedicated backup tool from the app store (except it will also add to your recurrent costs, which isn't ideal either)
Shopify App Store and Third-Party Integrations
Shopify can only do so much when it comes to incorporating built-in features. That's why there's an official app store where you can install one third-party app of the 4,000 that are available to complement your tech stack.
How essential it is to install a third-party app depends on your business, but around 80% of merchants using Shopify have indeed installed at least one of them.
The reason is clear: there are essential apps that you'll need if you want to grow your store. For example:
Email marketing software such as Klaviyo for sending newsletters, creating automated flows and autoresponders, sending marketing campaigns, and segmenting your audience.
Remarketing apps such as Shoelace create retargeting ads specially designed to trigger sales from your customer base.
A CRM to manage your customers and implement a sales team.
Social selling apps bring your products to Facebook and Instagram to sell on their platforms.
The Shopify app store is one of the reasons people choose Shopify over other platforms. As it's vast and you'll never run out of options.
Shopify Review: The Experience of Setting Up and Launching Your Business
Creating an online store is as simple as registering on Shopify and giving it a name.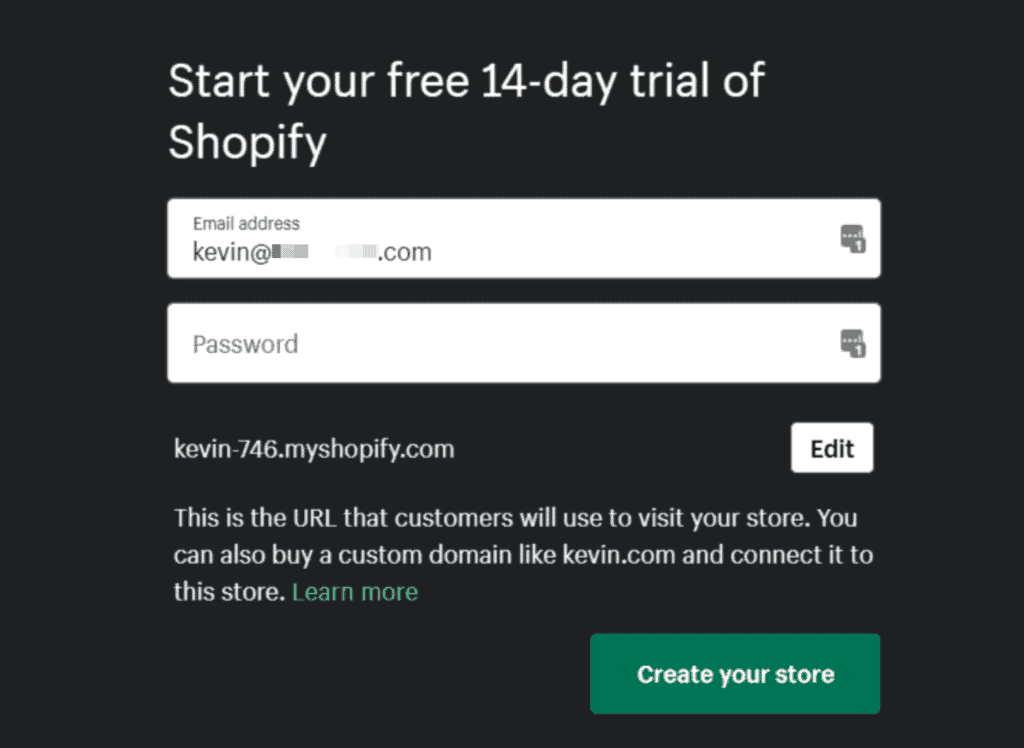 The only thing you're left to do before starting to build and customize your business is to complete two forms about the kind of products you're going to sell and your address—Shopify takes care of the rest.
Once you've completed your registration, you'll see your homepage and all the options on the left.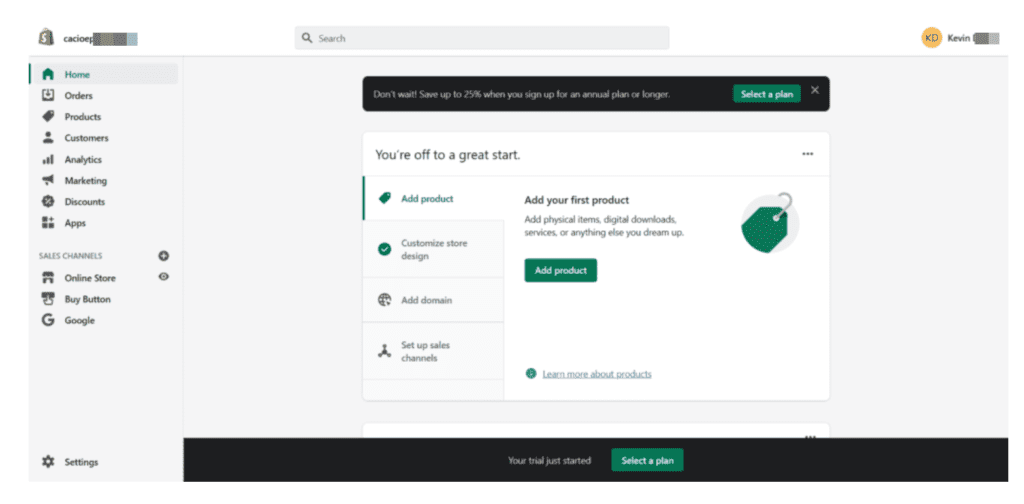 Here, you'll be ready to start building your ecommerce business.
Themes and Store Design
There are three kinds of themes you can use:
Free themes
Premium themes
Custom themes designed and coded by yourself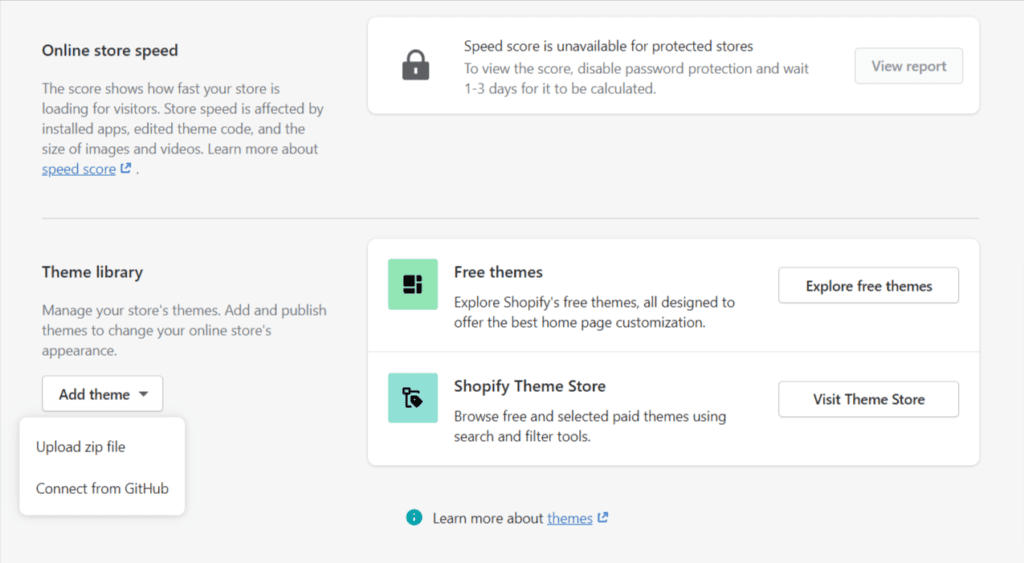 Free themes are pretty straightforward. There are 10 of them, and they're more than enough to create a good-looking website to sell products.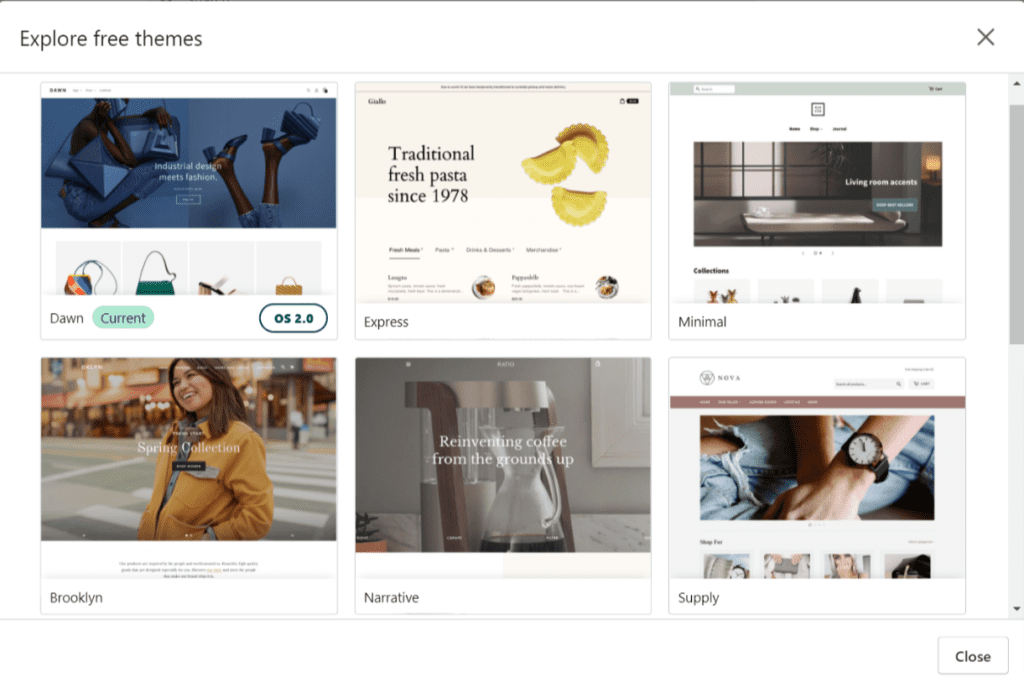 On the other hand, there's a store for premium themes. The variety is much greater, and you're more likely to find less generic designs—but they can cost from $150-$300.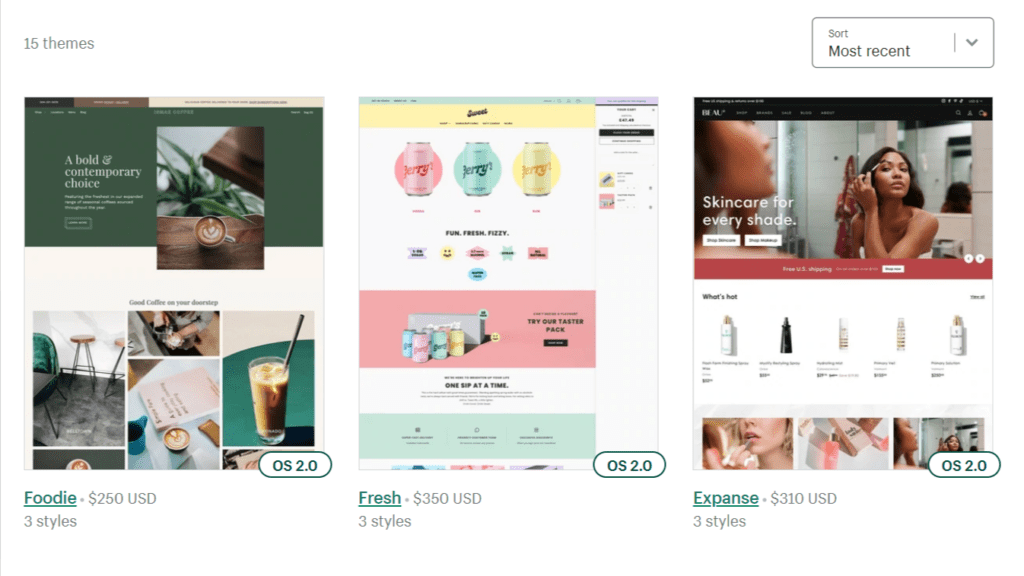 You might want to pay for a premium theme if you have the budget, as it will give you more options to have a unique style and stand out more.
Once you select a theme, you can customize it and add your brand assets. In this case, I picked the Dawn theme because it's made with OS 2.0.
This is how you start: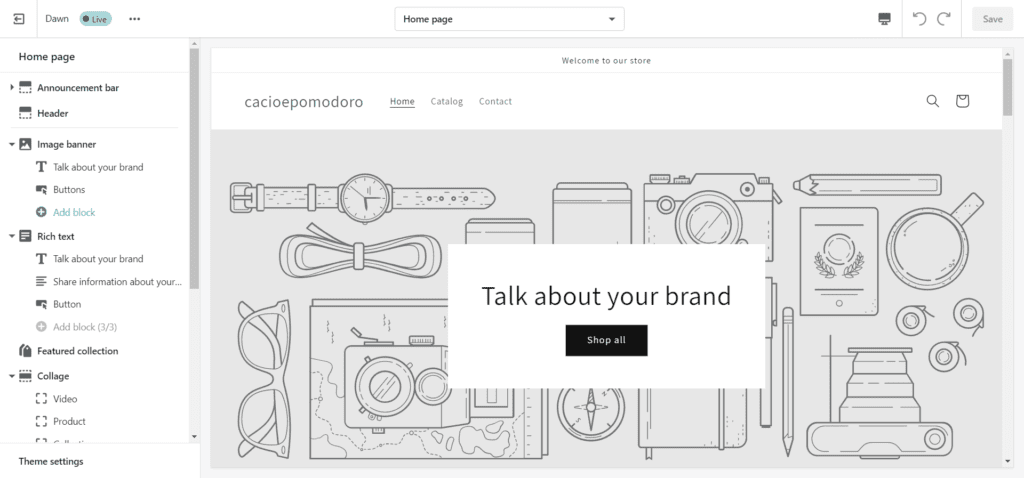 And this is what you can make in 3 minutes: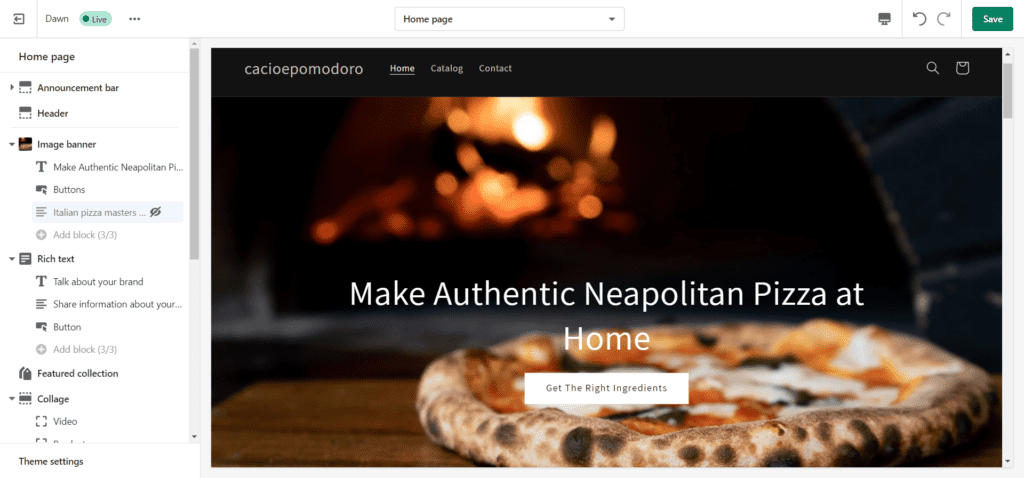 Here's the detail, Online Store 2.0 (or OS 2.0) is a new technology that Shopify added to their themes so you can customize them more easily. Including drag-n-drop website builder and more intuitive customization.
The caveat is that not every theme has this feature. And only one free theme has it. Otherwise, this is how the customizing interface would look like: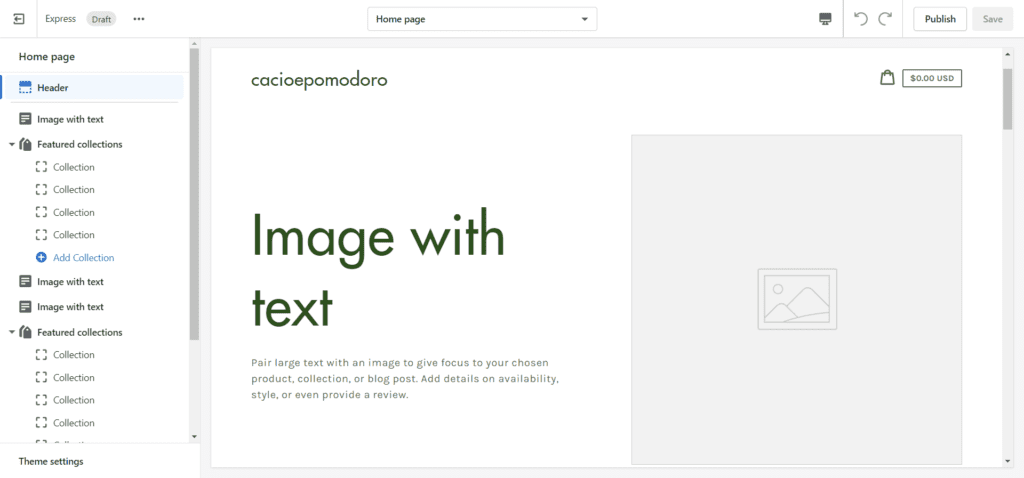 Even though the differences aren't that clear, customizing the texts and adding the images feels way more intuitive. So consider this when choosing your themes.
But regardless of the theme you choose. Shopify still allows you to fully customize your website and add products wherever you like.
Adding and Editing Your Products
Adding products to Shopify is also a very straightforward process. All it takes is to click on "products" in the left bar and start adding your product's information, including:
An eye-catching product title
A compelling product description
High-quality product images
Pricing plans
Inventory
Shipping options
Tags and product type
The vendor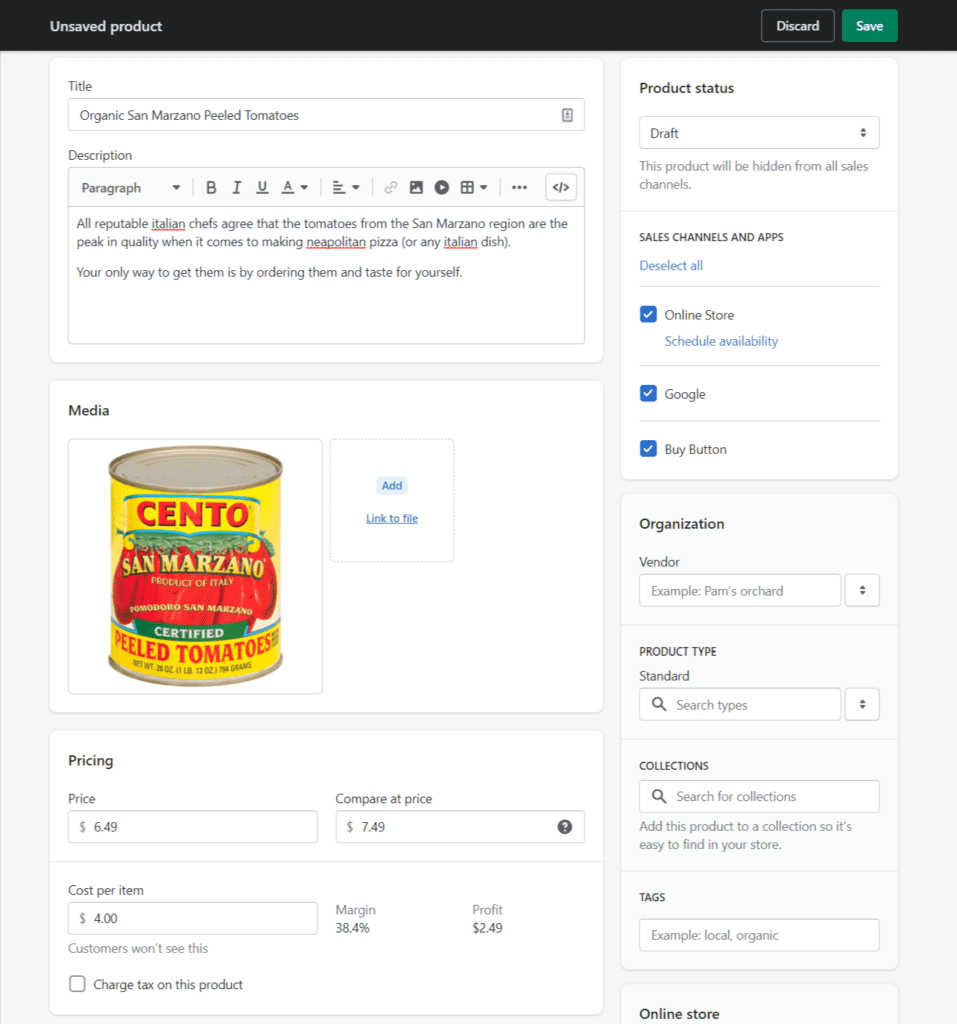 Below, you can add different product variants to give the customers the ability to choose the product's size, color, or material. Shopify allows you to add up to 3 option types and 100 values (an option would be the "size," and the values would be "S," "M," "L," and so on). You can always install an app to expand these numbers too.
In this case, I'm offering different packs to choose from.
Also: you can add your products in bulk by importing them into a .csv file. You have to go to the products dashboard, click import, and drop the .csv file with all the product's info.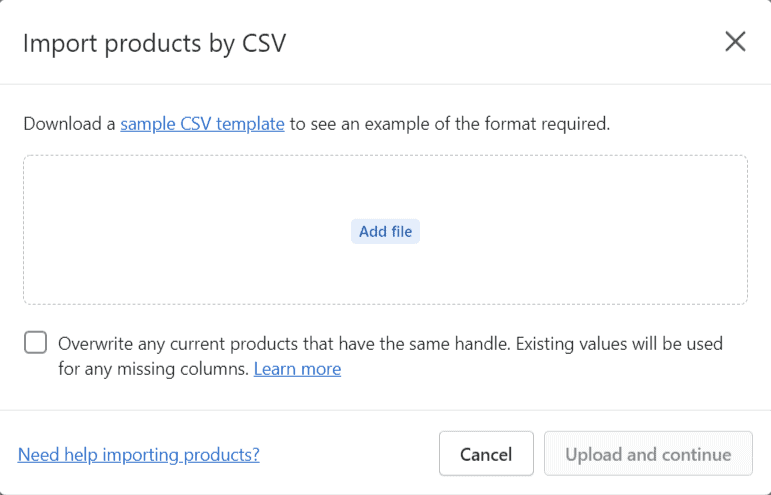 Managing Product Categories and Collections
Once you upload a good number of products, it is a good idea to manage and categorize them to make your life easier (and complete the buying process as smoothly as possible).
On Shopify, you can create "collections" of products with specific conditions. And all you have to do is to click on "Collections" and "add new."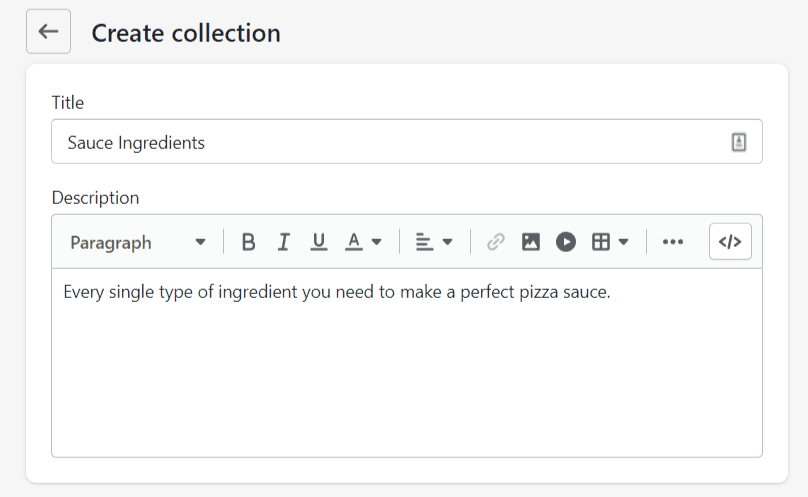 Then all you need to do is write the title, the description, and import the collection image.
What's better, adding products to your collections is automatic, and you just need to add the conditions for a product to be included. For example, I can add sauce ingredients to this collection by adding products with "tomatoes," "olive oil," or "basil" in their title (or if I tag them as "sauce").
This feature is super helpful to keep your catalogs organized without editing and tweaking things manually.
Shopify's Shipping Features
For product shipping. There's the "Shopify Shipping" service which allows you to:
Set up free shipping rates, flat rates, price-based rates, weight-based rates
Offer local delivery and pickup rates.
Provide real-time shipping quotations from local postal services (UPS, USPS, DHL Express, Canada Post, Sendle, and Hermes)
Print shipping labels
Provide preferential rates on shipping.
Shopify Shipping is offered as long as you're based in North America, Australia, and the U.K. Otherwise, you'd have to pay an additional monthly fee, pay your plan annually, and have the "Shopify Plus" plan or higher.
However, if you're interested in dropshipping, Shopify is a particularly great option for it. You can integrate dropshipping apps like Oberlo or AliExpress to offer and sell products right away without struggling with inventories and sourcing products.
Doing this is as simple as going to the app store and installing an app like Oberlo to get started. Everything is already set up for you.
Setting up Your Payments
Shopify allows you to accept credit cards through their "Shopify Payments" service and various third-party payments providers. You can also accept Paypal (and even Bitcoins if you want to go that route.)
There're plenty of payment options: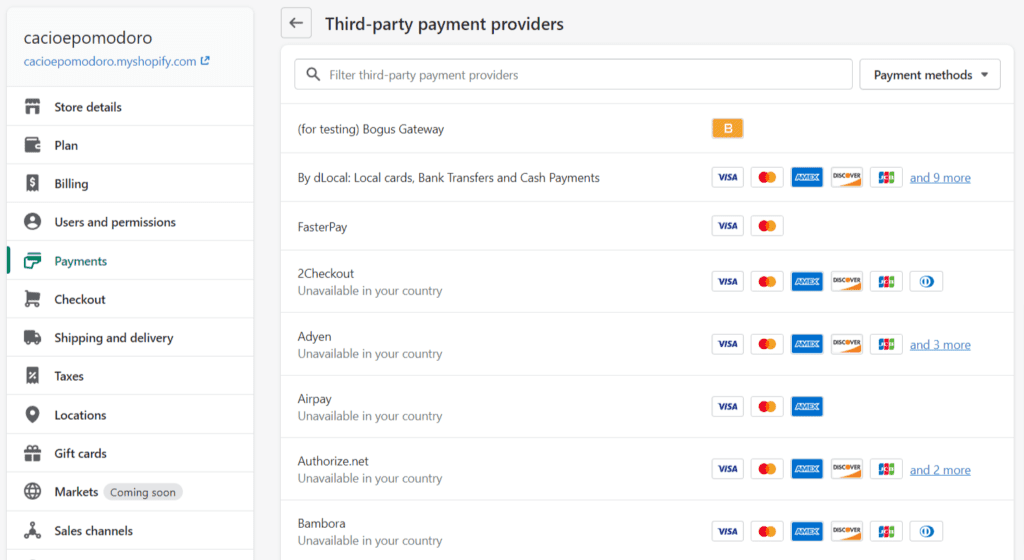 Also, manual payments like bank transfers or cash on delivery are options you can go for. You'll never run out of options with Shopify.
Let's go over the most popular payment methods.
Shopify Payments and the Transactions Fee
Shopify Payments is the simplest way to accept payments online. It comes fully integrated with your store, eliminating the need to set up a third-party gateway or merchant account. There's no need for the laborious task of inputting the credentials, either. With Shopify Payments, you're able to manage your entire business and finances in one convenient place.
Shopify Payments allows you to:
Automatically set up to accept all major cards when your Shopify store is up and running.
Select your card rate based on your Shopify plan. You can change whenever you want.
Track your pending payout balance and your payout schedule from the Shopify admin.
View how much you'll receive for any order or charge in payment fees since payments are linked to their corresponding orders.
Quickly recover lost sales from chargebacks using chargeback responses compiled by Shopify for any affected orders.
Depending on where you're located, you won't incur additional transaction fees above the card rate. These include the United States, Canada, the United Kingdom, and Australia.
The best part of Shopify Payments is that you will be exempt from Shopify's subscription transaction fees. These are only payable by store owners who use a third-party payment processor.
Third-Party Payment Provider for Credit Cards
If you're not using Shopify Payments and you want to accept credit cards, there's the option to use any of the 100 third-party payment providers to do the job.
Note that you'll be charged transaction fees when you use a payment method that's not Shopify Payments, POS, or manual payments. The fees will depend on your plan and can range from 2.9%+30¢ USD to 2.4%+30¢ USD.
Now, Shopify supports two different types of credit card payment providers:
Direct providers
External providers.
If you're using a direct provider, your customers can complete their purchases directly on your online store without having to pay at a third-party checkout. Whereas if you're using an external provider, your customers must complete their purchases on a checkout page that's hosted outside of your online store—making it riskier and less converting for more convenience.
However, you can always activate or change a payment provider in your Shopify settings.
Shopify POS
Shopify's Point of Sale (POS) is an app that allows you to receive payments in person and offline, which is especially useful if you run a brick-and-mortar store and you want to integrate it with your online presence.
Shopify POS app syncs with your orders and inventory across all physical and digital channels. While also allowing you to manage your orders from the app.
All plans support the POS app, so you don't have to worry about upgrading to get access to it. All Shopify users can use it.
Does Shopify accept PayPal?
Yes. Shopify is also conveniently integrated with PayPal. As soon as you open a store, you'll get a PayPal Express Checkout account, and you'll receive an email asking you to open a Paypal business account to claim the money.
What Are The Manual Payment Methods?
There's the option to accept non-automatic payments. Shopify will allow you to process those sales manually by sending an invoice with your payment details and marking an order as paid. Plus, it won't charge any additional transaction fees.
These manual payments can involve:
Bank Deposit
Cash
Cash on Delivery (COD)
custom
External Credit
External Debt
Gift Card
Money Order
Store Credit
This works when the customer doesn't want to pay using a credit card or Paypal—primarily when you sell highly-priced products or services that require some thought.
Automatic Tax Calculation
Depending on your location, you have to include tax rates in your prices. Thankfully, Shopify can handle all the sales tax calculations for you and can even set tax overrides for unique situations.
Shopify will automatically add the default tax rates if you live in a country like the U.S., as they keep updating them over time. However, you might want to check and ensure that the current rate is the exact percentage applicable to you.
However, filing and remitting your sales taxes is still up to you. So all the remaining paperwork is still part of your responsibility as a business.
Built-in Marketing Features
Email Marketing
If you aren't ready to invest in email marketing yet but still want to send newsletters, then the "Shopify Email" email tool will let you do so.
You can use this built-in feature to collect leads and send branded newsletters. It's a basic email marketing tool; you'd still need to use proper software like ActiveCampaign or GetResponse if you need to create email workflows and segmentation.
What's good about this is that you can start collecting leads right away, so when you're ready to invest in email marketing, you'll already have a good-sized list to kick off your campaigns.
Also, all plans include a cart recovery function to send emails to the buyers who abandoned their cart, which is a great backup to have when you're still building your business before scaling.
Creating a Blog Post on Shopify
Ecommerce businesses can do great content marketing. If you want to start publishing content to attract visits and leads. Shopify has a built-in option for that.
On the left bar of the menu, you can find "blog posts" under the sales channels tab and start creating valuable blog content for your audience. All you need to do is write the title, the excerpt, and the content.
You can also add the featured image, edit how it will look in the SERP, add an author, and create categories.
However, you're probably going to need to add more customization to your blog and add more features. For example, embedding tweets or Instagram posts, adding call-to-actions on specific places, or even changing the overall design of your blog.
For these kinds of options, you'd have to install third-party plugins from the store—which isn't a big deal either.
Considering how great Shopify's content marketing is, you can tell how much they care to let their customers do the same.
Social Media Integrations
You'll probably want to build a social presence and sell your products on different platforms. Shopify can connect your product catalog with Facebook Shop and Instagram Shopping so your customers can buy from there without visiting your website (only in the U.S.).
The Facebook channel also allows you to create marketing campaigns directly from Shopify. This way, you don't have to log into the platform and post everything manually.
For example, you can use Facebook Ads to get leads to chat with you on messenger, integrate it with a chatbot tool to close sales, and watch everything happening from your Shopify account.
Note that you must open a Facebook business page and create an ad account in the Business Manager to have access to all functions.
Is Shopify Good for SEO?
Shopify's is extremely SEO-friendly and allows you to optimize even if you're not a pro.
Its structure organizes your site into categories, which increases search results. And more than that, Shopify has a Storefront Renderer infrastructure for site speed optimization, making your website load x2.97 faster than your average SaaS.
Also, Shopify allows you to build a blog with low effort, contributing to the SEO benefits. Although you'll also need to make sure that your website structure and the content on your posts are optimized to lead to more searches (page titles, URLs, image alt texts, keywords.)
Additionally, you can use plenty of SEO integrations (some of which come free with the Shopify plans). For example, one of the best-ranking integrations on the Shopify app store is SEO Manager, which costs $20 a month, whereas the SEO Image Optimizer app is one of the most used apps in the store, and it has a free version.
Compared to the rest of the market, Shopify is by far one of the most SEO-friendly platforms you can use. So unless you're going for a very sophisticated SEO strategy where you need control over the website code, Shopify is more than enough to get those rankings.
Shopify Analytics and Reports
Selling is one thing, but knowing where your business stands and reviewing it regularly is another. Shopify has you covered here as well.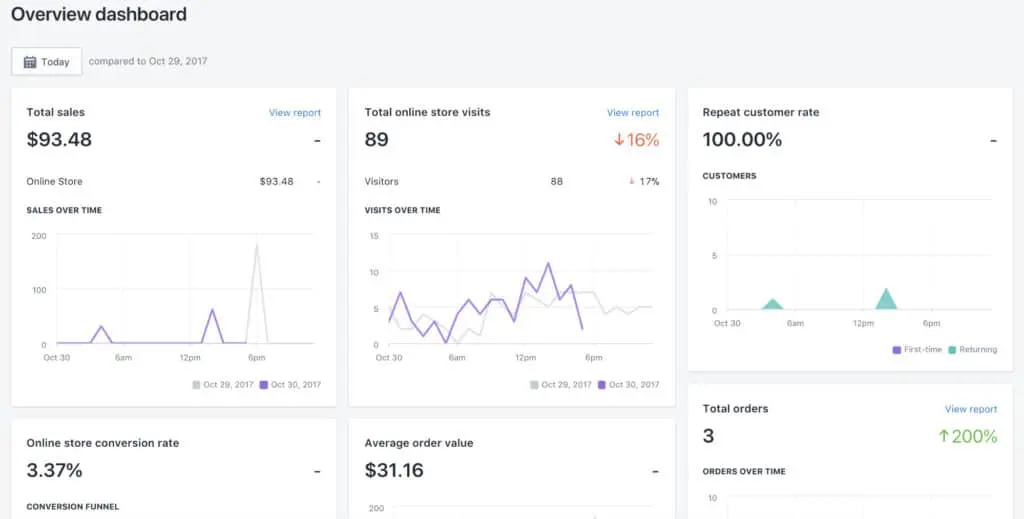 Everything happens in the reports section of the dashboard, where you can find many types of professional reports such as:
Sales reports
Customer reports
Marketing reports
Search data reports
Finance reports
Abandoned cart reports.
With the advanced report builder, you can find every piece of data you might need as an online store manager. You can browse through your gross sales by product title, by month, by channel, by payment method, taxes by rate, by traffic, and track any metric you need.
The caveat here is the limitation with plans. Shopify Basic won't give you access to any data, while the standard plan will only show essentials such as traffic data or sales.
The only way to access all the data is by upgrading to the Shopify Advanced plan, which is only worth it if you can truly leverage the data to grow your business.
Examples of Online Stores Using Shopify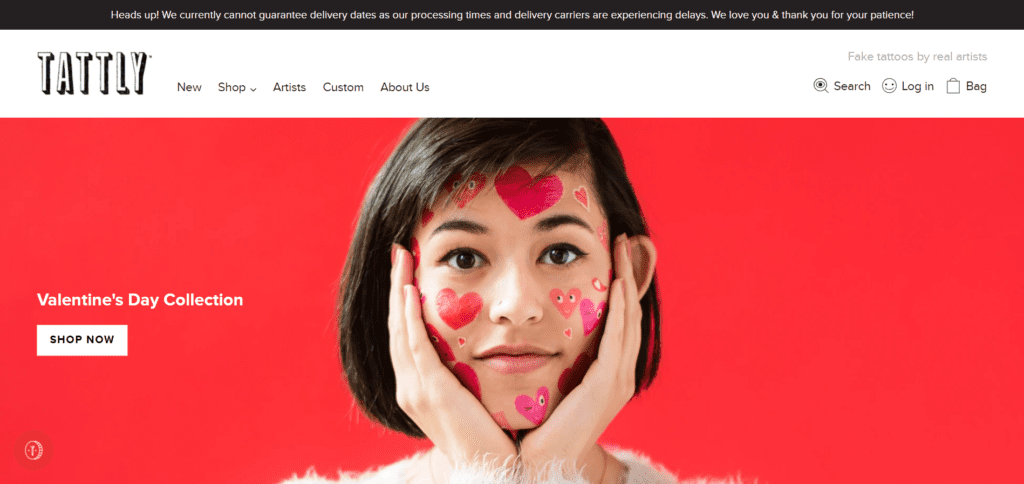 Tattly is a very healthy business founded by a mom who was tired of buying cheap, bad-looking temporary tattoos for her daughter. She decided to hire a team of expert designers to create her own tattoo brand and sell them online.
The business went well, and it demonstrates how Shopify can be a fit for any project and person—no matter the size or the investment.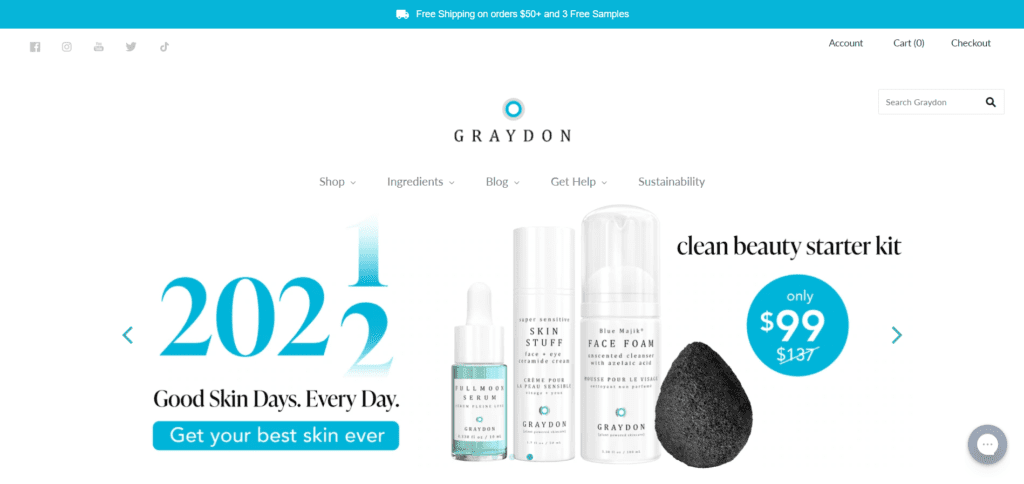 Graydon is a skincare store that sells vegan products for keeping your face clean and was founded by a former vegan chef who ventured her way into the business.
If you navigate the website, you'll notice how well-made it is. It has a great variety of pages, sections, and even a blog. And its growth has been pretty noticeable.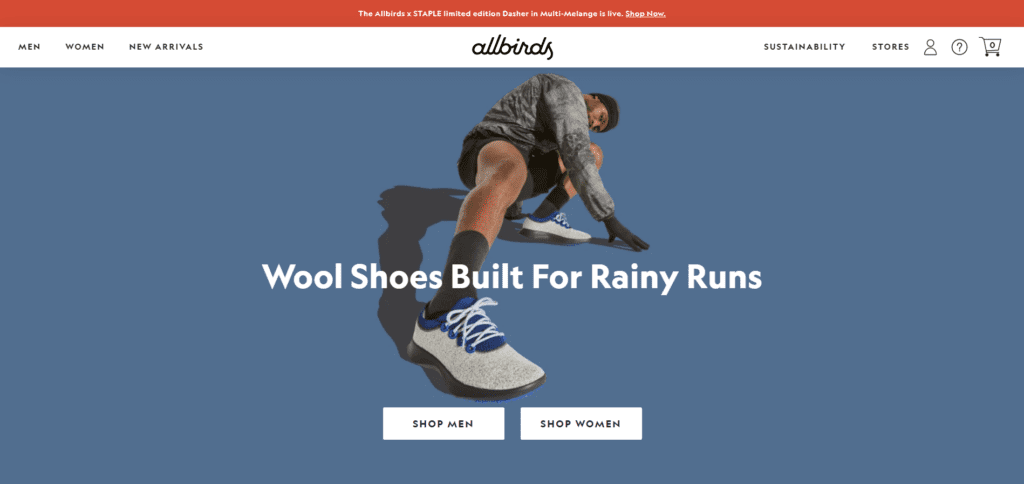 Allbirds is another ecommerce store made with Shopify founded by a man from New Zealand—Tim Brown.
Tim started experimenting with merino wool–an incredibly sustainable resource that the footwear industry wasn't using. So he partnered with Zoey Zwillinger to create these environment-friendly shoes and build a business around it.
The website doesn't seem as extensive as other big stores, but it is. Its catalog offers plenty of options for both men and women—and it was possible because Shopify allows people from all over the world to open a great online business quickly and on a low budget.
A Rundown of Shopify's Major Pros and Cons
Although I covered advantages and disadvantages at the beginning of the post, some points can only be clear after reading the whole review.
So here are the benefits and drawbacks you can expect if you decide to use Shopify.
Shopify Pros:
High Speed and Fast Load Times: When you build an ecommerce site, you need it to be fast and secure—two features that most often come with expensive hosting packages. Even fractionally longer load times can send your paying customers to the competitor's site, costing you potential sales, and Shopify makes sure they don't.
Secure: Shopify is safe for handling sensitive data and processing payments.
Great Design: Shopify is mainly about great design, and you will quickly find there are plenty of templates available, both free and paid, that will leave your site looking aesthetically pleasing while also professional.
Beginner-friendly and easy to navigate: Shopify is extremely beginner-friendly. If this is your first time using a platform of this nature, you don't need to worry since you probably won't encounter any problems.
A great variety of themes: Shopify has a good selection of themes to choose from, so regardless of your preferences, you're bound to find one you like.
Low monthly fees: Shopify's monthly fees are more affordable than some other options out there like WordPress.
Plugins and integrations: There are plenty of plugins available in the app store, so you can expand the feature set if you need it. That means you probably don't have to worry about hiring a programmer to do things for you since there's a third-party app for almost everything.
Shopify cons:
The Cost: Shopify costs money, the monthly subscription, the premium themes, the apps, and in terms of individual transaction processing fees (if you don't choose to operate Shopify Payments). You need to take account of these when comparing packages to get your store off the ground, especially if you intend to sell in volume.
Long response time: Sometimes, the tech support team at Shopify will put you at a 30-minute hold time, which is not that great if you're someone who likes to get quick solutions.
Has proprietary code: While Shopify can be made to do pretty much whatever you want out of the box, if you have to explore the backend, you'll deal with proprietary coding. In a nutshell, this means that you need someone who knows what they're doing and has the time to learn how to work with Shopify particularly to get the job done. This can increase maintenance costs and result in delays in managing your store.
Shopify FAQ
Is Shopify a Good Solution for Dropshipping?
Yes, it offers multiple dropshipping apps such as Ali Express and Oberlo. In fact, Shopify is a perfect option for users who want to do dropshipping. You only need to go to the app store and search for your favorite dropshipping app, and Shopify will take care of integrating everything.
Does Shopify Include Web Hosting?
Shopify is what's known as a cloud-hosted ecommerce platform, so it does include web hosting. This means that you don't need to sign up for any external web hosting service, given that everything is neatly handled in just one place.
Shopify uses an optimized server structure built specifically with ecommerce in mind, so you know that you're getting the good stuff.
Can You Sell Digital Products and Services on Shopify?
Yes, and it's free using the "Downloadable digital assets" app from the store.
Is Shopify a Good Platform for Beginners in Ecommerce?
Yes. Shopify is one of the most user-friendly ecommerce builders to help beginners and small business owners set up and run their online store for the first time.
Shopify is user-friendly, and even those with no prior ecommerce experience or coding knowledge can create an online store fairly quickly.
What is the Difference Between a Content Management System (CMS) like WordPress and Shopify?
Shopify allows you to make your store multilingual. You will need to create a separate URL for your translated content for your customers to see the translated version.
Another option for giving your customers the desired translation is incorporating third-party apps like Weglot to translate your store.
Also, If your store is on the Shopify Plus plan, your store automatically sets your customers' country or region and currency based on their I.P. address. So yes, it also includes multicurrency.
If you don't know where to start, Shopify has a comprehensive guide that lists all the things you need to do in order to make your store multiregional.
Shopify Review Conclusion: Is it the Right Tool for You?
There's something about Shopify that makes you want to leave your job to sell tomatoes and cheese online for the rest of your life, and that branding effect alone makes it outstand the competition.
Shopify is a go-to for ecommerce and one of the best hosted platforms for a few reasons. It's pretty easy to navigate through, and there are plenty of visually appealing themes to choose from. Plus, you have the option of including many useful third-party integrations that will help your business immensely and improve the customer experience.
There are, however, a couple of disadvantages that might impact your Shopify experience, like the transaction fees that come with third-party integrations or the long response time by tech support that's been reported by users—in which case you might want to look for alternatives.
Still, Shopify is an all-in-one solution that's bound to make your ecommerce experience more accessible, especially if you're a beginner.