FTC Disclosure:This post contains affiliate links.We're independently supported by our readers and we may earn a commission when you buy through our links.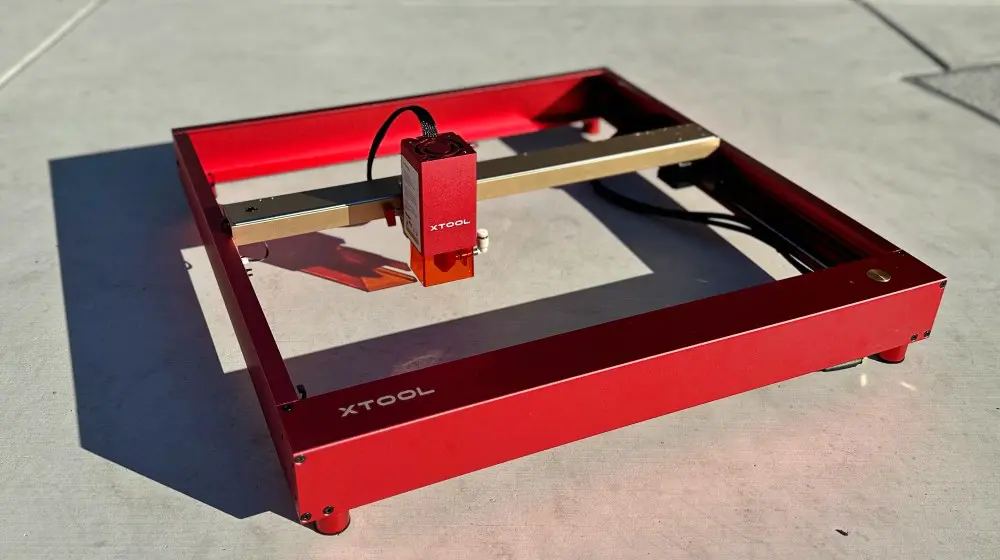 Overview of xTool
Xtool offers a range of laser cutters that are specifically designed for vinyl, metal, and wood, allowing users to unleash their creativity and bring their creation dreams to life. The company is dedicated to promoting innovation and creativity through their user-friendly and easily accessible laser cutting tools.Xtool has gained a strong following on social media, with 19.5k followers on Instagram, indicating that their products have been well-received by fans. They have also garnered media attention, with features in reputable publications such as Forbes, Fast Company, and Make, showcasing their rapid progress as a new company in the industry.
xTool D1 Pro Features
The xTool D1 Pro Laser Engraving and Cutting Machine is designed with a lightweight frame-style construction, providing flexibility in its usage. It can be used as a static workshop-style laser engraver or moved directly on top of larger materials for engraving. Available in Metal Grey or Golden Red color options, the xTool D1 Pro adds a touch of aesthetics to any workspace.
Safety features of the laser include built-in shields on all sides, a flame detector, motion and vibration detection, and limit switches for precise control of the laser path. The machine also features a white nozzle on the side for attaching an additional air assist pump, which helps reduce heat and dust during operation, ensuring high-quality results for your creations.
The movement of the xTool D1 Pro laser is controlled by software, with X and Y belts attached to motors, similar to the mechanism used in 3D printers. This allows for precise control and accuracy in the engraving and cutting process, making it easy to create intricate designs.

Hardware Specs of xTool D1 Pro
Power: 60W machine power | 40W laser electric power | 10W laser module output
Laser Spot: 0.08 x 0.06 mm
Safety Features: Laser shield | Flame detector | Motion/vibration detection | Limit switches in all directions
Precision: 0.01 motor tolerance | 400mm/sec speed | easy to focus
Dimensions: Device footprint = 24 x 24 inches | Working area = 17 x 15.75 inches (430 x 400mm)
Max Workpiece Height: 50mm without risers | 95mm with 1 set of risers | 140mm with 2 riser sets
Connectivity: USB cable | WiFi | TF card (included)
Certifications: FCC / FDA / CE
OS Compatibility: Windows / Mac
Control Software: xTool Creative Space (free download) | LightBurn (3rd party purchase)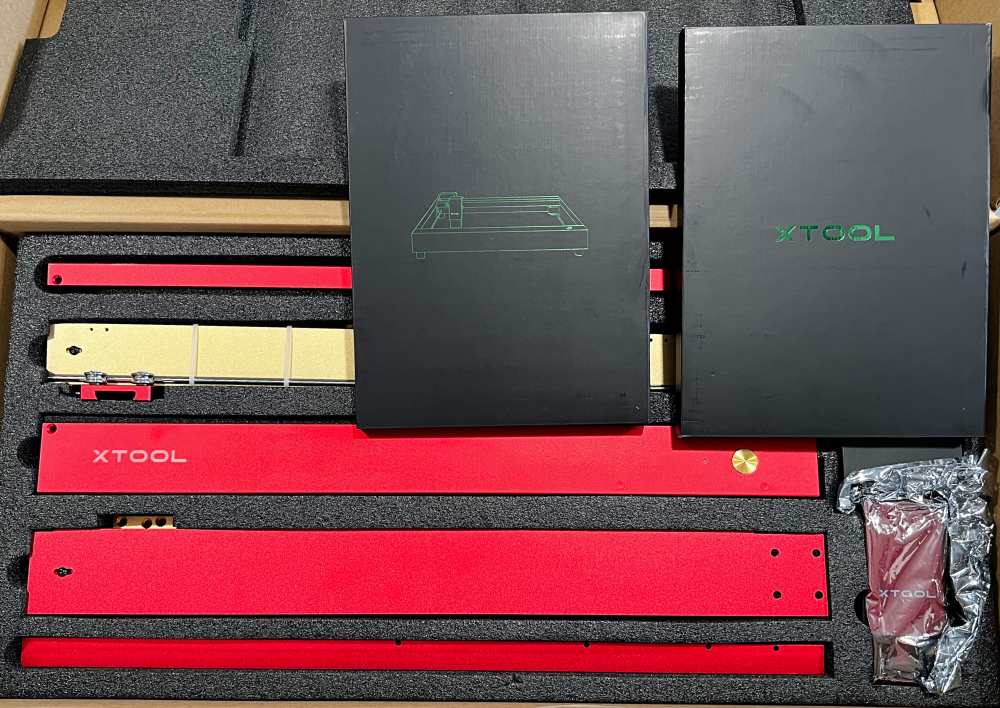 Getting Started With xTool
Assemble the xTool D1 Pro by following the detailed instructions provided, which include attaching the laser module.
Make sure you are working in a well-ventilated area and connect the power adapter and USB cable to the machine and your computer.
Download and install the Creative Space app from the xTool website.
Launch the Creative Space app and connect your machine via USB.
Use the Creative Space app to design your artwork or import designs from other design software.
Prepare your material by placing it on the aluminum plate included with the machine, aligning it with the red laser crosshairs, and adjusting the focal length of the laser for your material thickness.
Set laser power, speed, and number of passes in the app, based on xTool's materials list or your own trial and error.
Click on "Process" in the app to prepare your artwork and select the grid intersection for the origin of your burn/cut process.
Manually position the laser over the corresponding point on your material and click "Framing" to confirm the position.
Adjust the laser's starting position as needed until the frame is positioned properly, then click "Framing completed" in the app.
Click "Start" in the upper right of the app to begin the cutting/engraving process.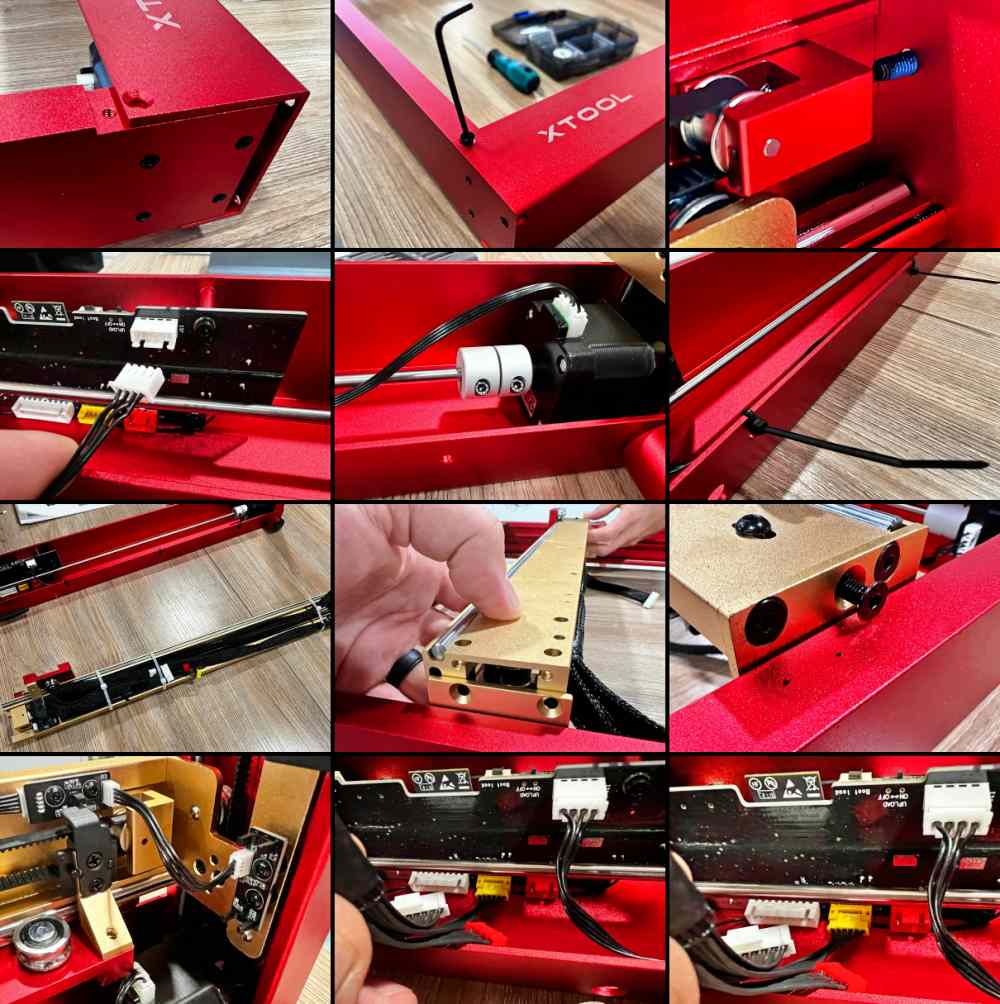 Performance
The performance of the xTool D1 Pro laser engraver and cutter was impressive overall. Once we resolved a minor issue with a missed connector during assembly, the laser was able to engrave and cut with precision. We started with one of the included projects for a phone stand, and despite some initial confusion with material placement, we were able to achieve excellent results. The included aluminum plate was sufficient for the included projects, but we quickly realized that a larger plate would be needed to take full advantage of the laser's work area.
The power of the laser was evident in its ability to engrave and cut various materials, including wood, plastic, and bamboo adhesive. We were also able to engrave a photo, although we learned that the choice of photo and digital preparation mattered for optimal results. We did encounter an issue with the flame detector during one of the cuts, but we were able to adjust the sensitivity settings in the app and continue without further problems.
One area for improvement would be the lack of a pause or resume function during a job. It would have been helpful to have the option to pause or resume a job, especially in cases where a job takes longer than expected or is interrupted by unforeseen circumstances. Additionally, including a full-sized aluminum plate that matches the usable work area would be beneficial for users who wish to work on larger projects.
Despite these minor issues, the xTool D1 Pro performed well and offered expandability with accessories for improved performance and versatility, such as increased power, ventilation, and the ability to work on cylindrical objects. The sleek anodized red color of the laser also added to its aesthetic appeal.
Conclusion
the xTool D1 Pro laser engraver and cutter proved to be a powerful and versatile tool for various engraving and cutting tasks. Its impressive performance, coupled with its expandability and sleek design, make it a compelling choice for hobbyists, DIY enthusiasts, and small business owners alike.
The laser's ability to engrave and cut various materials, including wood, plastic, and bamboo adhesive, was commendable. The power of the laser was evident in its ability to produce precise and detailed engravings and cuts, showcasing its capabilities for both intricate designs and functional projects. The included projects, although limited by the size of the aluminum plate, provided a good starting point for users to get familiar with the machine and its capabilities.