FTC Disclosure:This post contains affiliate links.We're independently supported by our readers and we may earn a commission when you buy through our links.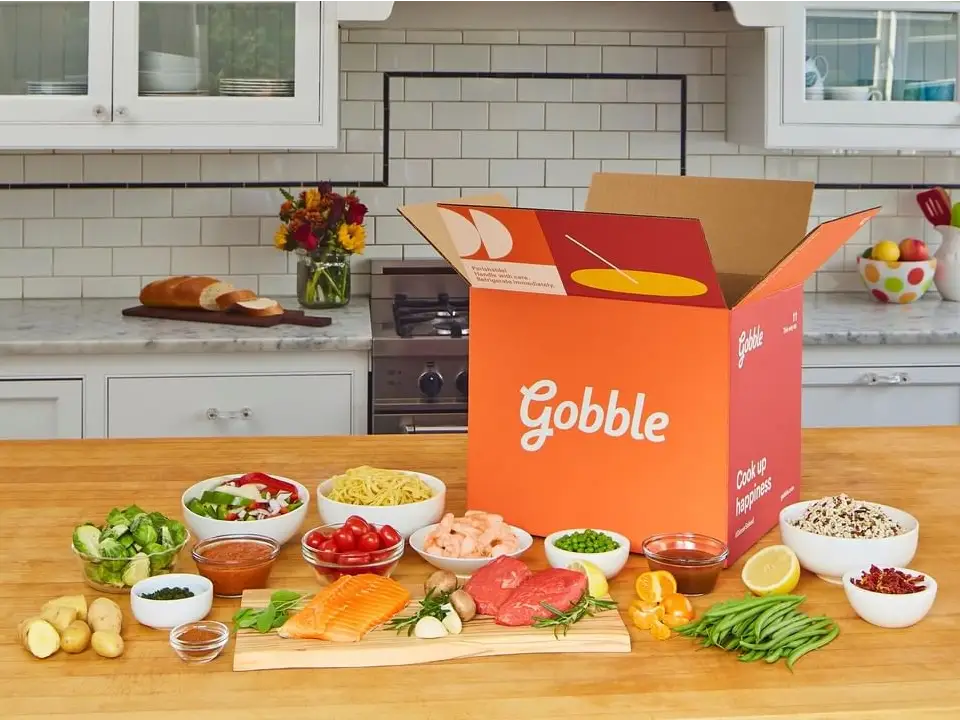 Are you looking for a well-cooked dinner in no time? There are services out there that deliver some intriguing menus. One of these services is Gobble which claims to have a cook time of 15 minutes. These lucrative recipes require little effort and provide wholesome meals rather than just calories. This article will discuss their menu and options which will change your mind about dinner.
How do their services work?
You can sign up on their website and create your account there. Afterward, you have to choose from three different plans. One of the classic plans offers an additional option to select animal proteins for your meal recipes. The other two options are lean and clean and vegetarian. These plans revolve entirely around your food preferences.
Gobble offers side notes in their recipes to indicate which ingredient is not suitable for a particular food allergy if you are worried about your food allergies.
After selecting your desired plan, you will have to choose the days when you will receive the menus and ingredients for your meals from Gobble.
Menu Options and Customization: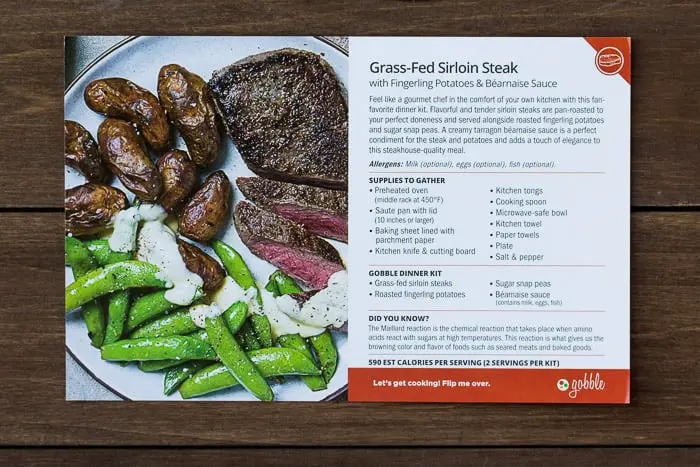 Most meal kits offer a change in menus weekly, and there are chef-inspired meals as well. The starting point of their plans is $11.9 per person. The two premium options are available for $20 per person. Add-ons are also available, including salads, sides, breakfasts, soup, and desserts.
You can also add meat proteins to vegetable meals, but you need to be careful about all the upcharges. There is an option to swap proteins in your meals.
There is a different option available to view nutrition and allergen information for all the ingredients in a particular recipe. Most of their options follow European-style recipes, but their menu has plenty of options from the international meals.
What do you get?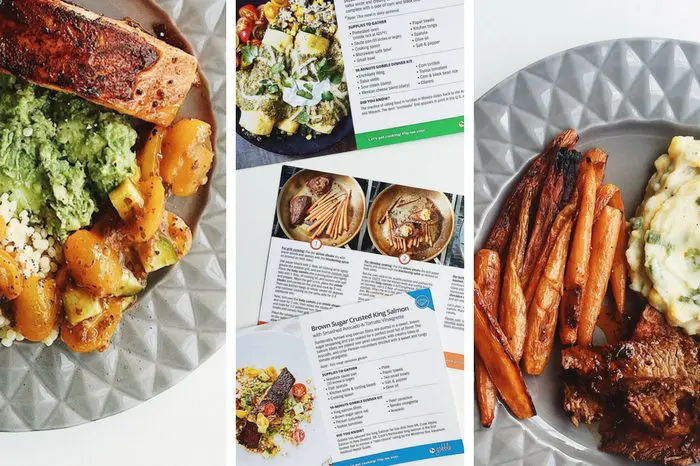 Upon delivery, you will notice the packaging is under all the health benefits when you receive products. You will find the ingredients are fresh and up to the mark. Moreover, a recipe card about 8×10 inches provides a quick overview of the recipe and other information. The most intriguing part was the allergen list on the card for a particular recipe.
If you lose that recipe card, you can also find the recipe online on their website.
Packaging: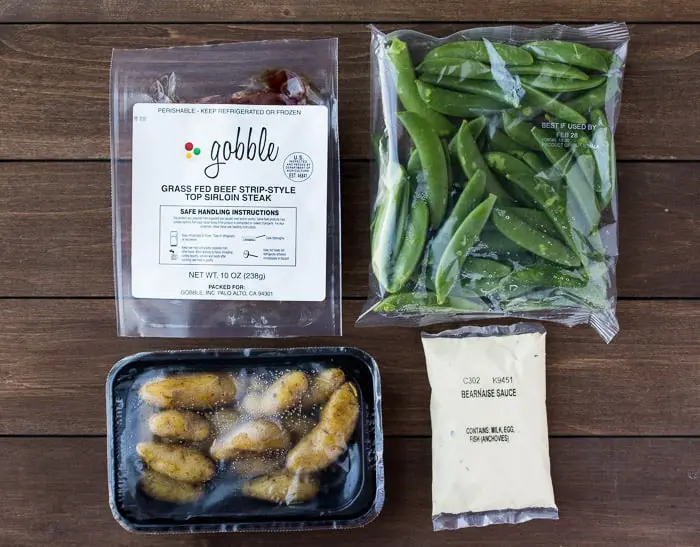 Their packaging is ideal for storage and delivery. Moreover, the items remain fresh and healthy. A gel ice pack is present at the bottom of the packaging, and you can drain it upon delivery.
Their plastic packaging is recyclable, which makes it environmentally friendly. All the ingredients come closely to save space, but they are present in their packaging to preserve the taste. If there is meat in your recipe, you will find it close to the gel ice pack at the bottom. It is separated from other products by a cardboard divider. This step shows their approach towards healthy packaging, which most consumers like. If there are eggs, you will find them in bubble wraps.
Cooking: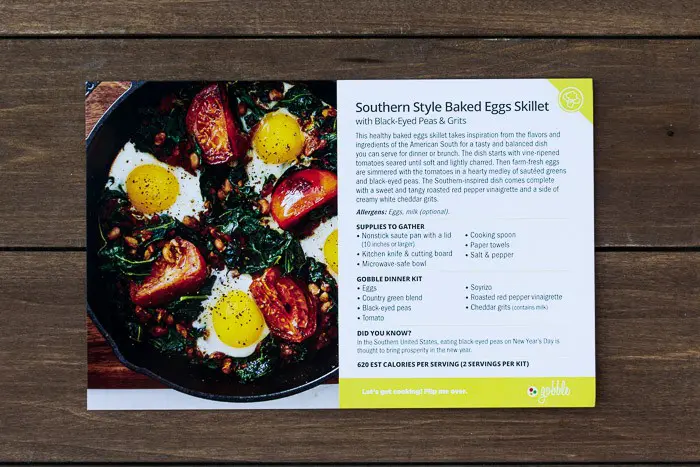 As Gobble claimed, most of their meals were easy to cook and required around 15 minutes. Moreover, you will have to use much fewer utensils. Some chopping might take some time, depending on your expertise. Furthermore, you will not have to use fewer additional ingredients like butter oil, cooking oil, etc.
Conclusion: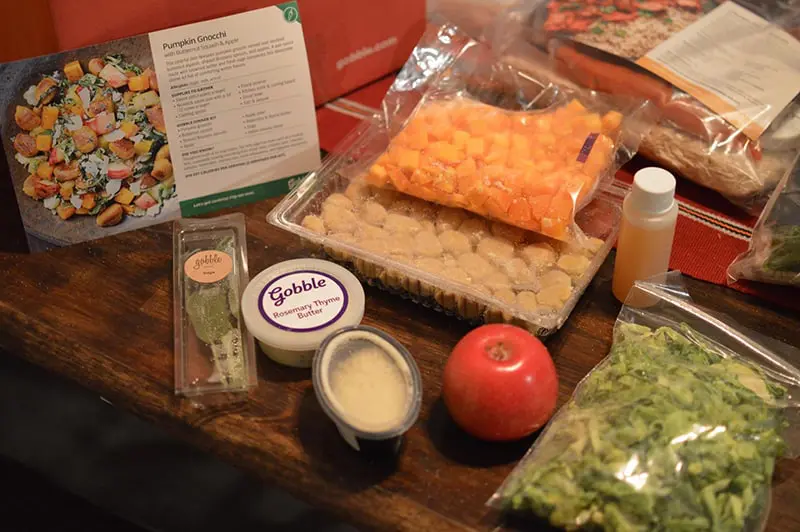 Gobble is a fast service for your dinners. You can trust their platform for some of the best tastes from European and international menus. To inspire your taste buds with their unique flavors. The service might be expensive, but it sure matches the product quality.