FTC Disclosure:This post contains affiliate links.We're independently supported by our readers and we may earn a commission when you buy through our links.
Udacity's mission is to teach and train learners for careers of the future with its Nanodegrees (the name it gives to its Learning Programs). This popular platform partners with leading technology companies like Google and Microsoft to create learning programs on the critical tech skills that companies are looking for.
If you don't have time to read our detailed review, then please check out of video below to give you a summary of what Udacity is all about.
It doesn't necessarily mean that its Nanodegrees are going to be the right fit for you? And will you have to break the bank to join one of its programs? Hold tight, as I'll explain all in this detailed review, so you can decide if Udacity is worth it.
Udacity Review Verdict
Udacity is an online learning platform that offers some beginner courses and learning programs called Nanodegrees in topics related to technology and business. Its Nanodegrees are designed, so you can work at your own pace, and they are to prepare you for a job role or career path in digital skills. Its content is co-created with the world's most innovative tech companies like Microsoft and Amazon and taught by industry leaders. It's Nanodegree programs can take you from 1 month to 6 months. There are a couple of options to pay for it, either on a monthly basis or you can pay upfront for the estimated time it will take you to complete it. Udacity does offer a cancellation and refund option, but you must cancel when the first 2 days of purchasing your Nanodegree. Udacity offers close to 200 courses for free, which will give you a taster of the Udacity platform before you financially commit.
Who Is Udacity For?
Udacity is for anyone who is looking to gather knowledge and earn new skills in programming, business, data science and more. Its courses are designed to give you real employable skills that are based around real-world projects where you can learn at your own schedule and ask for help from mentors 24/7.

Nanodegree Programs & Courses
The learning programs that Udacity offers for individual learners are the Nanodegree program and the single paid course. Udacity's Nanodegree programs consist of a series of single paid courses. The single course typically ends in a project where you demonstrate the skills you have learnt and an average learner can complete a single course in one month, working 5-10 hours a week. Whereas the Nanodegree comprises 3 or 4 courses and will naturally take longer. Udacity is currently offering 70+ Nonodegree programs.
You will love Udacity's Nanodegrees for its;
High-quality content
Strong mentor support
Student discussion forum
Industry professional Instructors
Career advice services

Udacity's Nanodegree Programs are co-created by some of the world's most innovative tech companies like Microsoft and Amazon. When you successsfully complete a Nanodegree or single paid course, you will receive a certificate. Its certificates are recognized by future employers as learning with Udacity is renowned for its high quality.
Udacity for Enterprise
Udacity doesn't only offer learning programs for individuals, it also has customized programs for companies and organizations to transform your workforce. Udacity for Enterprise prides itself on its customized learning paths tailored to your company's needs, and its 24/7 mentors gives you the support to keep you and your team on track.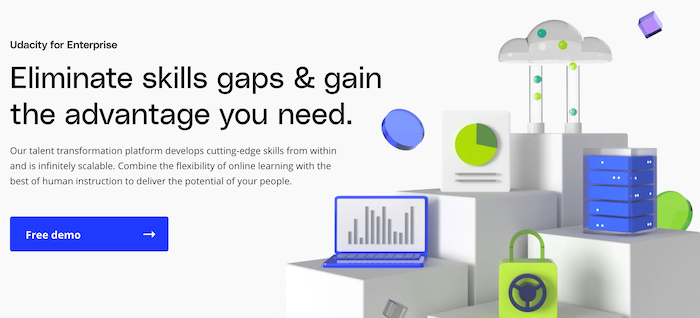 Udacity works with a range of companies, starting at less than 1000 employees and going up to 5,000+. If you are interested in upskilling your workforce with Udacity for Enterprise you can request a free demo and a member of the Udacity team will get in touch.
> Sign up for a free consulation with Udacity for Enterpise here
Udacity for Government
Udacity doesn't limit its learning to individuals and Businesses, it gives learning opportunities to governments to bridge the people and skill gaps, increase job growth to reach new economic heights.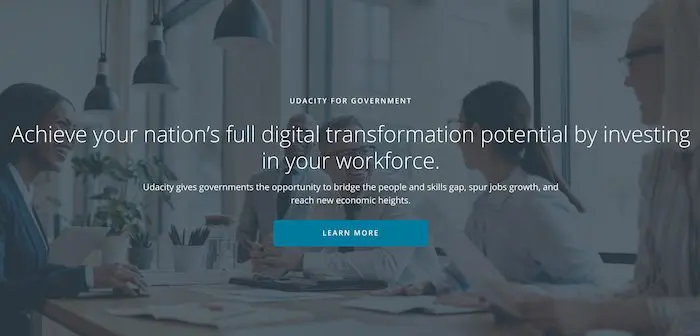 You can sign up for a consultation by clicking on Learn More (see image above) which you can submit, and you will be contacted by the Udacity team.

If you do decide to learn with Udacity, you will be supported by its 1400+ mentors with personalized feedback, and you will receive responses to your questions in 1 hour or less.
Career Services
Udacity doesn't just offer Nanodegrees and learning programs, it provides Career Services which are designed to help you in the next steps after completing a Nanodegree. Udacity provides a wide variety of services and support to help you begin your career journey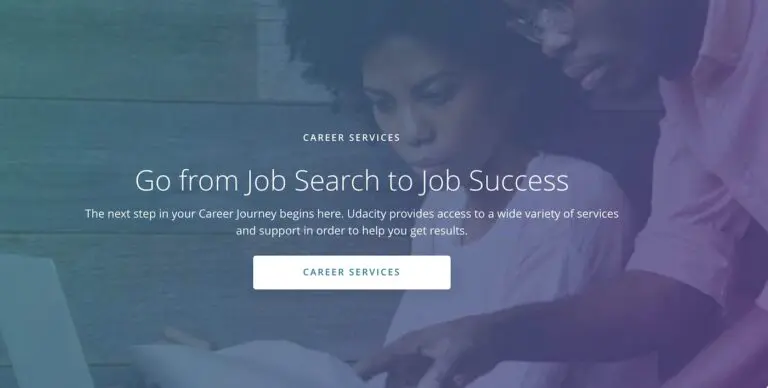 How Much Is Udacity?
Udacity's pricing, at first glance may seem a little overwhelming and more complicated than your standard pricing plan. But I will do my best to explain it in as concise way as possible.
Udacity's Nanodegree Programs start at $399 (€359 or £329) a month. Each Nanodegree Program takes an average of 2-6 months to complete, assuming you work the required hours per week. All Nanodegrees offer a couple of ways to purchase their programs:
Pay As You Go (monthly access) payment: You will be charged the monthly $399 (€359 or £329) for as long as you take to complete the Nanodegree, or until you decide to cancel your subscription.
All Access: Each Nanodegree will have an estimated amount of time it will take you to complete the program, e.g. 5-month access. This means you will pay the full access upfront and if you do need more time to complete it, you can switch to the Pay as you go (monthly access).
Let's take the Become a Data Engineer Nanodegree Program as an example. There are a couple of options to pay for it:
Monthly access Pay as you go – $399 per month
5-Month access – $1695 as you pay upfront (receive a 15% discount)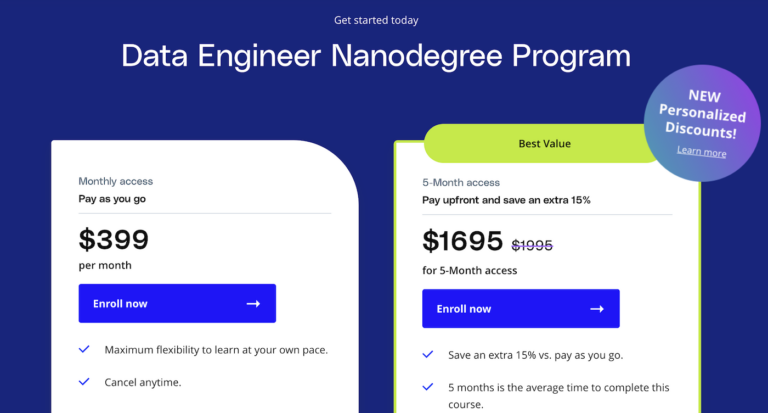 Each of these options have their pros and cons. If you decide on the Pay as you go option knowing that you were able to work more than the required 5-10 hours per week, this may end up cheaper for you, completing it in, say, 4 months or less. But if you already know that you can't dedicate more hours than the 5-month access would work out better value for you. I have put together a table below to give you an idea of how the Nanodegree pricing looks like depending on the program duration.
Udacity's Refund and Cancellation
Udacity's refund and cancellation policy, you can cancel within 2 days of enrollment to be eligible for a full refund on your first month's subscription. I know what you're thinking, 2 days, it really doesn't give you time to make a decision, but sadly that's the policy. For citizens or residents of the EU you have 14 days to claim a full refund. You are, however, entitled to cancel your automatic subscription at any time during the month so that you won't be charged for the following month.
Udacity's Free Courses
There are close to 200 courses that you can enjoy for free at Udacity. These free courses are designed to give you an introduction to some of the Nanodegree topics, and others focus on career related content like Interview preparation and refreshing your resume. The free courses will come with some limitations, for instance, you won't be able to get a completion certificate or be entitled to mentor support.
Check out our latest blog post on Udacity's Top Free Courses to find out our favorite recommendations. If you then decide you want to develop your skills further, you can enroll on one of Udacity's paid Nanodegrees.
Scholarships And Financial Aid
There are a bunch of Udacity Scholarships you can apply to if you don't have the financial resources to pay for a program's fees. At this time, there are a handful of scholarship programs available that have helped tens of thousands of people globally.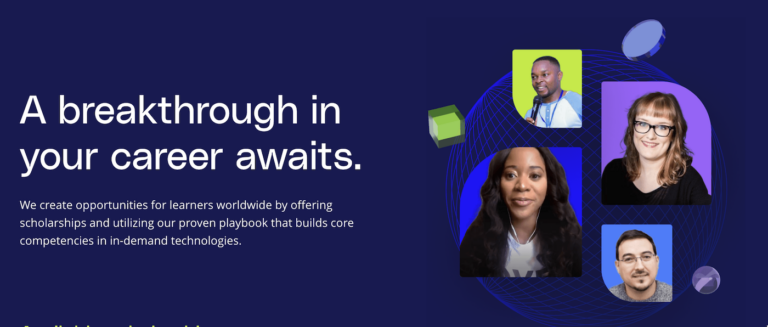 Unfortunately, there are no federal, state or local aid programs accepted at Udacity. The Udacity Scholarships are exclusively sponsored by third-party organizations such as Google, AT&T, Lyft, Intel or Accenture.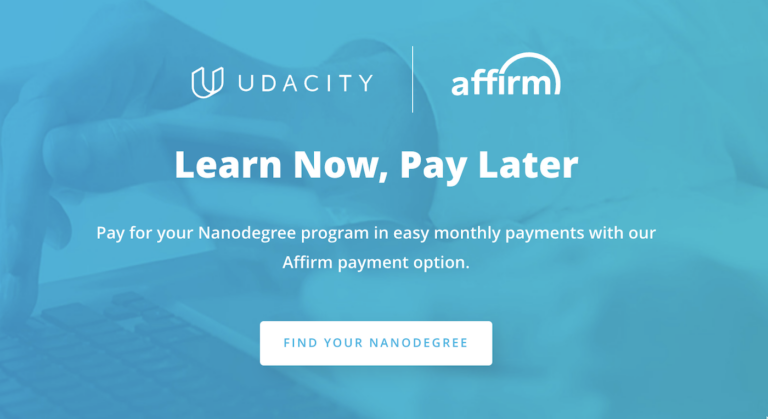 Udacity does offer the option to pay for your Nanodegree using Affirm which will allow you to pay in monthly installments.
Affirm will let you create a monthly plan (loan) for 3, 6 or 12 months to afford the course. Please, be warned that the interest rates can be high (up to 30%).
How To Open An Udacity Account?
Opening a Udacity account is very easy, follow these steps:
Visit Udacity.com and click on the top-left button 'Get Started'
You can register just with your email or use Google or Facebook
Add First Name, Last Name, Email Address and a Password
Confirm your email account if needed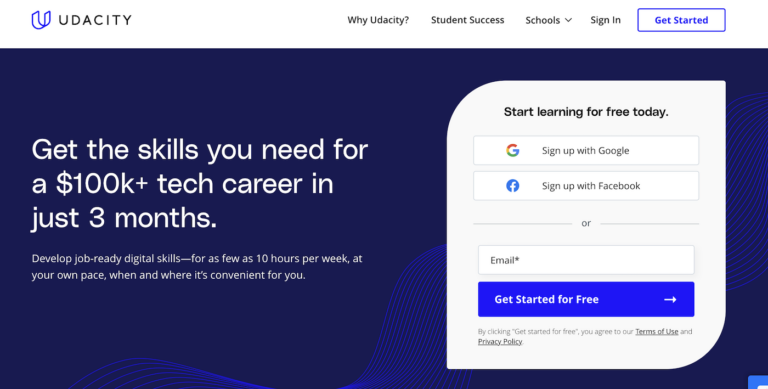 What Programs can I find on Udacity?
Udacity's Programs are made up of 9 main subject areas that include Artificial Intelligence, Autonomous Systems, Business, Cloud Computing, Cybersecurity, Data Science, Product Management, Programming & Development and Career. Each of these 9 categories include Free Courses to Nanodegree Programs.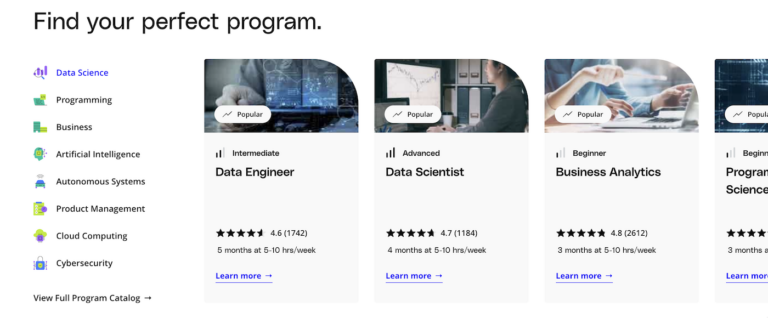 Its filter system makes it really easy to find what you are looking for. The Filter by allows you to choose from Topic, Field, Difficulty Level, Duration, Price and Sort By (see image below), this helps you find exactly what you are looking for.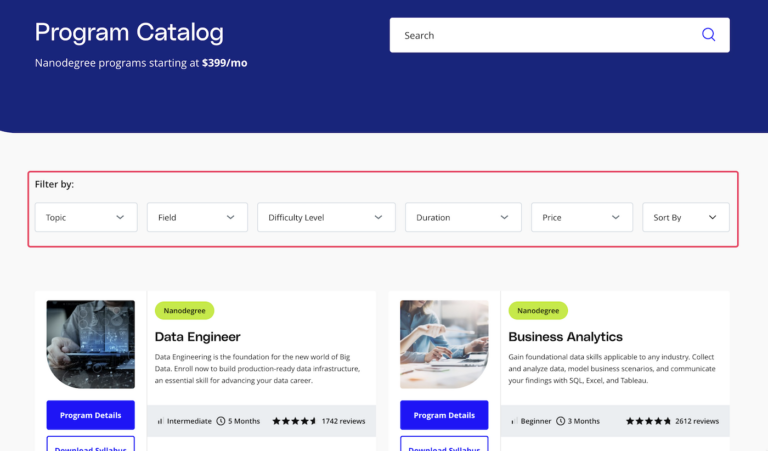 Examples Of The Most Popular Udacity Programs
I did a bit of research into which Nanodegree Programs and courses are most popular with Udacity's learners. I have highlighted the top programs and courses based on the topic.
Programming & Development
Programming is a critical skill in today's economy, so if you are into coding, adding more skills or advancing your career, 10 hours a week will prepare you for your ideal developer job.
Front End Web Developer– The goal of the Front End Web Developer Nanodegree is to equip learners with the unique skills they need to build and develop a variety of websites and applications. This program should take you 4 months to complete with working 5-10 hours a week.
Java Web Developer– Looking at becoming a Java Web Developer? You will learn back-end development with the Java programming language and be prepared for a software engineering jobs. This program should take you 4 months to complete with working 5-10 hours a week.
Artificial Intelligence
AI is one of the fastest-growing and most transformational technologies of our time. In the last few years 2.3 million new jobs have been created in this field.
AI Programming with Python– You will learn the essential foundation of AI, with the programming tools (Python, NumPY, PyTorch), the math (calculus and linear algebra), and the key techniques of neural networks (gradient descent and backpropagation). This program should take you 3 months to complete with working 10 hours a week.
Artificial Intelligence– Looking to expand your knowledge of Artificial Intelligence? You will learn essential Artificial Intelligence concepts including search, optimization, planning, pattern recognition and more. This program should take you 3 months to complete with working 12-15 hours a week.
Cloud Computing
AI is one of the fastest-growing and most transformational technologies of our time. In the last few years 2.3 million new jobs have been created in this field.
Cloud Developer– Cloud development is the foundation for the new world of software development. You will learn the fundamentals of cloud development and deployment with AWS. This program should take you 4 months to complete with working 10 hours a week.
Hybrid Cloud Engineer– Learn how to design and deploy hybrid cloud infrastructure and applications. This Nanodegree is built in collaboration with Nuranix and this program should take you 3 months to complete with working 5-10 hours a week.
Data Science
Looking to launch or advance a successful career in the data science field. You will learn to build expertise in data manipulation, visualization, predictive analytics and machine learning in one its Nanodegree programs.
Data Scientist– Gain real-world data science experience with projects designed by industry experts. This program should take you 4 months to complete with working 10 hours a week.
Data Science for Business Leaders– Looking to master the strategic decision-making skills for the people, platforms and processes required to power Data Science in your business. This program should take you 4-8 weeks to complete with working 5 hours a week.
Business
Today's business objectives are achieved with user research, design, distribution, analysis and strategy. Udacity's business Nanodegrees give you the right foundations of Business and help you to advance in your career.
Product Manager– In this program, you will learn to define product strategy and KPIs based on market analysis and be responsible for designing and delivering a profitable products or feature into the market. This program should take you 4-8 weeks to complete with working 5 hours a week.
Data Science for Business Leaders– Looking to master the strategic decision-making skills for the people, platforms and processes required to power Data Science in your business. This program should take you 4 months to complete with working 10 hours a week.
Autonomous Systems
The field of autonomous vehicles is set to grow by 42% within the next four years, with salaries for top engineers averaging between $300-$500k. If you are looking for a future career then learning with an Autonomous Systems Nanodegree could be your answer
Self Driving Car Engineer– Self-driving cars are transformational technology, on the cutting-edge of robotics, machine learning and engineering. Learn the skills and techniques used by self-driving car teams that are built in partnership with companies like Merceded-Benz and McLaren. This program should take you 6 months to complete with working 15 hours a week.
Robotics Software Engineer– You will build hands-on projects to acquire core robotics software engineering skills like Mapping, Navigation and Path Planning. This program should take you 4 months to complete with working 10-15 hours a week.
Career
Udacity offers career courses and services that are designed to help you get the attention of recruiters and hiring managers.
Data Science Interview Prep– In this course, you'll review the common questions asked in data science, data analyst, and machine learning interviews. This course should take 1 week to complete, it is completely free and is for intermediate learners.
Refresh Your Resume– Your resume is the first step in the job search. Through this course, you will identify the companies you want to work for by building a tech-focused resume that will help you get noticed. This course should take you 2 days to complete and for beginner learners.
My Udacity Experience
The very best way for me to get to know the Udacity platform is by taking one of its courses myself. I will be honest with you here, I am no expert in digital skills. So, I thought the best place for me to start is with a beginner-friendly course. As you are reading this, you well aware that I have my website Upskillwise, so understanding a little more about what goes on behind the scenes can't be a bad thing. Right?
So, I decided on What is Programming?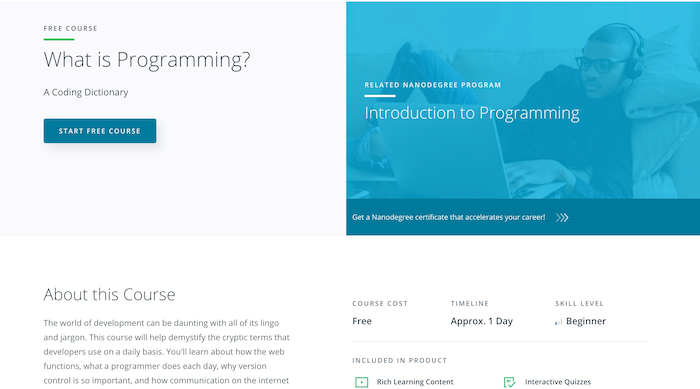 Lessons
This course is broken up into 5 lessons and each one focuses on a different topic. Then each topic has a number of Concepts which breaks up the video lessons, keeping them concise and engaging. The Search option is helpful as you can look for any key term related to that course and in its results it will show you all the times it appears and takes you directly to that section. As well as Search and Concepts, the Resources tab is a place where you can download Videos and Transcripts related.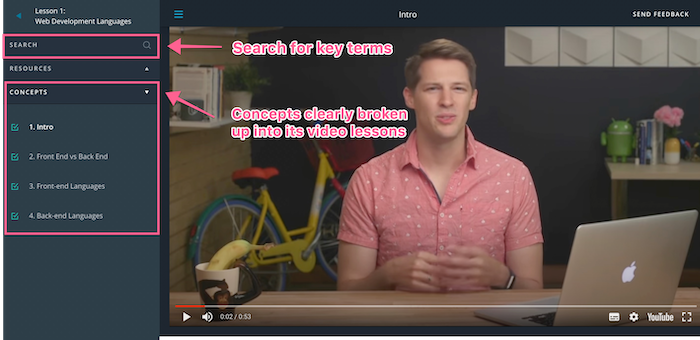 Once each lesson is completed, it will appear as 100% viewed and if you want to shrink the card so that it collapses it will appear as Completed (see image below).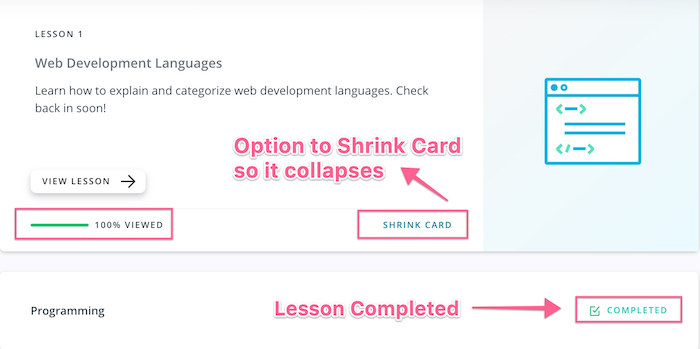 Send Feedback
A pretty cool feature that Udacity has on its courses and Nanodegrees is the possibility to Send Feedback if you are having issues. It allows you to select an area of the Lesson's page, and you can select in detail what you want them to know. It could be the 'Video is lacking in detail', 'Video contains outdated information' or the 'Transcript is wrong', you can then explain in further detail in the comment's section the specific issue.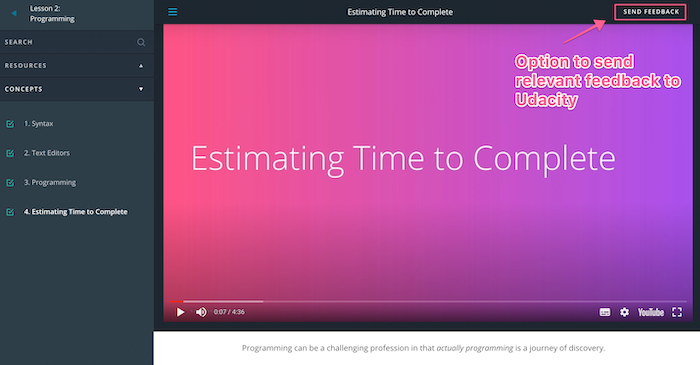 Udacity What is Programming Course Send Feedback
To Summarize
Overall, the course is really clearly laid out and the interface is user-friendly. The video lessons are nicely broken up into topics. A nice mix of instructor and graphic visuals keep the video content engaging. This course is designed as a stepping stone for anyone looking to take a Nanodegree in Introduction to Programming. I must say that Udacity does a fantastic job of offering learners close to 200 courses for free, so you can be sure before financially committing to a Nanodegree.
You will Love Udacity for:
Its intuitive course interface
Engaging and bite size video content
 Downloadable Resources
Send Feedback Support
Stepping Stone before committing to a Nanodegree
> You can check out What is Programming? course here
> You can find the Nanodegree Introduction to Programming here
6 Tips To Find The Perfect Udacity Course
Let me give you a couple of tips to find the perfect Udacity program for you, and show you how to find out if it'll meet your requirements.
Use the Udacity filters
When you browse Udacity's Nanodegree programs, you can use the filters to narrow down your searches. For example, it's possible to filter courses by 'Difficulty level' (beginner, intermediate or advanced), or the Duration (from <1 month to 3+ months).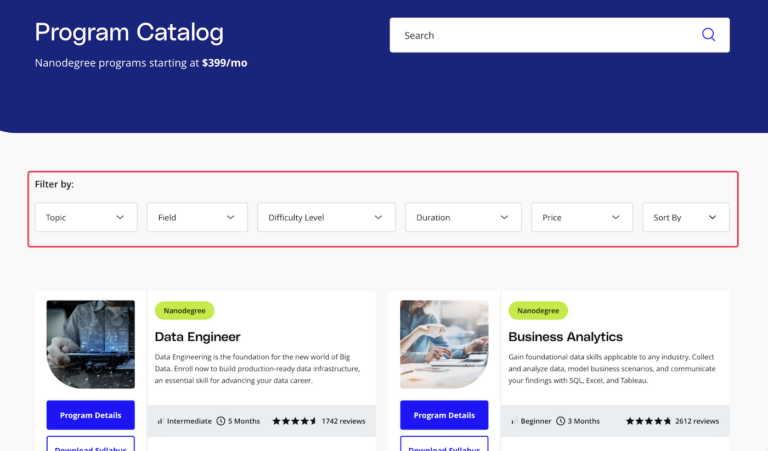 You can select the topic and Field which makes it easy to find what you are looking for. Plus, if you are searching for Free courses, you have that option when you click on Price.
Read the program's syllabus and information
All Udacity courses and programs have a detailed syllabus with the courses' curriculum. Detailed descriptions about the subjects, the project that you'll work on and the weekly plan of the course are available.
On the program landing page, you will also be able to find information such as the estimated duration of the courses, the level (from beginner to advanced), and if there are any prerequisites you should have (e.g. existing knowledge).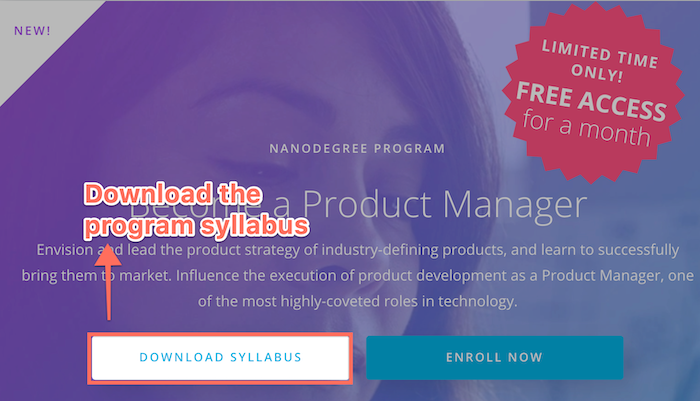 Note: You can download the entire syllabus of the program in a PDF format for extra information and make sure the program is definitely what you were looking for.
Presentation video
Every program has a presentation video where they tell you a bit about the syllabus, you'll get to check the instructor out and who (and why) you should choose it.
This video can be helpful, but don't forget that its main goal is to make you open the wallet and pay for it. Don't base your decision entirely on the presentation video.
Read reviews at Udacity
It's possible to read some student reviews about Udacitys learning programs. Sadly, not every course and Nanodegrees have reviews – some are too new to have student feedback.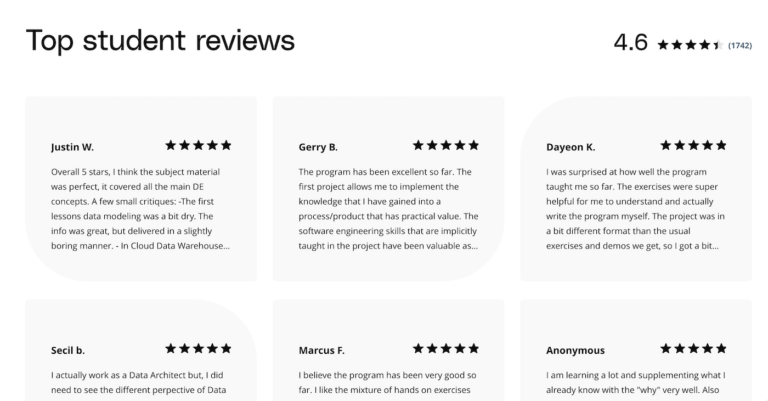 This feature is OK, but other platforms such as Udemy or Skillshare have a more intuitive way to organize reviews, with a filter system.
Who is the program organized by
As I've mentioned before, most of Udacity's courses are collaborations with leading companies from different sectors. For example, Mercedes, Nvidia or Google partner with Udacity to teach some programs.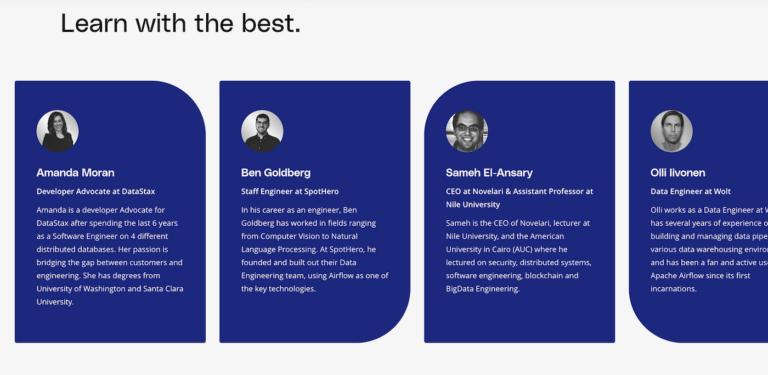 Each Nanodegree will have the instructors who are teaching or have contributed to that Nanodegree. Each has a small blurb about their experience which includes the companies they have worked.
Check out what companies are organizing the program and the instructors to find out what type of learning you'll get.
7-day Refund Policy
When you purchase a program, you'll have a 7-day refund policy. Therefore, I'd recommend you start checking the videos and the materials as soon as you've been given access. If you don't like what you see, get a refund.
Will Udacity Help Me With My Career?
If you take its Nanodegrees seriously, you can certainly learn new skills and become an expert on the topic you choose. This should offer you new opportunities to develop new roles and put you in the right position for a potential job promotion.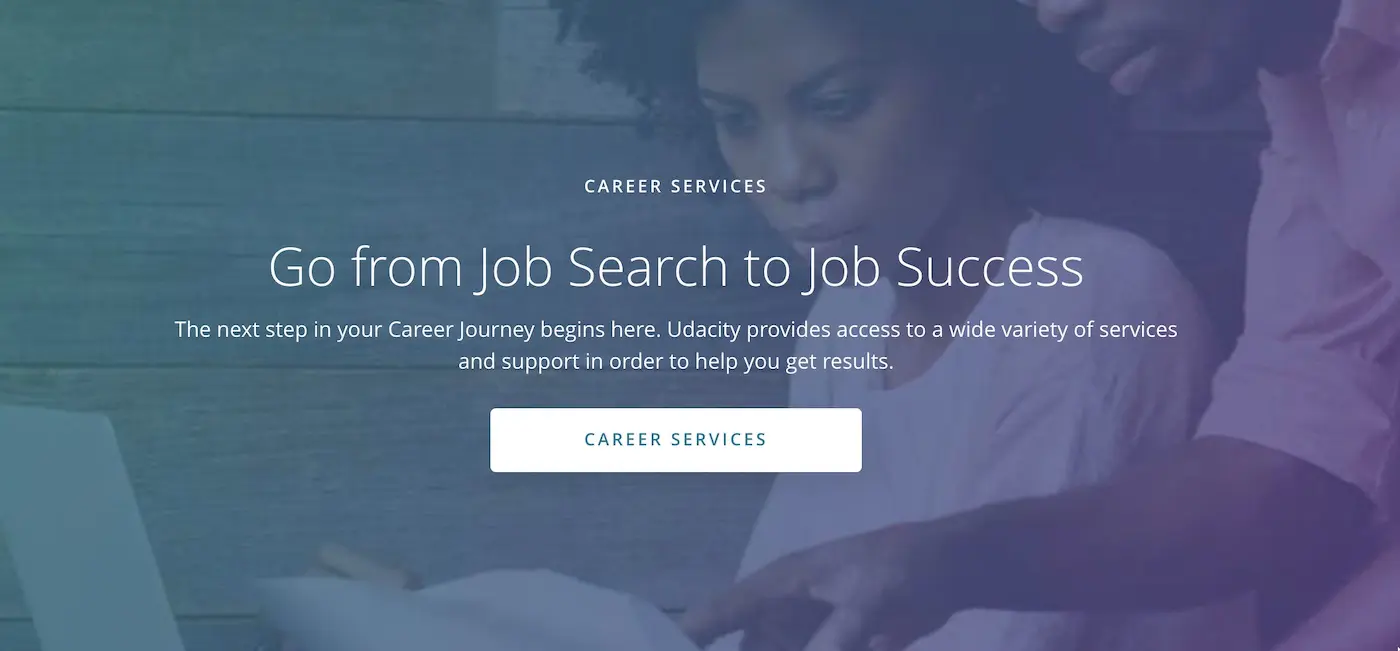 Another good thing about Udacity is that you can get career advice, they can even help you rewrite your CV. You can also schedule a 1-on-1 chat with one of the career advisors. Keep in mind that this service is US-focused.  If you are looking to find a new job in another country it won't be as effective.
Another perk of this platform is the Udacity Talent program where thousands of employers like Nvidia, Lyft, Mercedes, AT&T or Google hire Udacity alumni. The way it works is the following:
Create and share your profile
It will get added to the Udacity Talent database
You'll be notified by email if an employer invites you to apply for a role
Is Udacity Legit?
Udacity isn't a scam, this popular elearning platform has been around for several years and over 100,000 students have graduated from one of its programs.
They also partner with popular and leading companies and organizations to create the courses and programs.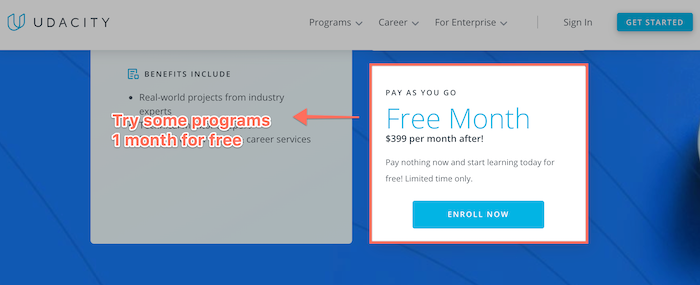 There is a 7-day refund policy too, so if you are dissatisfied with the course program you can always get your money back.
Udacity Instructors
Udacity's teachers are established industry professionals who have years of experiences and experts in their subject area. Udacity is looking for the following skills within their instructors;
5+ years of demonstrated expertise
Ability to build engaging, effective and relevant course content
 1+ years of education or teaching experience
Available to work 15-20 hours per week
Effective time management skills
Growth mindset and team player

If this sounds like you, or you have these skills, then you can apply to become an Udacity Instructor. You will work alongside other Udacity experts, that will help you with the planning and executing your course successfully.
Instructors are financially compensated based on completion of course development or may be entitled to a revenue-shared in relation to the number of enrolled students. Your classes will be able to reach thousands when published on Udacity.
> Apply to be an Udacity Instructor here
Note: To be accepted as an Udacity mentor, means you'll need to prove your level of knowledgeable on your topic and have first-hand professional experience in the subject you teach.
Last Thoughts: Is Udacity Worth It?
OK, that's all I have to say about Udacity.
I hope my review of this professional elearning platform helped you understand if its programs are a good fit for you. But let me summarize what you can (and can't) expect from Udacity.
Udacity is a platform geared towards technology and business professionals to (mainly) help you master a certain topic. It's a good option if you want to specialize and become an expert on a given field (e.g. artificial intelligence or digital marketing). The programs are very practical and big companies like Amazon or Google participate.
Sadly, the completion certificate you'll earn isn't accredited, check out edX or Coursera if that is what you are looking for. It's not cheap, a Nanodegree can cost you anything between $600 to $2,000, you'll need some budget. Even if it has hundreds of courses, the choice isn't as varied as Udemy or Skillshare.