FTC Disclosure:This post contains affiliate links.We're independently supported by our readers and we may earn a commission when you buy through our links.
BigCommerce is known as the main Shopify alternative due to their similarities—it's fully-hosted, has a marketplace for third-party apps, and requires no technical skills to set up.  From the outside, it seems like BigCommerce offers the same as Shopify. But, the details are what make most of the difference. So, What is the right ecommerce platform for you? Read through this BigCommerce review to find it out!
BigCommerce Review: What is it?
BigCommerce is an all-in-one hosted e-commerce solution.
This means, the platform runs on its own server and you don't have to pay for hosting—the only thing you need to do is sign up and start building your ecommerce store right away.
BigCommerce is more than a site builder. It has great store management capabilities to help you manage your business, such as a robust product catalog, flexible shipping & real-time quotes, coupon and discounting tools, and more.
Setting the functionality aside, BigCommerce also takes care of the things going on under the hood, like hosting your online store and handling web security. The servers at BigCommerce employ hacker deterrent security provisioning and hardware firewalls—you can trust that technical problems are going to be minimal.
To get started with BigCommerce, simply go to the website and sign up for a 14-day free trial.
Who's BigCommerce Best Suited For?
BigCommerce has a solution for everyone.
It is an excellent option for launching your first online store, scaling your ecommerce business, and even satisfying enterprise-level companies' needs.
This ecommerce platform offers a multitude of e-commerce features in terms of handling your orders, products, customers (there's a built-in CRM), marketing tools, and analytics. Everything is optimized to hold unlimited products in the database and make your everyday work with the platform as hassle-free as possible.
BigCommerce built the user experience so any person without technical knowledge can use every feature on the platform, while also providing a valuable tool for tech-savvy people who want to customize their platform further—satisfying both types of users.
Now, considering the alternatives in the market, BigCommerce would be the best option if you either:
Need powerful tools, features, and functionalities to grow your business as fast as possible (since BigCommerce provides everything you need).
Run a B2B business with enterprise-level offers—since BigCommerce is one of the few platforms offering a wide range of B2B features.
However, don't be afraid to use BigCommerce if you don't fall into any of these, as it still works as intended for any other purposes.
Ecommerce Features: BigCommerce vs Shopify
It would be impossible to cover all BigCommerce features, as it definitely offers more functionalities than Shopify.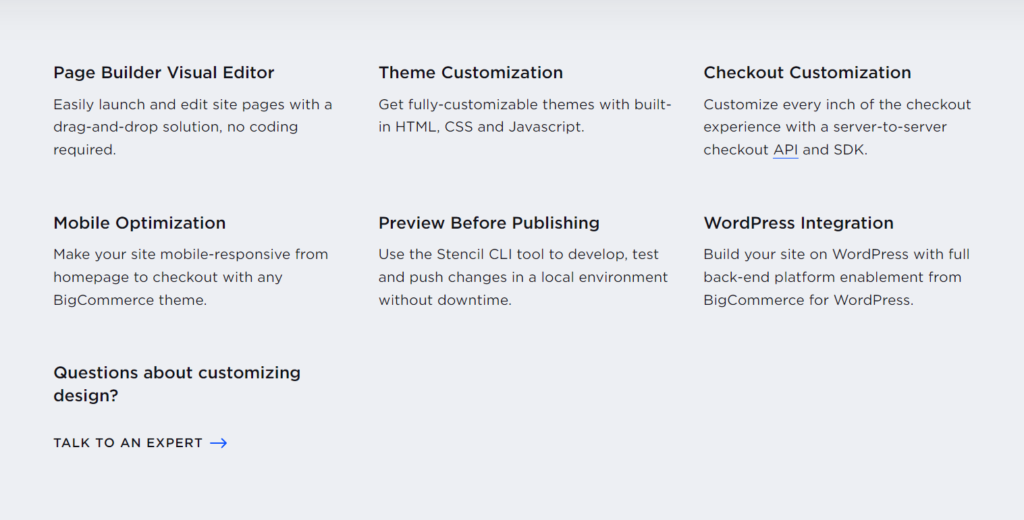 However, you can navigate through a lot of its features on its website. Which lists an impressive array of areas, including:
Storefront design. For theme customization, ecommerce website builder, WordPress integration, mobile responsiveness, and more.
Storefront conversions. Such as site speed optimization, SEO, coupons, etc.
Open platform. Via API integrations, it can support headless commerce, unlimited SEO features, and SSO.
Cross-channel sales. For social commerce, marketplace integrations, multi-storefront, POS.
B2B business growth. With B2B payments, quote management, customer groups, and ERP systems as the basic features.
International scaling. Supporting multi-currency, multi-language, and cross-border fulfillment.
Core commerce features. Like shipping, taxes, scalable catalog, staging environment, vaulting, and managing refunds.
Security. With reliable backups and 99.99% uptime.
Top-notch customer service. Which you can contact via live chat, email, and phone.
Compared to Shopify, BigCommerce has the advantage of providing a complete set of advanced features that you'd otherwise have to get from a (paid) third-party app when using Shopify—making BigCommerce the less expensive option when it comes to setting up integrations and installing third-party apps.
BigCommerce Review: Pricing Plan
BigCommerce offers a 15-day free trial for you to start building your store and test if it's the right ecommerce platform for you. After that, you need to pay for one of the following price plans:
BigCommerce Standard plan. Which includes basic features you need to launch and run an online store. It's the cheapest plan and it costs $29.95/mo.
BigCommerce Plus plan. Adds powerful features like customer segmentation, abandoned cart emails, cross-platform cart, and saves credit card details for returning customers. Costs $79.95/mo
BigCommerce Pro plan. Allows you to get customer reviews from Google and implement advanced product filtering options. Costs $299.95/mo
BigCommerce Enterprise plan. Which starts by letting you create multiple storefronts, custom pricing, a dedicated customer service team, and a plethora of advanced features. It's the most expensive plan
BigCommerce price plans are generous in terms of the features offered, as their cheapest plan only restricts a few functionalities.
But, it does has an annual sales limit, which forces you to upgrade your plan once you've reached a certain amount of revenue. These sales limit are:
$50,000/yr in sales revenue for the cheapest plan.
$140,000/yr in sales revenue for the plus plan.
$400,000/yr in sales revenue for the pro plan.
Custom sales limit for the expensive enterprise plan.
Therefore, the best BigCommerce plan for you is the one that fits within your estimated revenue. And then upgrade as your business scales.
User Interface: Is it Easy to Use?
BigCommerce is designed to be used by anyone regardless of technical knowledge.
Managing your store, taking care of your orders, adding products, looking through your analytics—and anything that can be considered your day-to-day work—is clear and intuitive.
However, the process for setting up your store, customizing the design, and messing up with deeper features does have a learning curve. You might need to read their knowledge base guides or get assistance from a support agent if you're not familiar with how a website is built.
For example, the main dashboard is pretty straightforward, and adding products is a self-explanatory process. But on the other hand, if you want to set up specific category rules to create catalogs automatically, you'd need to read the user docs to understand how to use this essential feature.
Web Security: Is Your Business Safe with BigCommerce?
Like most platforms, BigCommerce provides an SSL certificate and HTTPS protocol for your site, which is generally enough to run a secure website.
However, there's more than that, BigCommerce has ISO/IEC 27001:2013 and Level 1 PCI DSS 3.1 certifications, meaning there are multiple layers of intrusion detection, firewalls, and file integrity scanners behind your customer's personal data—making it ten times harder to hack your database.
Additionally, BigCommerce has a High-Availability (HA) infrastructure that, in simple terms, detects and fixes failures automatically and ensures 99.99% uptime.
But how does this all compare to another ecommerce platform? There's a user on this Reddit post who explains:
"We went through this recently at our org (20+ sites at a global CPG company). Took Shopify+ and BC (BigCommerce) through a total security audit by our internal information security team, legal, and a review by Forrester. BC won.
Deal breaker. Our legal and security team did not feel comfortable with the overall security of Shopify and liability of data
BC was overall the leading choice in the Forrester analysis for strategy and was a strong performer overall above Shopify+
The cost was better on BC and we needed the flexibility to quickly launch new sites with multiple environments
BC will be good to you, especially if you have some internal DEV resources."
Therefore, BigCommerce is one of the best choices to ensure that your data is secure.
BigCommerce Review: Launching an Online Store From Scratch
To get started with your online store, you only need to sign up for the free trial.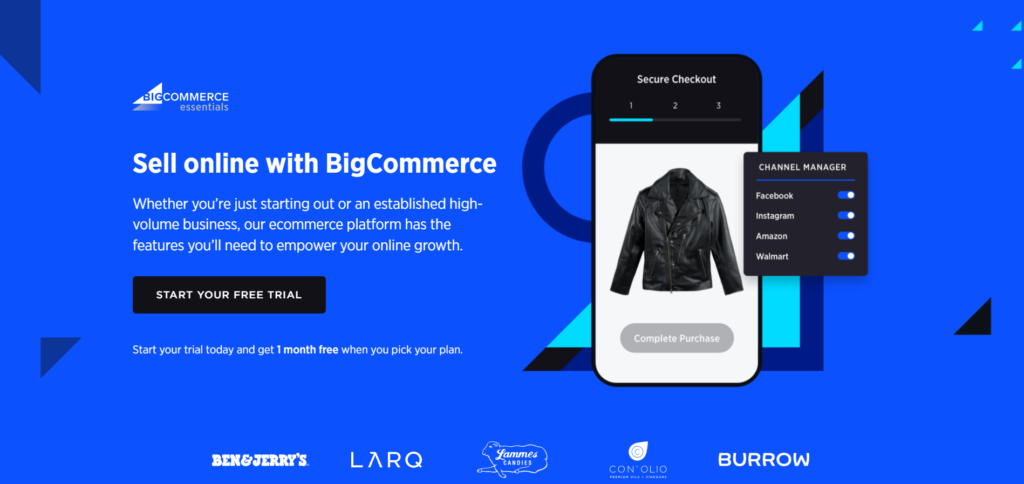 Bigcommerce asks you for the name of your e-commerce store, and then your basic personal/business details.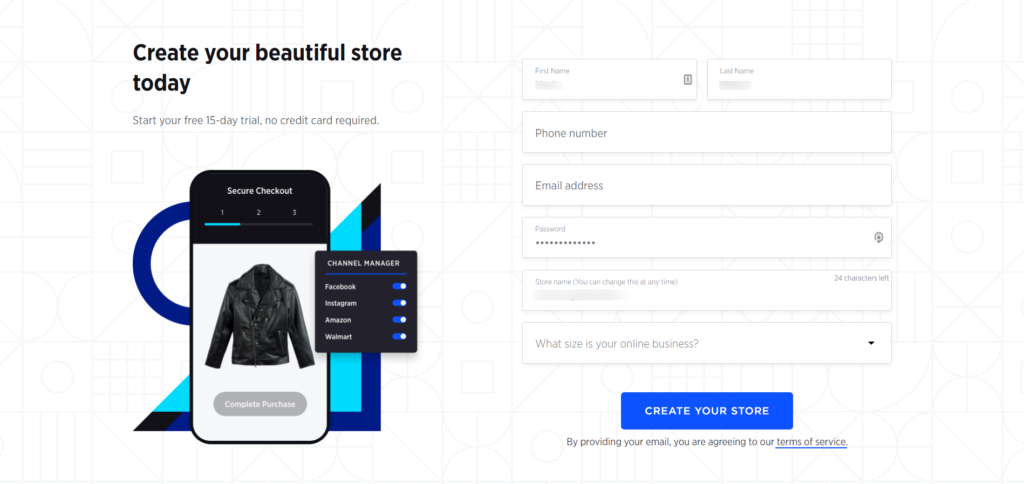 After clicking on "Create my store now" you get redirected to the control panel or "dashboard", where you can look through the on-screen tour to get familiar with the most important and useful features.
The Dashboard
The main view of your control panel is the Dashboard. It's a really well-designed interface where you can get important information like recent orders, site traffic, and revenue.
Also, there are a few features like:
A search field that allows you to look through products, orders, customers, and more.
A button to view your store.
Notifications to see what has happened in your e-commerce store since the last time you visited the dashboard.
But most importantly, you'll be able to access the left sidebar to navigate all the following sections: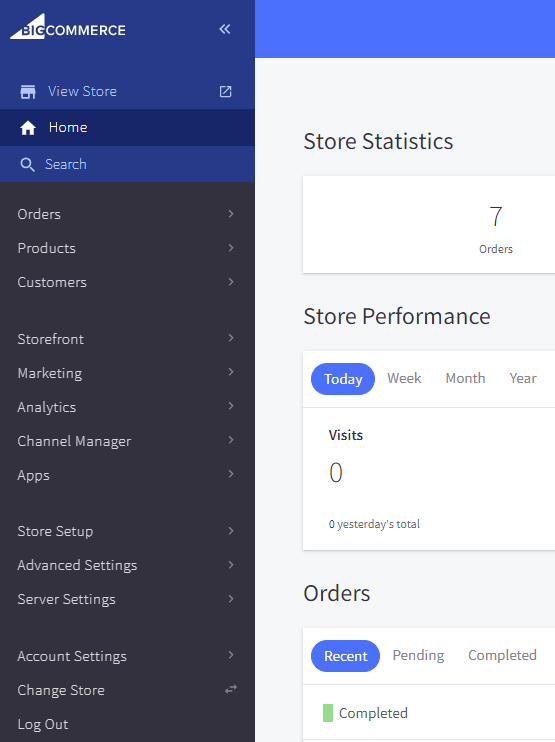 Orders. Your all-in-one order management panel. Includes shipping, tracking, processing returns, and refunds.
Products. Your products library where you can add, edit, delete products, and also manage product categories.
Customers. To learn about who's shopping in your store. You can view customer profiles, and import/export customer information.
Storefront. Where you can change and customize themes, build your website, and create pages.
Marketing. For creating discount coupons, banners, personalized emails, and more.
Analytics. Where you can get reports on your business performance in websites, sales, marketing, and more.
Channel manager. For adding additional sales channels through social media platforms, marketplace integrations, and secondary storefronts.
Apps. To install and manage third-party apps for your online store.
Store setup. Where you set up essential stuff like domain names, BigCommerce shipping methods, payments, and more.
Advanced settings. This gives you access to more advanced features like one-page checkout.
Account settings. Where you can configure settings related to your account such as the number of users, passwords, and so on.
Designing Your Online Storefront
Bigcommerce delivers designs that not only look good but also convert well.
It also offers a wide range of themes that would fit almost any business. So whatever you're looking for, you're likely to find it.
Choosing a Theme
Installing a theme is pretty straightforward. In the storefront section, you'll find a subsection where you can manage your themes and visit the theme marketplace.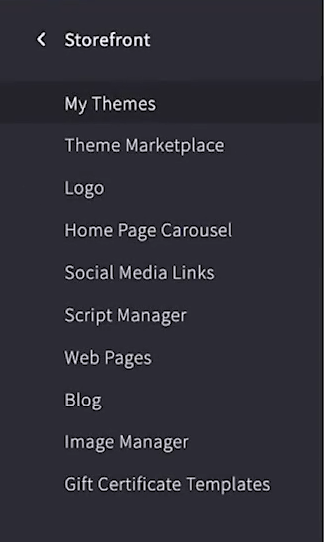 Apart from that default one, there are also tens of other high-quality themes/designs available, both free and paid.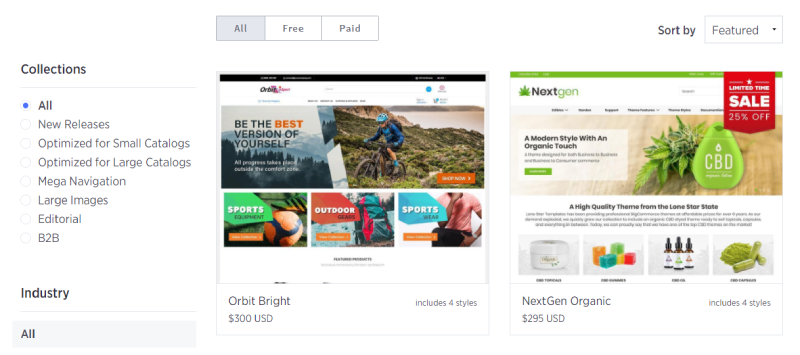 Free themes are often simpler, don't get many updates, and aren't very customizable or unique.
Whereas, a premium theme tends to offer more options, crispier designs, and are regularly updated. They go around $120-$300 for a single theme.
Once you've chosen a theme, all it takes is to install it and make sure it becomes the default theme in your control panel.
Customizing Your Store with The Page Builder
Right in your themes subsection, you can click on "customize" to open the page builder and start creating your store.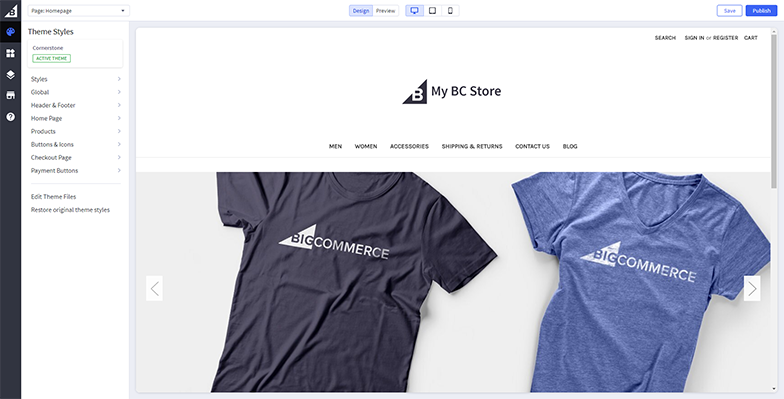 This ecommerce website builder is extremely intuitive with a lot of drag n' drop and widgets to customize any page. Including: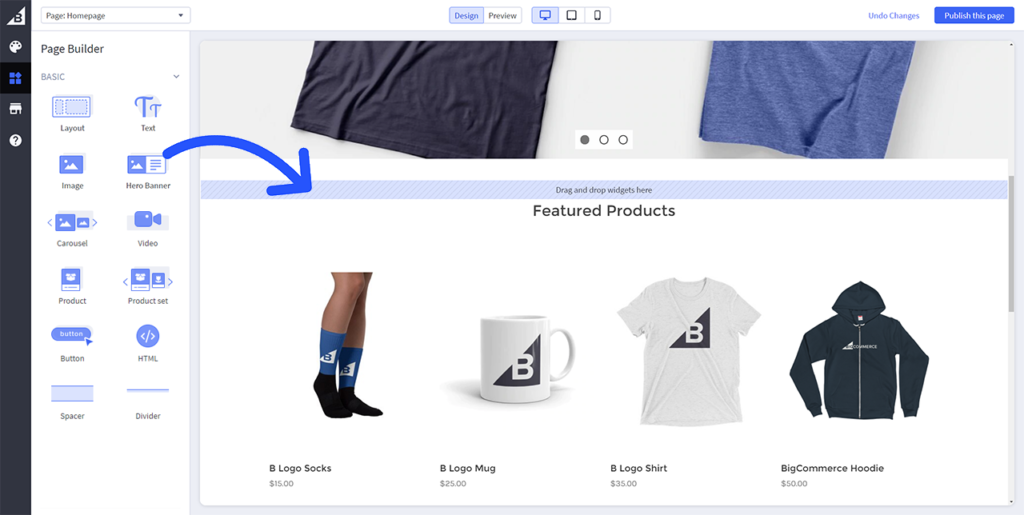 Layout customization
Text formatting
Adding images
Edit hero banner
Add image carousels
Video embedding
Show products
Add product sets and bundles
Buttons for call-to-action
Insert HTML code
Adding space and divides between items
With this valuable tool, you won't need to hire a web designer to create a viable online store. As it makes it easy for you to do it yourself.
Creating Web Pages
Your store will only have a set of basic pages as default, such as homepage and product pages.
But, BigCommerce lets you create and customize as many pages as you want without limits. You only have to:
Go to Storefront > Web Pages > Create a Web Page
Select "content created using the WYSIWYG editor".
Insert the name of the page and the URL.
Add the content of your page in the WYSIWYG Editor.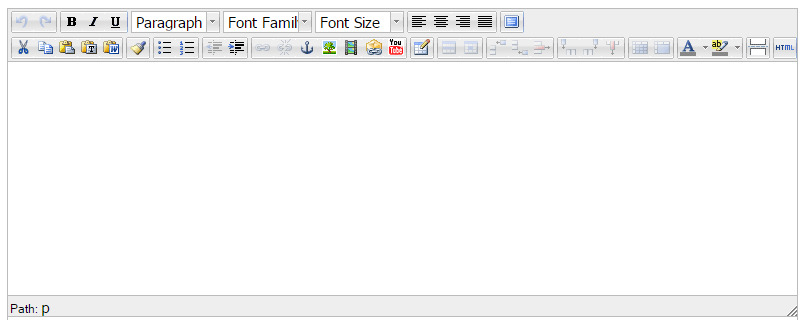 Although the editor looks way simpler than the page builder, remember that the content you include here will automatically follow the theme's design.
Therefore, it works exactly as a CMS (it will be easy if you're familiar with WordPress). So you can customize your text's format, add links, including image/video content, create tables, set header hierarchy, and so on.
Alternatively, you can use the HTML editor to create a page from raw code. The platform will only show what's in the code and anything else—not even the default header or footer.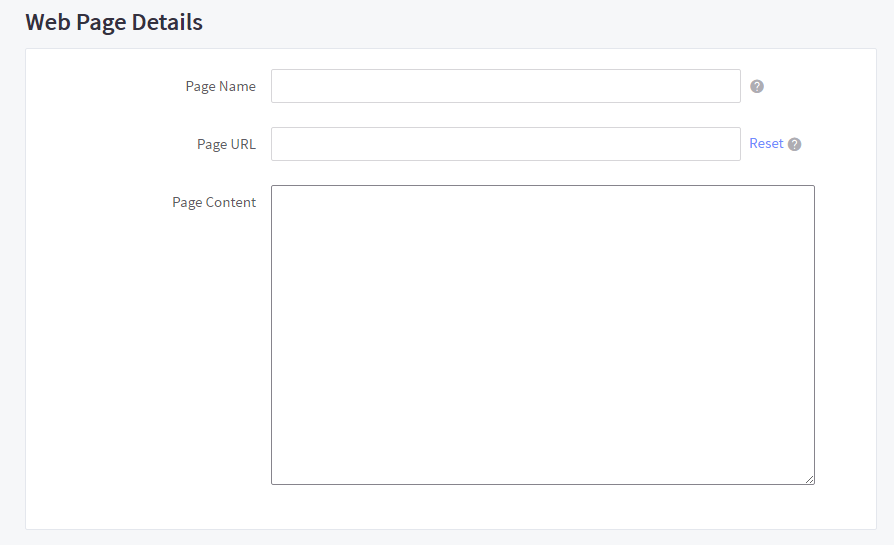 If you work with web developers, the HTML editor is where you'll be able to add new, fully-customized pages.
BigCommerce's Blogging Feature
Additionally, there's a built-in blog in the Storefront section, where you can publish content for your audience and get more indexed pages.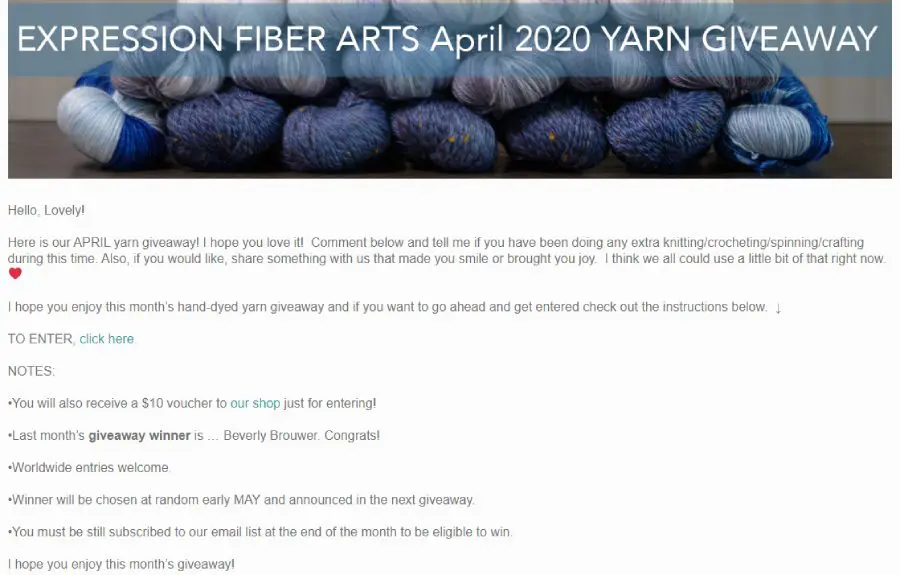 When you go to the blog subsection and create a new post. BigCommerce will show you the option to add:
Title and body of the blog
Thumbnail image shown at the top
Author of the piece
Tags for organization
SEO fields such as URL and meta descriptions
The built-in blog offers the minimum resources to start blogging. However, if you want to invest heavily in great content marketing, then you might want to install third-party apps to complement or replace the built-in blog.
Managing Your Products
You can't have a store without products. So BigCommerce makes it easy to add, edit, view, import, filter, and manage all your products—you'll find everything you need in the "Products" section.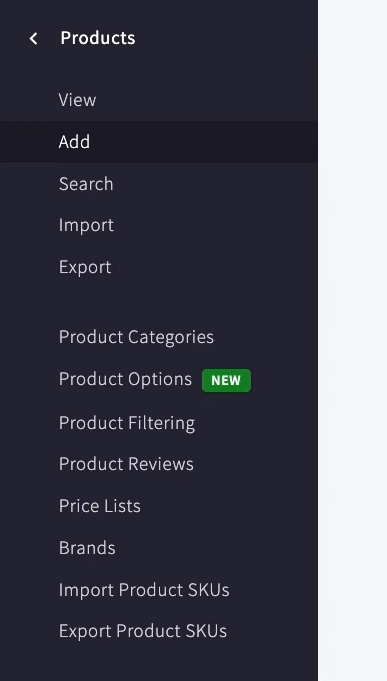 Adding and Editing Your Products
You can add a product by simply clicking the "Add" button.
Each product has a number of parameters such as name, price, category, tax class, weight, width, etc. Every time you add a new product, you must enter its information.
The product fields include:
Basic Information. Such as product name, base price, and weight.
Description. To create a high-converting product description that will appear on the product page.
Images & Videos. For adding images or videos for your product.
Product Identifiers. To add essential codes like SKU, UPC, and MPN
Pricing. Here's where you can create pricing rules, specify product's tax code, and set up bulk pricing.
Inventory. For tracking stock levels.
Variations. To add and manage product variants, which are different versions of the same product but with other colors or sizes.
Customizations. To allow customers to add modifiers such as t-shirts with custom logos or text.
Storefront Details. Set your product as "featured" so it appears on the homepage, add warranty information, availability, product's condition, and so on.
Custom Fields. To add additional information about your product.
Related Products. For showing related products on its page.
Dimensions & Weight. Physical details such as weight and height. It's required for calculating shipping rates.
Shipping Details. You can specify if the product has a fixed shipping price or free shipping.
Purchasability. Specifies if the product is available for purchase, has a pre-order, or it's temporarily unavailable (great for pre-order campaigns).
Gift Wrapping. Provides your customers the option to purchase a gift-wrapped product, whether it's free, paid, or if it uses a specific wrapping method.
Custom Information. Such as country of origin, commodity description, and HS codes.
SEO. Set the page title, meta description, and URL of the product page.
Open Graph Sharing. Allows for sharing open graph (OG) data when the product is linked to platforms like Facebook or Instagram.
Of course, many of these fields are optional or depend on the type of product you're selling. So there's no need to include so much information for one single listing.
Creating Product Categories
Once you start selling an important number of products, you'll need to create categories in order to keep your catalog organized—both for you and your customers.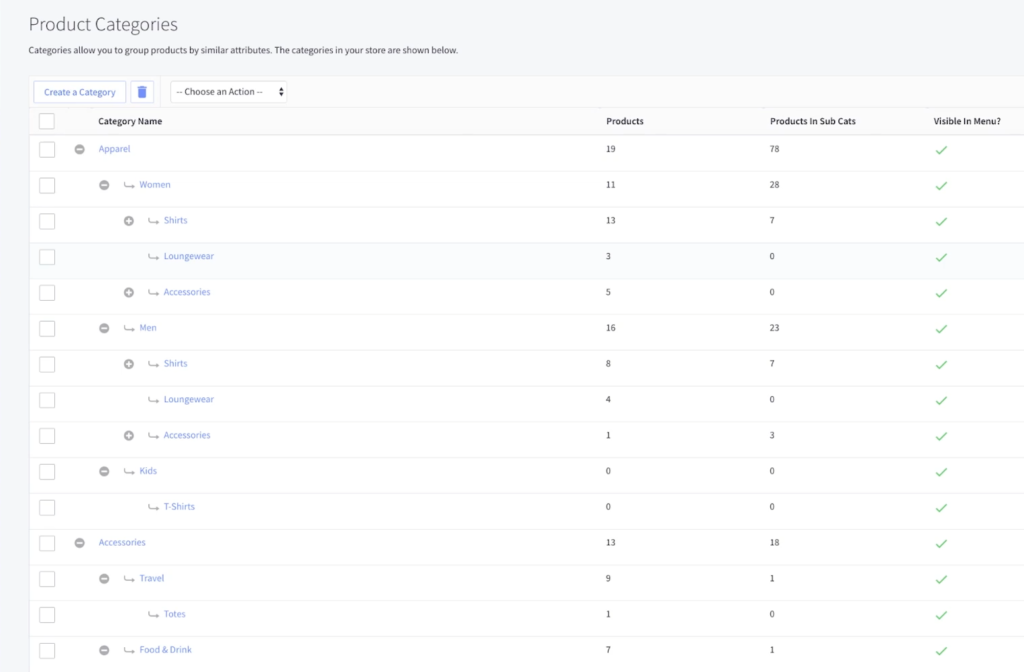 In the "product category" subsection, you can create categories and add products on them. There are also "children" categories you can create within the "parent" category.
You can see which products are assigned to each category, change how they appear on your website, and even change their visibility.
Unlike other platforms, however, there's no built-in tool to categorize your products automatically. But, you can use third-party apps like Automated Categories to create rule-based categories so you don't have to assign products manually.
Additionally, BigCommerce also lets you choose where to show your categories on the homepage. Whether you want them at the top of your website or at the left side (will depend on your theme).
Importing Products in Bulk
If you're selling dozens of products right from the beginning, adding them manually will be a very tedious task.
Thankfully, you can upload a .csv file with all your product's data in the product section of your BigCommerce store.
All you need to do is to create the .csv file with all the info you need to import while following the right format.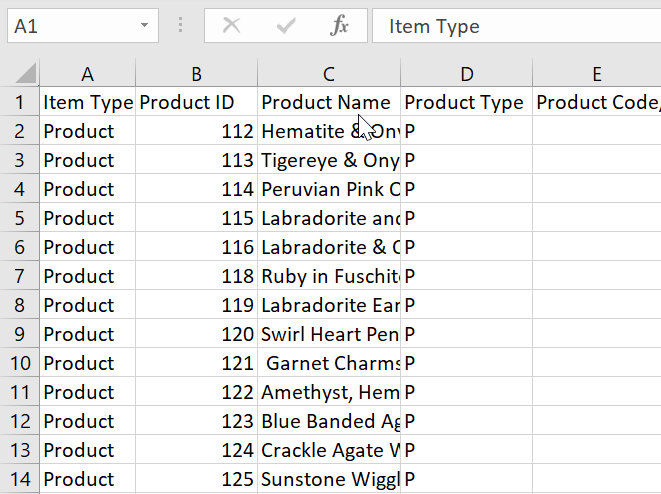 And if you're worried about including the images, you can also import product images by adding their URL in the .csv file, or uploading them through WebDAV and then adding the file's name in the .csv table.
Setting up Your Payments
The main payment methods are through payment gateways and Paypal. But Bigcommerce doesn't force you to settle for one. Instead, it allows you to hook up your store to whatever payment processing mechanism you prefer.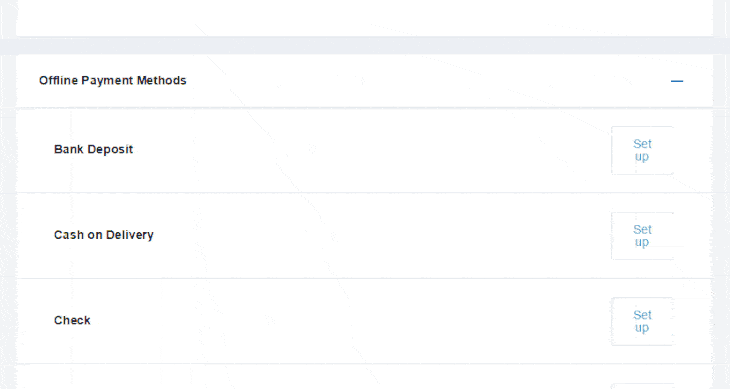 At Store Setup > Payments, you can go over all the payment methods. Including:
Paypal, which is the default option.
Credit card transaction using any of the more than 64 payment gateways (some allow for multi-currency, which allows your customers to pay with their local currency).
Alternative payments such as bank transfers that don't require a credit card.
Digital/ mobile-friendly wallets such as Apple Pay, Amazon Pay, Google Pay, or Venmo.
Offline payments like cash, check, or in-person sales using BigCommerce's Point-of-sale (POS) app.
Also, be aware that there are transaction fees from processing payments with payment gateways (just like on any platform), and they vary depending on your price plan:
BigCommerce Standard plan: 2.9% + 30c
BigCommerce Plus plan: 2.5% + 30c
BigCommerce Pro plan: 2.2% + 30c
BigCommerce Enterprise plan: >2.2% + 30c
Different from other ecommerce platform where these fees would be higher and constant. BigCommerce makes it less taxing for you, plus it doesn't charge transaction fees for a specific payment method (like Shopify).
Optimized One-Page Checkout
Additionally, when choosing your online payment methods, make sure that your payment gateway supports Optimized One-Page Checkout. Which is BigCommerce's default order checkout page, and makes the purchase experience almost frictionless.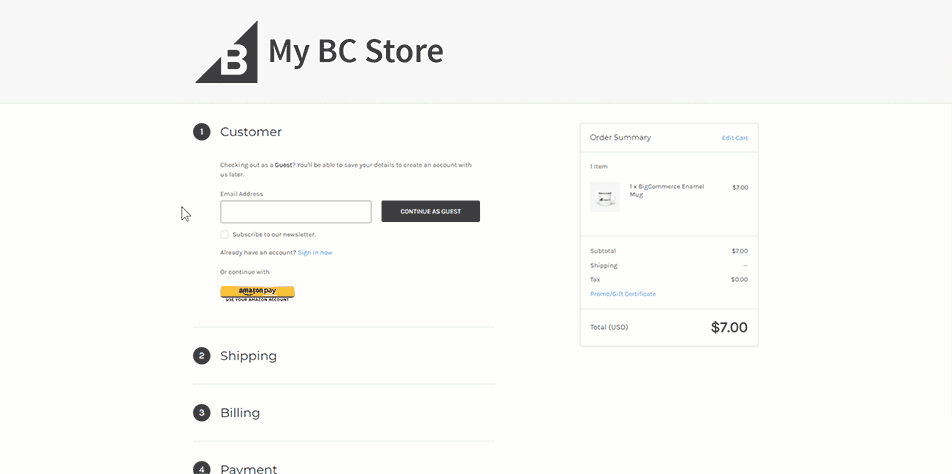 See which payment gateways support it and then go to Advanced Settings > Checkout to make sure that this checkout type is available for you.
Automatic Tax Calculations
On the Store Setup > Tax section, you'll be able to see all your sales taxes, configure your tax rates, and do most of your tax management.
There're handy features here, like allowing products to be tax exempt by themselves, or by customer (depending on their location/segmentation).
You can set up your tax rates manually or connect with automatic tax service providers to save you time, such as:
Avalara (All countries)
Vertex (U.S, Canada)
TaxJar (U.S)
Tax Cloud (U.S)
These services have their own tax calculators so you can verify that the numbers are right, plus makes it easy for accountants to do their job if you hire one.
Selling in Multiple Currencies and Regions
To use the multi-currency feature, your store must:
Be using the Optimized One-Page Checkout.
Be using a payment gateway that supports multi-currency.
You can either set up a display currency or transaction currency. Display currencies will only allow shoppers to see the prices in their local currency, although the transaction still happens in your default's currency.
On the other hand, a transactional currency allows your customer to really pay with their local currency.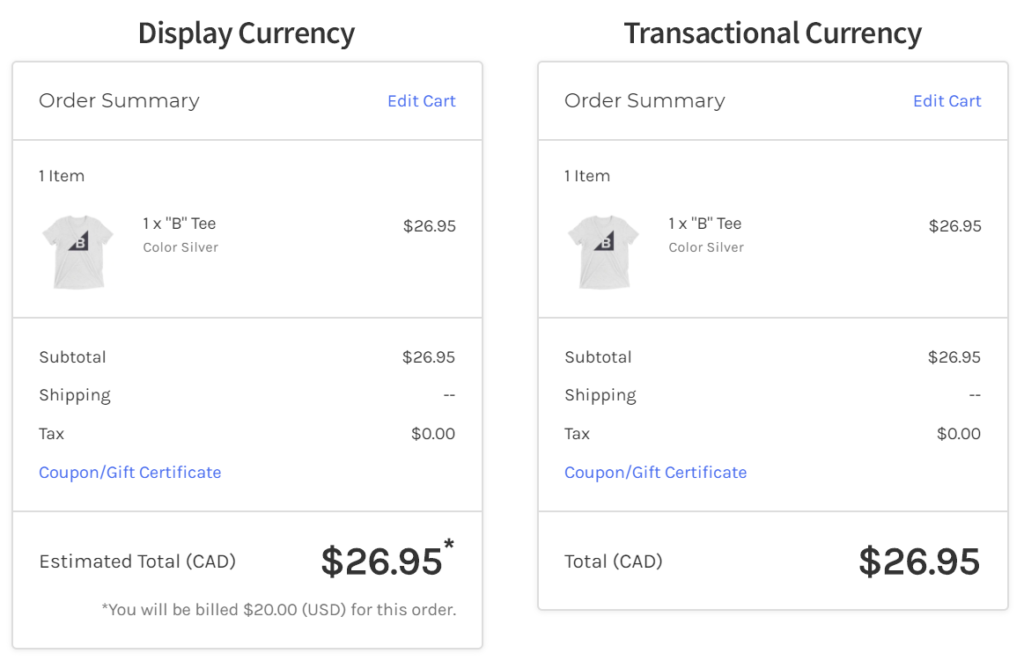 To add them, you can go to Settings > Currencies and click on "add currency" to start the process, on which you have to set up a static exchange rate for transactional currencies—there's also the option to change your default currency, among other display configurations.
Note: As for multi-region support, BigCommerce doesn't have any built-in tool for multilingual websites, but you can integrate it with other apps that will do the job.
Shipping Features
In the Store Setup > Shipping page, you can apply many options to your BigCommerce shipping rates, such as free shipping, flat rate shipping, ship by weight, or create an order total table.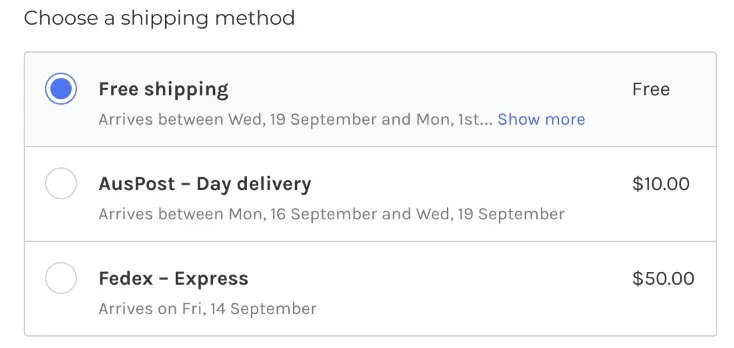 BigCommerce has its own shipping service, but it also integrates with plenty other Shipping apps. Some of them include Shipstation, Shipper HQ, Brightpearl, and more, which allow you to expand your shipping calculations even further.
Also, for local businesses, your customers can choose between pick up, curbside, and other delivery options as they prefer.
Marketing Tools in Bigcommerce
Although BigCommerce's marketing tools are nowhere near everything you need to promote your business (and it shouldn't), they do make it easy to align your store with well-designed marketing campaigns (for selling products at a cheaper price, add conditional banners, tracking cart abandonment, and so on).
The marketing section is where you can make use of the built-in tools to promote your business. They include: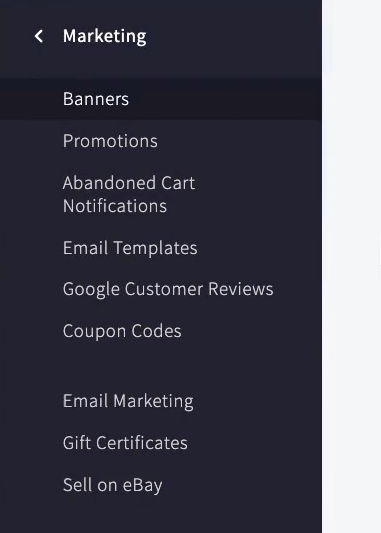 Banners. To place promotional banners on the homepage, a specific category page, or a brand page. You can use them for various promotional and non-promotional purposes. Basically, you can put whatever text or image inside those banners.
Promotions. You can offer special discounts to your customers after they've met specific conditions, add bulk discounts, etc.
Abandoned cart notifications. For emailing your customers when they forget to complete the checkout.
Email templates. Where you can create and manage email templates for order confirmations, abandoned carts, product review, and more.
Google customer reviews. To get a product review by your customer on Google and manage them.
Coupon codes. To create discount codes for exclusive promotions or special gifts.
Email Marketing
Additionally, BigCommerce comes with a built-in tool to collect emails from your website and integrate it with any email marketing app.

The Marketing > Email Marketing section allows you to manage how you want to collect emails, see your list, and export it to other apps.
In order to send campaigns, however, you need email marketing features from an email marketing app that integrates with your store. So make sure to choose the right email marketing software for your ecommerce business.
Connecting Sales Channels
The channel manager section lets you add, connect, edit, and disconnect different sales channels that are separate from your main BigCommerce storefront (A.K.A your website).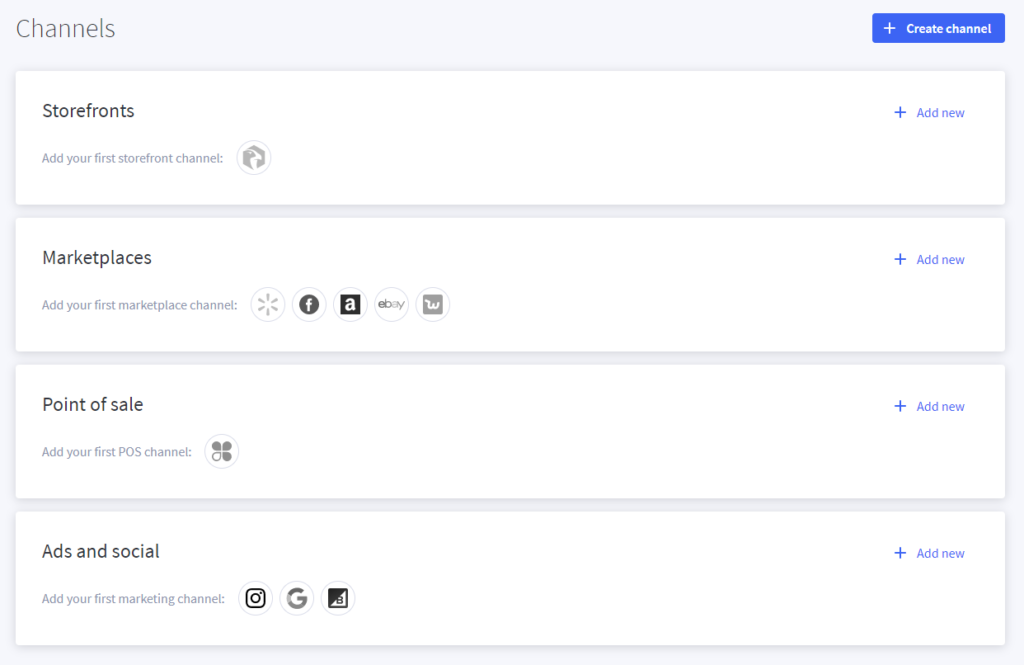 There are four channel types:
Storefronts. Will show storefronts created with headless solutions like WordPress, Deity Falcon, or any API-created channel.
Marketplaces. To make your products available for purchase on platforms like Amazon, Walmart, eBay, Facebook Marketplace, and more.
Point of Sale (POS). For syncing your store with third-party POS apps like Clover and Square.
Ads and social media platforms. For connecting with advertising platforms like Facebook Ads or Google Ads, create buy buttons, and add social icons to your product pages so customers can share them.
Orders from these channels will appear on your control panel just like regular website orders do, with the added plus that you'll be able to track their performance and determine which channels are the most profitable for you.
Processing Orders and Managing Your Store
Bigcommerce doesn't end when the visitor clicks the buy button.
In the Orders section, you can process orders, print invoices, change order status, and handle the order throughout its path to fulfillment.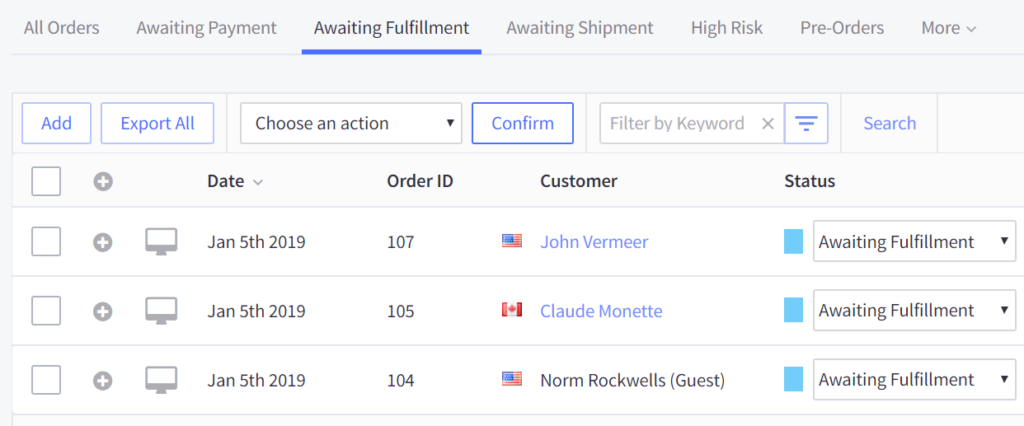 Although this page is mostly for organizational purposes, it's especially helpful when you have to deal with multiple sales every day.
Also, you can customize your order workflow and status labels to fit your business. Plus Bigcommerce helps you handle returns and manage your inventory, so you don't have to worry about selling an out-of-stock product.
Installing Third-Party Apps From the App Marketplace
The Bigcommerce app marketplace is where you can find and install third-party plugins to expand functionalities for your store, as well as themes for building your website.
To find it, either go to the "apps" section to install and manage all the third-party apps on your store or head to the app marketplace in another tab.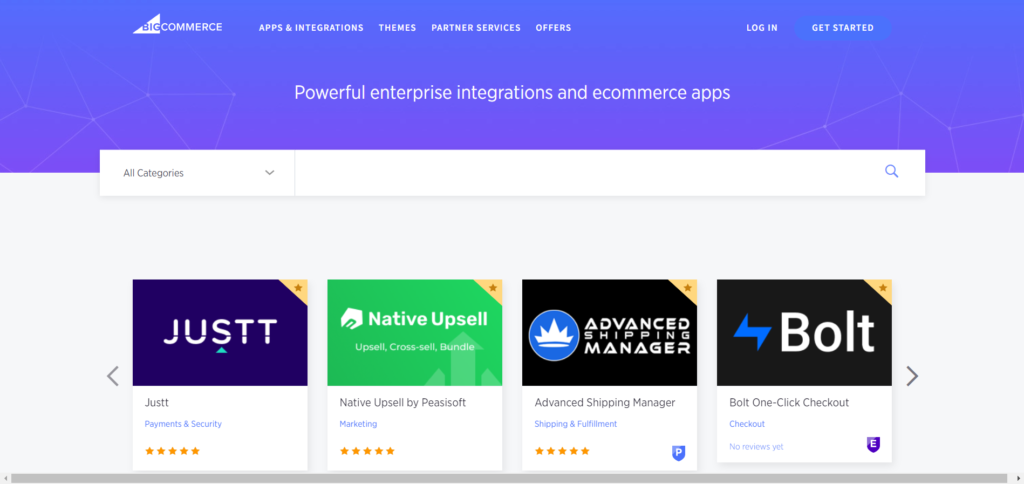 You can install apps to integrate (and automate) essential business operations to your Bigcommerce store, including:
Accounting
Enterprise Resource Planning (ERP)
Analytics
Financing
Shipping
Sales and fulfillment
Marketing
Payments and security
Website personalization
You will need apps and tech for everything if you're serious about growing an ecommerce business. So make sure to plan out in advance the tools you'll be using the most.
Analytics and Reporting
There's an Analytics module in BigCommerce with powerful reporting tools to track everything inside your store.
What's even better is that BigCommerce doesn't limit your analytics capabilities when you're on the cheapest plan, as it shows reports for almost every aspect of your business:
Store Overview Report. Access a comprehensive view of your entire business across all key metrics, view of your purchase funnel, abandoned carts, top products, and sales by marketing channels.
Real-Time Report. Keep track of revenue, orders, and on-site visitors second by second. Monitor in real-time your email performance or a new offer launched across social media platforms.
Merchandising Report. Keep track of sales by products, all the way down to the SKU level.
Marketing Report. Access all of your marketing activity in one place, detailed down to each email campaign you send.
Orders Report. View all orders in your business in detail with one-click access to the various aspects of each order.
Customers Report. View your progress in bringing new versus repeat customers to your business. Click through to view all purchase behavior of any customer across their lifetime with your business.
Purchase Funnel Report. Understand the shopping behavior of visitors to your site. Determine if people are getting stuck at various stages of the shopping experience.
Carts Report. Find the products that people are most often leaving in their shopping carts so you can A/B test with different product images, descriptions, and prices and view the details of successfully converted abandoned carts and the total value of the sales that have been saved.
In-Store Search Report. Uncover what your shoppers are looking for and tailor their experience when using your in-store search functionality.
Sales Tax Report. Keep track of which orders had taxes applied to them, the jurisdiction of those taxes, and the rate that was used.
You can tweak your data to display data from specific date ranges and compare them, create graphs to visualize your data, and export your reports.
Additionally, there's also the powerful feature "ecommerce insights", which shows actionable metrics without requiring you to dig too deep in the data. Includes KPIs such as product performance, repeat purchase rates, customer LTV by product, customers at risk, and much more.
Compared to other ecommerce platform, BigCommerce's analytics are comprehensive, generous, and helpful for making data-driven decisions.
Contacting Support
There's the knowledge base where you can find these resources:
User docs
Guides
Videos
Developer docs
To contact support, you'll need a support pin associated with your account, which you can find by expanding the "help" section in your dashboard. With it, you can get help from a support agent via live chat, email, or phone.

You can also get help from the community forums, find answers to common problems, ask questions, and interact with the community.
A great advantage of BigCommerce is that it optimizes its support service. The support page incentivizes you to solve common problems with their dedicated guides, FAQs, and community forum before contacting a support agent—so they won't have to waste support capacity on simple problems that don't require technical knowledge.
Finally Launching Your Online Store
If you're starting your first ecommerce, BigCommerce has an official store launch checklist that you can follow before deciding to launch your business—check it out.
But once you've gone through all of your business foundations, all that's left to do is:
Choosing your pricing plan.
Purchasing a domain name either from BigCommerce, or importing one from a third-party registrar.
Setting up a business email account.
Making a test order.
Verify technical aspects settings like SSL certificates, DNS records, and integrations.
During your setup process, your store will be in maintenance mode until you're ready to launch. So all you need to do is go to your channel manager and make your storefront out of maintenance.
Pros and Cons
After exploring what this ecommerce platform has to offer, is Bigcommerce the right tool to launch your online store with?
Let's see:
BigCommerce Pros:
Broad management tools including product management, order management, analytics, reports, and more. Bigcommerce is awesome for day-to-day tasks.
There's a nice marketing module with AdWords integration, coupons, and more. Allowing you to handle your store's marketing partly on autopilot.
It's less costly for the number of essential feature it offers and the fact that it puts no limits on how many products you can have in your database or how many customers you can serve.
It comes with plenty of built-in features, which means you need fewer third-party apps to grow your business, which means lower costs.
Paid third-party apps are often cheaper than their Shopify equivalent, which means even lower costs.
There's 24/7 support to help you with things like SEO, setting up your store, integrating apps, and more.
You can integrate your store with platforms such as Facebook, eBay, Amazon, and Pinterest to create multiple sales channels.
There's multi-currency support.
BigCommerce fees don't exist and the rates for payment gateways are lower.
Solid platform with 99.99% uptime and extra security.
BigCommerce Cons:
There's a limit to how much revenue you can generate from online sales, which forces you to upgrade if you're earning more.
Despite being less costly than other alternatives, it still requires heavy investment in premium third-party apps to grow your business.
The community isn't as big as other platforms. This means that the forums and the app marketplace aren't as active.
It requires some learning curve to use its many features.
Final Rating
Price: 9/10. Compared to other platforms, its price plans are affordable for small businesses, it requires fewer plugins in order to scale, and charges no transaction fees. Making it a worthy investment.
Ease of use: 8/10. The store management features are really easy to use and work intuitively. However, handling additional features and implementing processes does take trial and error, or you'll need to contact support.
Support: 10/10. There's 24/7 support via phone, live chat, and email. Plus, there's a complete knowledge base with everything you need to know.
Features: 10/10. In a sentence, Bigcommerce offers anything you might need as an e-commerce store owner. Whether you just want the basics, or you want to get really in-depth into your store's options, Bigcommerce has got you covered.
Overall BigCommerce review rating: 9.25/10
FAQ
Is BigCommerce Free?
BigCommerce offers a 15-day free trial so you can find out if the platform is the right fit for you. There's no freemium available, the cheapest plan is $29 per month.
What's The Difference Between BigCommerce and Shopify?
BigCommerce and Shopify are both all-in-one platforms to launch an online store, so their core features are naturally the same.
However, it doesn't mean that their products are exactly equal. Here's a list of differences that BigCommerce has with Shopify:
Lack of transaction fees.
Offers full access to analytics and reports on all price plans.
The ecommerce website builder misses a few widgets that Shopify has.
BigCommerce plans limit the revenue you can generate from online sales. Forcing you to upgrade in order to expand it.
Offers more B2B features such as wholesale, efficient account management, sales quoting, easier invoicing, and more. Whereas Shopify isn't famous for powering B2B enterprises.
BigCommerce's app market and community aren't as big as Shopify's. This means that it is harder to find specific apps on BigCommerce.
Third-party apps are, in general, more affordable than Shopify's.
It's less expensive than Shopify. Mainly, because BigCommerce's built-in features are more diverse and require less investment in third-party apps than regular Shopify shops. User interface and functions are less beginner-friendly than Shopify's platform.
BigCommerce's community isn't nearly as big as Shopify's, which means a limited development of third-party apps.
Can't use DSers (formerly Oberlo) for dropshipping since it's exclusive to Shopify.
In short, BigCommerce leans more toward providing powerful tools and resources you need for building a growing business. Whereas Shopify offers more user-friendliness, flexibility, and compatibility.
Can You Use BigCommerce for Dropshipping?
Yes, BigCommerce makes it easy to sell dropshipping products. The process is as similar as building a dropshipping business with Shopify, with the only difference being that DSers (formerly Oberlo) is exclusive to Shopify.
All you need to do is to import products from the dropshipping app of your choosing and start selling.
Is BigCommerce Better for Small Businesses?
More than being beginner-friendly and convenient, BigCommerce is one of the most viable options for small businesses in the market.
However, BigCommerce offers so many features to grow your business, it would be overkill if you're starting small and simple.
So the best way to use BigCommerce is with growth in mind and a high learning speed to make use of the platform's potential.
Does BigCommerce Work with WordPress?
There's a back and forth integration between BigCommerce and WordPress. You can either install the BigCommerce plugin on your WordPress website and build your store with it, or you can integrate your BigCommerce store with WordPress to create content with it.
This offers plenty of flexibility for those who want to keep using WordPress but don't want to deal with hosting and domain stuff, or vice versa.
Can You Accept Payments with Bitcoin with BigCommerce?
BigCommerce has no built-in payment method that accepts cryptocurrencies.
However, there are third-party apps like OpenNode that allow you to accept Bitcoin payments.
Is BigCommerce Good for B2B?
BigCommerce is the best ecommerce platform in the market for B2B businesses. There's a B2B edition of BigCommerce that offers an impressive array of features like invoicing, sales quoting, corporate account management, customer groups, account-based marketing, and more.
In fact, BigCommerce acquired BundleB2B, which is a platform made for helping Bigcommerce merchants implement B2B functionalities in their stores. Now, they're officially integrated with BigCommerce so you don't have to integrate more third-parties into your store.
BigCommerce Review Conclusion: Is it Better than Shopify?
BigCommerce is one of the big players (no pun intended) in the ecommerce platform market.
As reviewed, it is definitely a viable platform for starting an online store and growing it.
Its great feature stack gives it a competitive advantage over other platforms (especially in B2B), providing you with powerful tools you need right from the beginning. And its support platform helps you go through the learning curve if you need it.
So, despite not being as popular as Shopify. BigCommerce's product is 100% as good and can be a better option for you if your business requires more features and analytics from the beginning.
If you want to launch your online store in a matter of days, then go ahead and start your BigCommerce free trial.